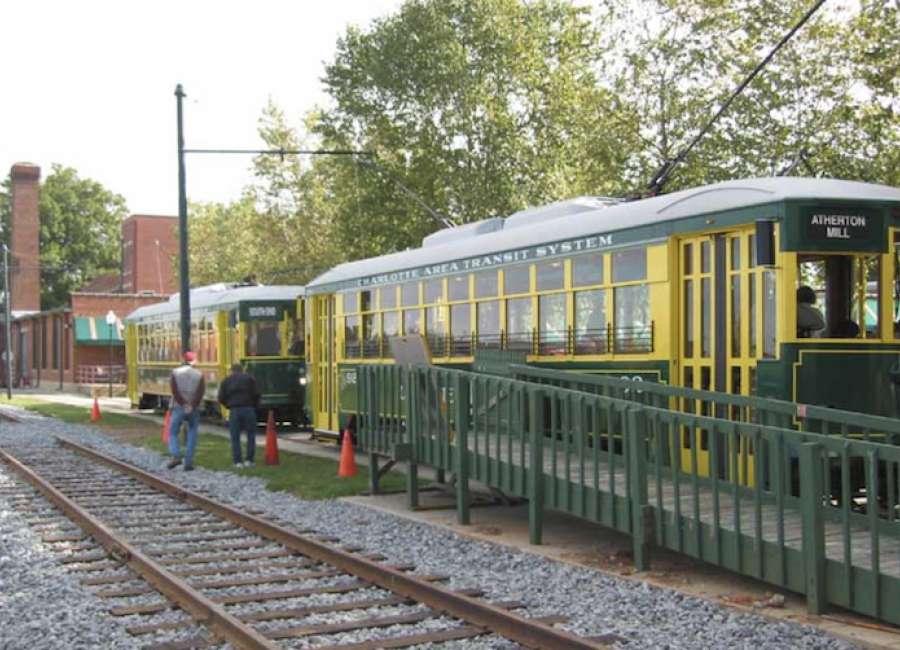 Could a rail trolley run between downtown Senoia and downtown Newnan on a regular basis, proving an existing tourist draw to Coweta County while linking the two cities?
That's an idea that Scott Tigchelaar would like to explore – if Norfolk Southern Railway will be on board.
Tigchelaar, member of the board of Explore Newnan Coweta County Inc., spoke to the group about the idea at its meeting Thursday.
Explore Newnan Coweta County Inc. is Newnan and Coweta's new destination marketing organization. It is funded by an increase in the hotel/motel tax.
Tigchelaar, a former movie studio president and developer of much of the new growth in downtown Senoia, was appointed to the board to replace Julie Brown. Brown, of the Georgia Tour Company in Senoia, resigned to apply for the president/CEO position for the organization.
The rail line between Newnan and Senoia gets very little use. Typically, one train a week runs to serve Winpak Films in Senoia, Tigchelaar said. Once or twice a month, there might be a second train.
The line runs to Carrollton on the west and Griffin on the east, but the line to Griffin hasn't been used in years. Two bridges were washed out in floods in the '90s, Tigchelaar said.
The idea was brought up years ago, but the railroad wasn't in favor, he said. Since that time, Georgia Power Plant Yates stopped burning coal, and the line gets even less use than it did before.
The idea is to ask NFS to either "short line" the rail line or allow it to be used for an additional purpose on top of the customer it serves now.
With short lining, ENCI would lease the Senoia-to-Newnan portion of the line from NFS and, as part of that, provide rail service for Winpak.
Tigchelaar said no one has reached out to NFS yet, but the rail company has allowed the city of Senoia to use railroad right-of-way downtown. The city is building a "train depot" style center with bathrooms, and beautifying the right-of-way.
He's looked into a service provider and a consulting firm that can do a feasibility study on the project.
ENCI is working to promote Coweta for tourism. While the county and its cities have a lot to offer in terms of quality-of-life, "I don't know that there is a lot to offer on the tourism side," Tigchelaar said.
The group will need to look at things like museums or the rail trolley line, to attract people.
"What is going to bring somebody from metro-Atlanta down here to spend money on the weekend?" he asked.
Tigchelaar also talked about a four-corners tourism area, including Newnan, Senoia, Trilith Studios in Fayetteville (formerly Pinewood Studios) and the Bouckaert Farm on the Chattahoochee River in south Fulton.
The Bouckaert Farm is currently a world-class eventing center but is being developed into a planned community. He spoke of it as a jigsaw puzzle with the pieces being filled in.
Things Coweta can capitalize on include film tourism, agri-tourism, outdoor adventure, nature, and shopping and hotel accommodations.
The rail line is something that can be the base of the puzzle. "And everything builds from there," he said.
The incentive for NFS would be not having to regularly maintain 15 miles of barely-used track. The trolley could also stop in Sharpsburg, and it runs very near Piedmont Newnan Hospital.
It also connects to an inactive line in Raymond that runs all the way to Columbus. The railroad has given up some portions of that line, but tracks run all the way to Pine Mountain.
"It's a beautiful run down there," Tigchelaar said.
Harris County is working to turn 20 miles of the rail line into a rails-to-trails project, said Board Member Chris Doane. There could be a connection between the potential Newnan to Senoia rail line and a significant rails to trails project, he said.
If NFS is willing to entertain the idea, the next step will be a feasibility study.
That study would help determine whether the project would make money, lose money or break even. Breaking even or even losing a little bit of money could be OK if the system brings in a major net benefit to the area, Tigchelaar said.
Board member Candace Boothby of the Newnan Coweta Chamber of Commerce said she's always felt that Coweta has an abundance of tourism products, "we just never pulled it together in a way to create the experience. I think this addresses part of that."
Tigchelaar showed some photos from Gomaco Trolley company, which can make diesel-powered trolleys or electric trolleys with rapid charging capabilities.
The group agreed that the idea is worth pursuing, starting with asking Norfolk Southern if the company would be interested. If so, ENCI will likely move forward with a feasibility study.