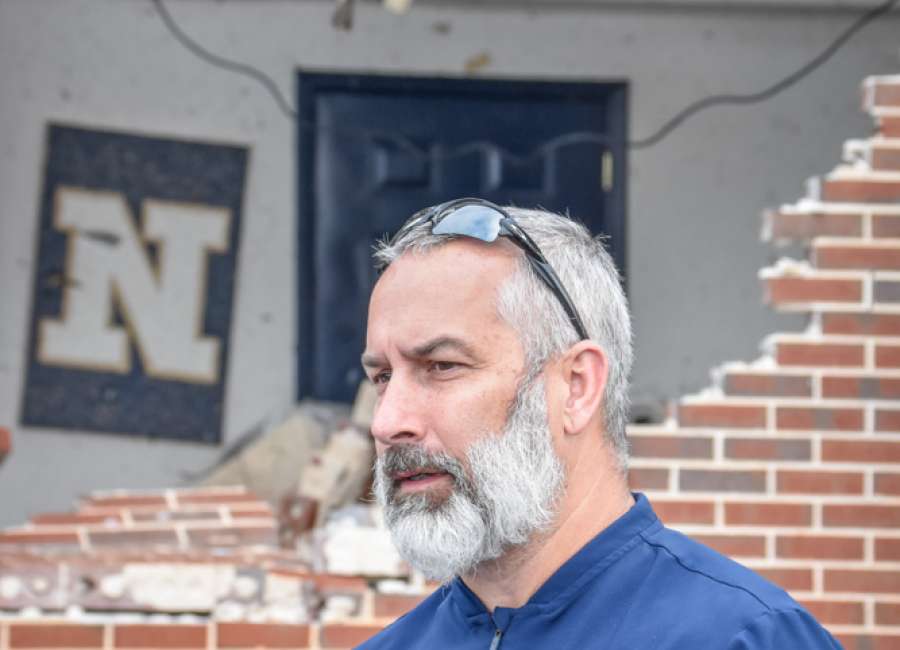 By Rob Grubbs
Adversity brings change. Any time you face a challenge, you have two ways of coming out of it – you can become bitter or choose to be better.
No one knew last Thursday that adversity was about to impose its will. This is 2021: we have faced pandemics, lockdowns and quarantines. We thought we had seen it all. But around midnight at Newnan High School – adversity took on new meaning.
Winds of approximately 170 mph hit the school and shook the community to the literal and figurative foundation. For Newnan Head Football Coach Chip Walker, it was something he has never experienced.
"I got over to the school about three o'clock Friday morning and then stayed til about four," Walker said. "And I mean, you could tell there was a lot of damage. But you couldn't see it until the sun came up. Until the next morning, when I was back over there, you didn't really know how devastating it really was."
It is a new territory for a man who has won 152 football games and three GHSA state championships. On Thursday, his to-do list was built around the upcoming spring football practices. Now it is based around his players', coaches' and schools' well-being and rebuilding what was destroyed.
"You can't wait until August to worry about August, because if that happens, you won't have done justice for these guys in this community," Walker said. "But you also got to know that all the other things with families and homes and all those things take precedent. So, it's a fine line that you got to work on, but got to work all of it, you know?"
"You can't just sit there and worry about one aspect of it. You need to worry about the physical and the mental well-being of young men, right now, after all this going on. And you also need to worry about getting them back going," Walker added.
So last Friday when things were raw, Coach Walker and his coaching staff went out into the community to serve the community that roots for them on Friday nights.
"Our coaching staff has just been doing everything they can to help our community," Walker said. "Yesterday almost all of them were out, either helping clean up, delivering food or doing different things. And so again, we got great kids, we got a great community, we've got a great coaching staff. We've got great leadership. Dr. Horton and everybody at the County office — I mean, if anybody can handle it, this community will handle it."
On Sept. 3, 2021, Newnan will host Sandy Creek at Drake Stadium for their regular season opener just five months from today.
Coach Walker has already thought that far ahead, "I've thought about that night a bunch. That will be a big healing process for this community. We will be out there at Drake Stadium, and we will represent our community the way we have and the way we want to."
As for the two ways to handle adversity, Coach Walker and his team are choosing to be better. There is a lot of work ahead, but with community, there is also a lot of opportunity to bless others and be blessed.
Healing does not mean you overlook the pain; it just means you are better for going through the process. That process started last Friday; the best stories are still to be told.