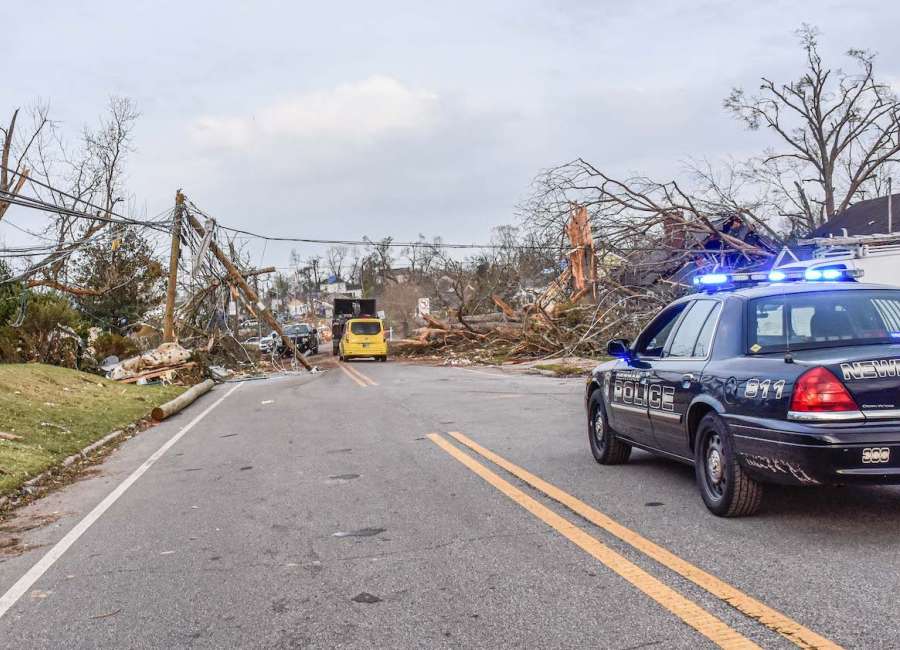 By Kate Norum

People don't often think about first responders and everything they go through on a daily basis.
Factor in a global pandemic, and now a disastrous tornado has made things even more difficult.
Despite always being ready for the city of Newnan and for themselves, day in and day out, burnout and fatigue are some aspects of the job that are rarely discussed.
Within the Newnan fire department, police department and sheriff's office, there has been such a distinct pattern; they all credit this city for encouraging them.
"The citizens have always taken good care of us. They pulled together, and still pulled together and which makes it a lot easier when you know you have people backing you," said Newnan Police Chief Douglas "Buster" Meadows. "The officers are out there working their hearts out, they see the devastation people are going through, and by the grace of God it could be them going through it, too."
The Coweta County Fairgrounds has been an important area in Newnan for relief efforts.
Agencies from all over the metro-Atlanta area are out there supporting Newnan with donations for people displaced by the recent tornado on March 25, pulling in from dozens of tractor-trailers that include necessary essentials and even offering showers and laundry.
"The community is the one backing us; we're taking donations," said Newnan Police Deputy Chief Jay LaChance. "But (in) typical Newnan and Coweta County (fashion of) being over generous, they kind of overwhelmed us with the donations, and we had to hand it over to someone else to handle it."
Standing outside for 12-14 hours in one day can be exhausting. But placing more emphasis on helping people other than themselves is why first responders Meadows and LaChance are not feeling burnt out, but more motivated.
Receiving encouragement from the community of Newnan has become the biggest motivation behind why they all are continuously doing what they do.
"The biggest issue we've seen in our guys is fatigue and mental preparedness. We're working very diligently to get our guys some time off through rotating shifts, utilizing other units besides the patrol shift," Newnan deputy chief Mark Cooper said.
"Everyone's stress level is high, fatigue is high, and of course that bleeds into the other issues that we have to deal with down the road."
With taking care of everything from COVID-19 to a tornado, Coweta County Sheriff Lenn Wood realizes that everything is always changing, and the key to how they are managing through the brunt of it all is by taking each day as it comes.
"Well it's kind of managing chaos; everything has changed daily. So I guess our biggest responsibility is making sure our guys and girls are getting the mental help they need, as well as (the) physical care they need. It's kind of hard to do, one instance after another."
Citizens need to take into account why officers, sheriffs and firefighters are out there working for others and the purpose they're serving.
"Their ankles are hurting, their knees, their backs. Standing on concrete and you're fatigued. But knowing the support that Newnan and Coweta County gives, helps," said LaChance.
Through it all, there is more than things. There are people that have purpose, and these first responders are just a small glimpse into the reality that they face during extreme circumstances, providing more insight that they are more than their badge, but citizens of Newnan.
"We take care of our people, and these guys are wanting to do it," said Newnan Fire Chief Stephen Brown. "It's not just what they signed up for; this is who they are."
Meadows, as police chief, credits his community for being there and spreading outward support for not just this city, but to neighboring counties and cities to show them how close-knit Newnan and Coweta County truly is. A family within a city.
"We all have someone we can lean on, and that helps a lot. It can get hectic at times and could put you down right out."