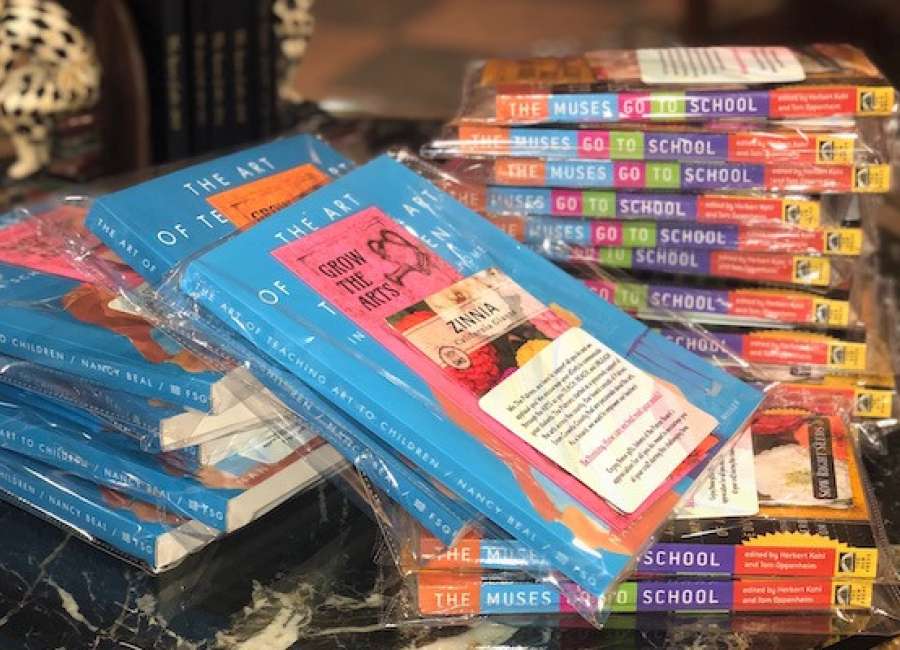 The Patrons of the Nixon Centre are working hard to develop programs to support the Coweta County School System's fine arts teachers and students.

A new initiative called Grow the Arts is taking shape this spring as teachers are receiving inspirational books, bookmarks and symbolic seeds.
"The Muses Go to School," Edited by Herbert Kohl and Tom Oppenheim, and "The Art of Teaching Art to Children in School and at Home" by Nancy Beal with Gloria Bailey Miller, were selected as a thank you to the fine arts teachers for their dedication to their students during this challenging year.
The books include moving stories of the impact of fine arts education and are illustrative of best practices in fine arts classrooms.
Thanks to the ongoing support of the Nixon Centre Patrons, $5,000 of grant money has been set aside to be awarded to teachers in the next school year.
Applications are due in the early fall. The grants will support the teachers' classroom needs and will pay for guest speakers and workshops, and will fund students and teacher participation in extracurricular activities.
As part of the Grow the Arts program, a needs assessment and interest survey will be taken by teachers this spring to give the Patrons of the Centre information that they will use to increase student, teacher and community engagement that supports the curriculum and will help drive future classes, workshops and programming.
The Coweta County School System administration and the Patrons of the Nixon Centre have a history of supporting excellent fine arts programs for our community. Puppet shows, plays, musical performances, exhibits, competitions, lectures, book signings and master classes are examples of curriculum supporting programming.
In addition to Grow the Arts, scholarships and summer camps are on the horizon. The Patrons have been collecting and judging scholarship applications. Scholarship winners have been selected and will be announced at the schools' honors programs this spring.
The Nixon Centre Staff are planning the details for the STAR and drama and visual arts camps that will be held this summer from June 14-25. There will be special safety preparations and guidelines set in place by the Coweta County Board of Education.
The Patrons of the Centre support these programs and provide scholarships for students who qualify to attend these camps. Information about upcoming camps will be posted on the Nixon Centre website at www.thenixoncentre.net .