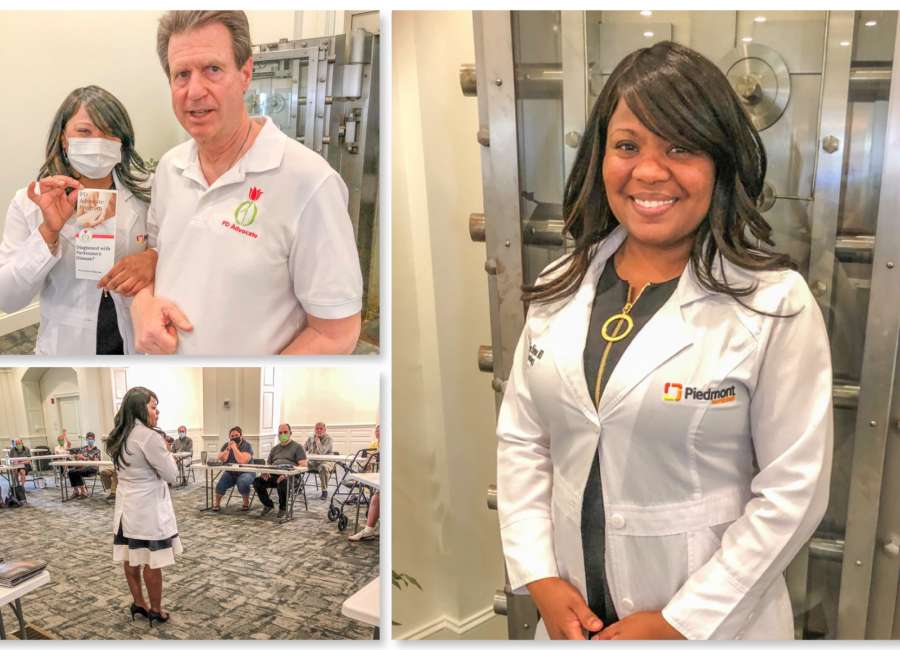 By Gary May
Dr. Gathline Etienne, a neurologist with Piedmont Physicians, Newnan recently visited the Newnan Parkinson's Support Group to talk about a treatment option as the disease advances and the standard pill regimen is no longer working effectively.
She opened her presentation with a brief review of the pathology of Parkinson's and the mainstream treatment.
According to Dr. Etienne, Parkinson's Disease is caused by a loss of dopamine, a neurotransmitter in the brain. Dopamine enables nerve messages to be transmitted from the brain to the muscles and is crucial for voluntary movement.
The disease is progressive and idiosyncratic, affecting each person in different ways with a variety of motor and nonmotor symptoms that gradually worsen over time. Classic motor, or movement-related, symptoms of the disease include tremors, rigidity, slow movement, poor balance and difficulty walking.
People with PD are often equally impacted by a variety of nonmotor symptoms such as loss of sense of smell, a soft voice, sleep behavior disorders and constipation. The root cause of PD is unknown, and there is no known cure.
Yet, with appropriate medications, regular exercise, a healthy lifestyle and a caring support team, most PD patients maintain productive, fulfilling lives for a number of years.
The traditional medication for PD is carbidopa-levodopa, usually taken in pill form. When levodopa is in pill form, it travels through the stomach into the small intestine where it is absorbed into the bloodstream, travels to the brain, and is converted into the active neurotransmitter dopamine.
"The problem is that as the disease progresses, higher doses of carbidopa-levodopa are required and have to be taken more often," said Dr. Etienne. "While the goal of therapy is to keep levodopa levels in the 'sweet spot' where the medicine is on time and working well all through the day and evening, sometimes stomach issues affect the transit. For example, a pill can get stuck in the stomach or a meal high in protein can bind with the levodopa and affect absorption in the small intestine, resulting in an 'off' period when symptoms manifest unexpectedly due to low dopamine levels. On the other hand, levodopa levels can get too high, resulting in dyskinesia (involuntary dance-like movements)."
One solution to treat such motor fluctuations in advanced PD is to deliver carbidopa-levodopa in liquid form directly to the small intestine so it can be absorbed quickly. The prescription medicine and process, developed by AbbVie Pharmaceutical, is called Duopa. The treatment involves placing a medication delivery port in the stomach wall and connecting a portable pump to deliver levodopa continuously over 16 hours.
Dr. Etienne reviewed the mechanics of the Duopa process and discussed the pros and cons, including safety information and potential side effects. A patient joined the meeting via Zoom to share her personal journey and positive experience with Duopa. "The benefits include less 'off time' due to the continuous levodopa delivery, no more setting alarms to take pills every few hours, and the freedom to travel and live a more active life," Dr. Etienne noted.
Dr. Etienne concluded her presentation with a lengthy question and answer session, responding not only to questions about Duopa but also to other medical questions regarding Parkinson's.
Post meeting, during social time, group members expressed appreciation for Dr. Etienne's educational presentation and her personable, high-energy delivery. For example, Eva Busha, a group member, said, "I have been living with Parkinson's Disease for almost 20 years, and the disease has progressed significantly in the past couple of years. I am nearing the advanced stage of the disease, and unfortunately, my medication isn't as effective in controlling my tremors for the entire time in between doses. It is so good to know that there are now treatment options available that can help improve my quality of life. That gives me hope."
It's interesting to note that Dr. Etienne also has a connection to and is a supporter of the PD Advocate Program, a unique service founded by Larry Bergeson that's affiliated with the Newnan support group. The program had its genesis in discussions between Dr. Etienne and Larry, who is a patient of Dr. Etienne, about the special needs of individuals newly diagnosed with Parkinson's.
The PD Advocate Program provides trained advocates – volunteers who have experienced the effects of the disease – to come alongside and assist new Parkinson's patients in a number of ways, such as pointing to useful information and resources, as well as providing encouragement and emotional support.
"Our task now," said Bergeson, "is to get the word out to let the community know we're offering this valuable service." The program has a tri-fold brochure that the advocate team is working to get distribution into neurologist offices and other appropriate locations in the area.
Individuals recently diagnosed with Parkinson's or their care partners can connect with the PD Advocate Program by emailing their contact information to pdadvocatenewnan@gmail.com .
The Newnan Parkinson's Support Group meets the second Tuesday of each month at the First United Methodist Church of Newnan at 2:30 p.m. A typical agenda includes time for fellowship and mutual support, plus a guest speaker with expertise in one or more dimensions of Parkinson's. For more information visit the group's website at www.newnanpd.org .