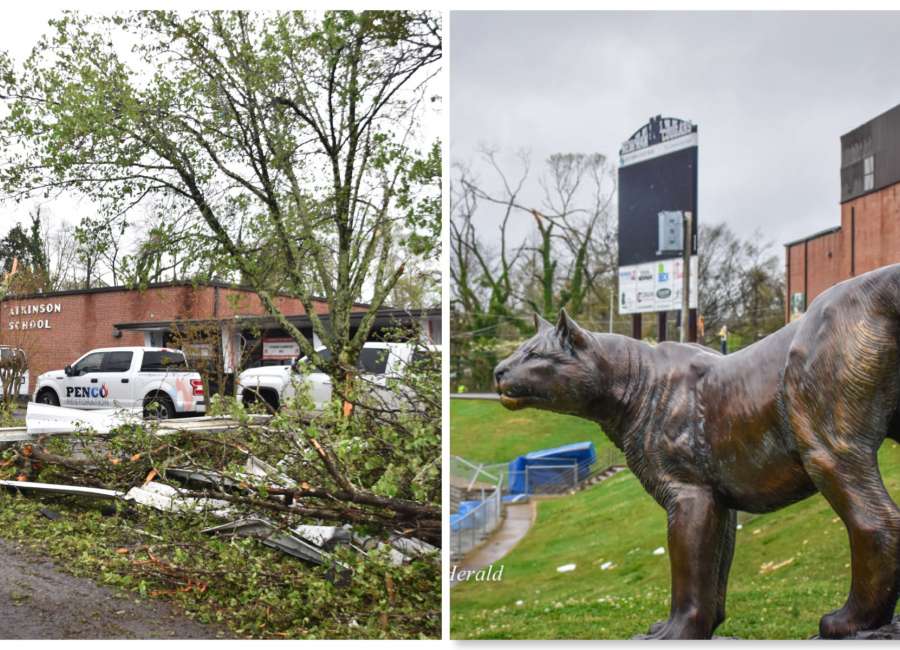 Newnan High School students are headed home and Atkinson Elementary School is headed to college.
Coweta County school officials announced Thursday – nearly a week after both Newnan High and Atkinson were extensively damaged by an EF4 tornado – that NHS students will finish the year virtually.
Atkinson will relocate its operations to the Newnan Campus of West Georgia Technical College, where students will attend class in person.
Both schools will resume classes on Wednesday, April 14, with April 12-13 set aside as teacher work days.
Spring break for the Coweta County School System is next week, and all schools except Newnan and Atkinson will return to regular operations as scheduled on Monday, April 12.
Newnan High families were notified of the school's plans via a letter from Principal Chase Puckett Thursday. He said accommodations are planned for some students.
"We are hoping to offer limited space for students who may not have internet access or are currently unable to remain in their homes due to the damage from the tornado," Puckett said.
Staff members have been working to make contact with each student.
"We are currently attempting to contact all of our students who are unaccounted for by phone, email, social media, text or home visit," he said.
Beginning April 12 at 8 a.m., students who need access to community resources or need other help with their situations are encouraged to call NHS at 770-254-2880.
Puckett said Newnan High's families have been "in our hearts and prayers."
"Our hearts are broken at the devastation and loss in our community," he said. "We know that recovery efforts will take some time."
However, "Our spirits have been renewed by the outpouring of support and generosity from our community and all across our nation," he added.
In a letter sent Thursday to Atkinson families, Principal Ben Tarleton said school officials have been notified by engineers that repairing the storm damage will take several weeks, and the last week has been spent finding an alternate location.
West Georgia Tech already partners with the school system for dual enrollment, and Tarleton said the college offered to allow Atkinson to use a portion of its Coweta Campus for daily school operations.
"Their offer will provide a way for us to conduct face-to-face instruction for our students for the remainder of the school year," he said.
Superintendent Evan Horton said the school system is extremely grateful for West Georgia's Tech's generosity.
"I cannot thank WGTC enough," he said. "They are an amazing partner."
As with Newnan High, Atkinson's phone line – 770-254-2835 – will open Monday, April 12 at 8 a.m. for parents to call with any questions or concerns, and to assist with connecting families with community resources.
"While I know we all want to be back walking the halls of Atkinson Elementary, we are very thankful we can finish the year together," Tarletonn said. "Take care of your family, and we look forward to seeing you soon."