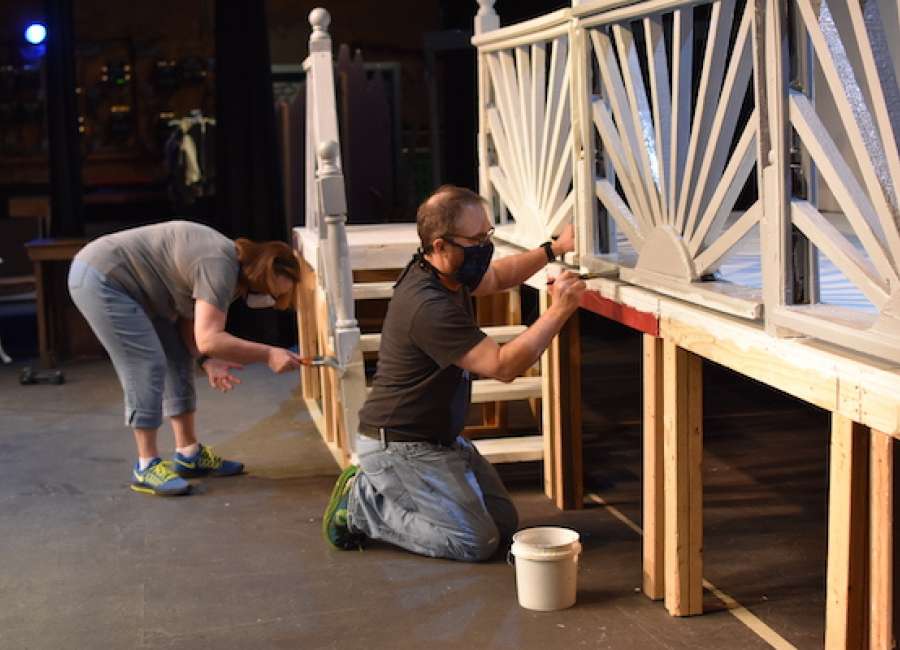 What better way to celebrate reopening Newnan Theatre Company after 13 months than with a bunch of NITWITS?

For the first time since shutting down last year because of the COVID-19 pandemic, NTC will open its doors to the public this weekend. The NITWITS – the theatre's comedy improv troupe – will hold performances Friday and Saturday at 8 p.m.
Tickets are $10 and must be purchased online at www.newnantheatre.org . No tickets will be sold at the box office, and limited seating is available for each show to ensure appropriate social distancing. All attendees are required to wear masks, and the performers will be masked as well.
"We will probably have a fifth of the seats we normally have available," said Mary Caroline Moore, the theatre's managing director.
Regular theatre seating has been removed and replaced with chairs, and Moore said with advance notice, she can cluster the chairs in groups to accommodate people who want to sit together. However, COVID-19 restrictions mean that only those tickets sold online in advance will be honored.
"We're not going to have 10 seats in reserve, and we're not going to be adding chairs," Moore said.
She said NTC is fortunate to have sustained relatively minor damage in the March 26 tornado that devastated parts of Newnan.
"We lost all of our trees, our front and side awnings were destroyed and we had debris everywhere," Moore said. "We also had one of our barn doors sucked halfway out. But compared to all the folks with smashed houses, NTC wasn't damaged too badly."
Inside the building will look different to regular patrons as well, as the theatre has undergone extensive renovations during its closure. The lobby restrooms have been expanded and updated, along with updated lighting and other renovations in the lobby area.
Backstage areas are getting the same treatment. A washer and dryer have been installed and the main stage dressing rooms have had a makeover, along with the front offices, and the shop has been moved to a different area to allow for a large, new rehearsal room.
"It's a lovely space," Moore said.
The grand reopening has been eagerly anticipated by a theatre-going crowd that missed out on several events when the theatre shut down last year. A fresh take on Shakespeare's "As You Like It" was a week away, and a huge fundraising event – BBQ & Brews – was locked in.
NTC had cast two other community productions – "Becky's New Car," which was weeks away from opening, and "9 to 5 The Musical" – and its Academy of Theatre Arts production of "Beauty and the Beast" was in rehearsal. A full season had been planned starting in August, but all shows and the NTC summer youth camps were canceled.
"We refer to it as 'The Season that Didn't Happen,'" Moore said.
She has put together a "think tank" of people to help select shows and put together a season for 2021-22. It has not yet been finalized, but Moore said it probably will include some shows from last season's list.
BBQ and Brews will be rescheduled, and two shows definitely will go on. The NTC Academy will perform "Beauty and the Beast" this fall, and "Becky's New Car" will be the first full mainstage production since the shutdown.
In the story, Becky Foster is caught in middle age, middle management, and in a middling marriage with no prospects for change on the horizon. One night, a socially inept millionaire stumbles into the car dealership where Becky works.
Becky is offered nothing short of a new life, and the audience is offered a chance to ride shotgun in a way most plays wouldn't dare, according to the plot summary.
Moore said the original cast remains intact except for one recasting, and all performers and cast are fully vaccinated so they will be able to take to the stage unmasked. Masks will still be required for those attending.
"Becky's New Car" will open May 6 and run each Thursday-Sunday until May 23. Tickets must be purchased online in advance (no tickets will be sold at the box office), and seating will be limited.
Tickets are $20 for adults; $15 for ages 65-older, students and military; and $10 for children ages 10-under. All Thursday shows are $12.
Showtime is 8 p.m. on Thursdays, Fridays and Saturdays, with special 3 p.m. matinees on Sundays. Tickets are available at www.newnantheatre.org .
NTC also plans to bring back kids summer camps in a new format, limiting it to six children in grades 2-5 per camp, and holding two one-week sessions. The camps will be from 9 a.m. to 3 p.m. each day, and sessions will be June 7-11 and June 14-18. Registration information is available on the NTC website.
"We're changing it up," Moore said. "The kids will be writing the script themselves. We're excited about that."
Without revenue normally generated by ticket sales, camps and regular classes, many community theatres would be struggling to stay solvent during a year-long shutdown. NTC put together a successful holiday telethon last year, but it's the dedicated board of directors that deserve the real credit, Moore said.
"It's 100 percent our board," she said, adding that it makes NTC a sound investment for corporate sponsors and donors. "They had us in an excellent financial position, and they have been wonderful. We were shuttered for 13 months, which is an incredibly long time, but we have managed to stay afloat.
"I'm thrilled that we're able to open back up, that we can do it safely and that our volunteers are willing to come back," Moore added.