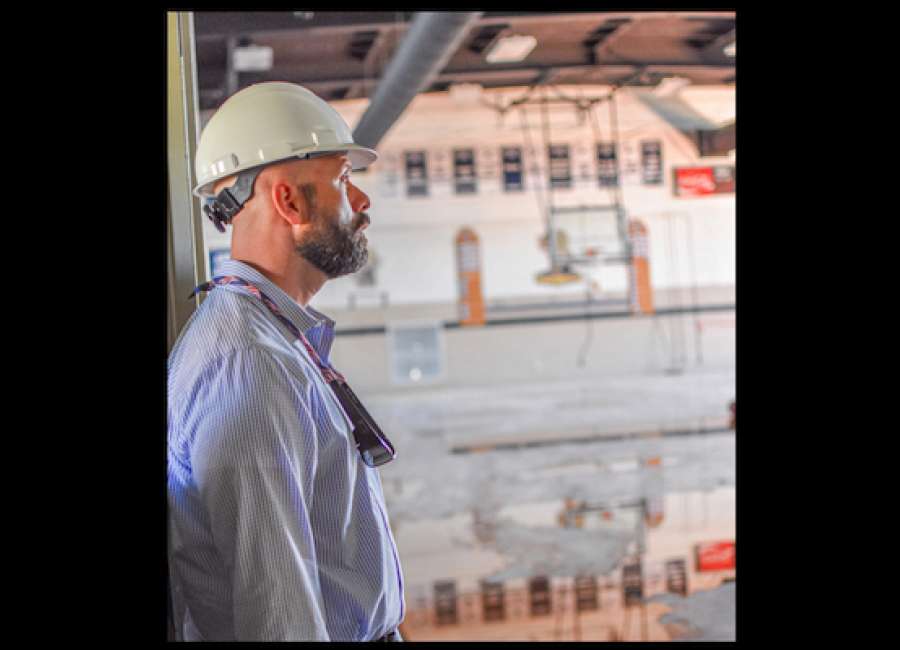 It will be at least another month before the full extent of the tornado damage to Newnan High School is known, but the Class of 2021 could still graduate from Drake Stadium.

Superintendent Evan Horton said he has asked engineers and insurers to list the stadium as a priority so that the school system can make plans for commencement ceremonies – hopefully by May 1.
"I've asked that they give me a determination whether it will be safe to have graduation in the stadium," Horton said during a tornado recovery update at the Coweta County Board of Education meeting Tuesday. "I don't want to sugarcoat it. There's significant damage in the stadium, but I've asked them to make it a priority. If there's a way that we can provide our kids with an opportunity to have graduation in that stadium, I want to try to do that."
Horton said he anticipates Atkinson will be able to return to full operations by fall, but assessing Newnan High School – which covers an entire city block, includes approximately 242,000 square feet of building space and serves approximately 2,400 students – is an enormous undertaking, requiring "literally an inch-by-inch assessment" of the sprawling campus.
"The process has been going on since really the Monday after the tornado struck," Horton told board members. "The first priority was to make sure everybody was OK, and the second was to secure that facility. The third (was) beginning to assess the damage. Nobody wants answers more than me, but it just takes time to get them and we're relying on those engineers to give us good information so we can see exactly what we're working with."
What about the 2021-22 school year?
A variety of contingency plans are being considered for next fall, reminiscent of a year ago when school officials were busy preparing for a new academic year in the midst of a surging COVID-19 pandemic.
"I don't claim to know what the fall is going to look like, but I want you to know and I want the community to know that we are working as hard as we can to see how we can safely open school," Horton said. "I have a team of people that are looking at every possibility for the fall and, depending on what information we get, we'll be able to pivot and move to whatever option that may be."
Horton said he realizes a lot of rumors are floating around about what's going to happen at Newnan High.
"The simple answer, everyone, is that I don't know," he said. "And until we get the insurance company and the engineers to tell us, anything else out there right now is just speculation. I can promise you that as soon as we get a report that tells us what we're faced with, I will certainly communicate that to you, and we'll begin to craft a plan going forward based on that set of facts. But it's just going to take some time to get there."
What about athletics?
NHS athletic teams resumed competition last week.
"It may not seem important, but it's important," Horton said. "It was important to get them back on the field so they could have some semblance of a normal season to finish out the year."
Newnan's teams are utilizing facilities at other local schools, including those at East Coweta and Northgate High schools and The Heritage School. And Horton said other spring events are still on at NHS as well.
"Prom is one that is really important, and we anticipate we're going to have that for Newnan High just like we do for everybody else," he said. "So that's something that is in the works."
And should Drake Stadium be declared unsafe for holding graduation, Horton said the current timeline will still provide ample time to plan an appropriate celebration elsewhere.
"They're supposed to let me know as soon as possible," he said. "If we do have to go to an alternate site for graduation, I don't want to spring that on everybody. I want to make sure that if we do have to go somewhere else to do it that we plan it appropriately so that even if it has to be somewhere else – and I'm not saying it's going to be – I want it to be as top-notch as (the NHS seniors) deserve and as we are accustomed to. My hope is that we will be able to have graduation in that stadium. But like so many other things right now, I just don't know."
School back in session
All Coweta schools except NHS and Atkinson resumed classes Monday for the first time since March 25.
Newnan High students, who will complete their year virtually, and Atkinson, which has moved its operations to West Georgia Technical College's Newnan Campus for the remainder of the school year, began classes Wednesday to allow teachers and staff to prepare for the necessary changes.
Horton said NHS staff members are operating out of multiple locations across the county, utilizing space at the school system's Central Office, Central Educational Center, Winston Dowdell Academy or wherever space is available.
"We do have many displaced Newnan staff that don't have internet, and some of them may have had damage to their homes," he said. "We've made arrangements to ensure that everybody has a place to work if they need to. We are also in the process (of helping) our students finish the academic year strongly, so there will be opportunities for Newnan students to come in and meet with teachers and do the things they need to do to finish the year successfully. That's something that's crucial. These kids have been through a lot, so we're working like crazy to get them what they need."
In the aftermath of the March 26 tornado, school officials made the decision to close all schools for two weeks, until after spring break.
"A lot of factors went into that, which I know we've all discussed," Horton said. "We had power out in multiple facilities and multiple attendance zones were affected. The way the tornado came through the community, it really carved our county in half. We had multiple schools that were impacted. I decided it was in our best interest to not get in the way of first responders, to allow the community that time to recover."
What about belongings that remain?
A salvage and contents company will be coordinating the effort to return items to Newnan High School teachers as soon as it is safe to do so, Horton said.
"They indicated they have a good process through which to accomplish this, so when and how to do this safely is going to be their call," he said. "I just want to make sure to reiterate this to you: I don't want to rush something and send employees into a building that may not be safe to get belongings and have somebody get hurt. So when they tell us it's safe … we will get personal belongings back to employees."
Horton said he hopes the process will allow retrieval "in the very near future."
"Just know we're working diligently on that, but we're going to lean on (the company) to tell us when it's safe to be able to get those things to them," he said.
Partnership with West Georgia Tech
An open house was held for Atkinson Elementary families Tuesday, allowing students and parents to acclimate themselves to their temporary location at West Georgia Tech.
Horton said by the afternoon of March 26, officials from WGTC – with whom Coweta Schools has forged a decades-old educational partnership – called to offer Atkinson rent-free space on the Coweta Campus for face-to-face classes.
"They stepped up to the plate and welcomed our people with open arms," Horton said. "I can't say enough good things about them."
He said he has been asked why the school system was able to relocate Atkinson, but not Newnan. Horton said it's a matter of finding room for hundreds of students and staff members vs. thousands.
"I just don't have a place right now where I can physically relocate 2,400 Newnan High School students and 200 staff members," Horton said. "If there was a place where we could have done it in two weeks, we certainly would have, but there's just not a place where we can do that. We were very fortunate that West Georgia Technical College has space available and they went out of their way to accommodate us. That's all we could do in such short order."