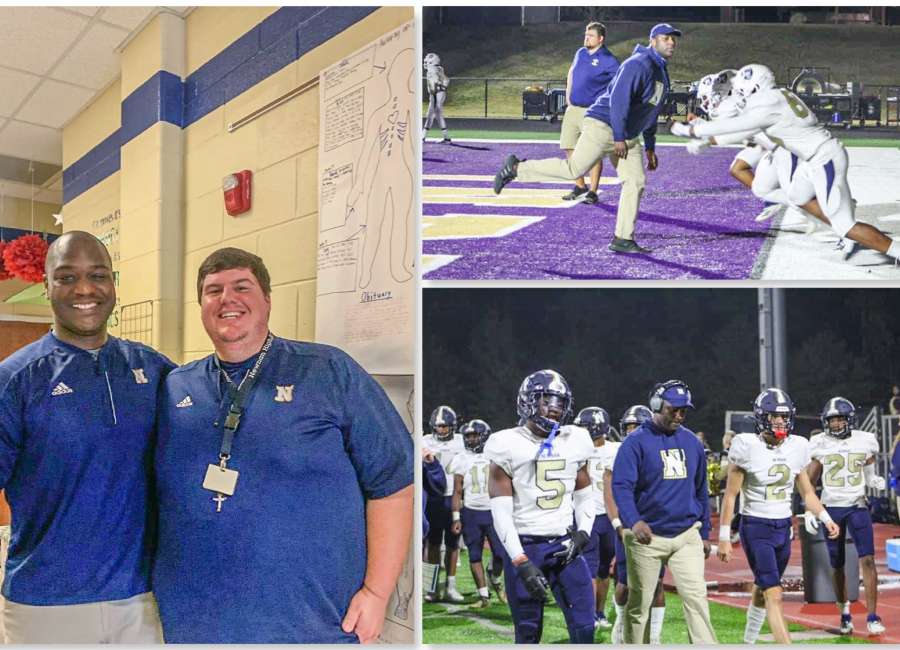 By Derrick Teagle
Brandavious Mann was born and raised in Forsyth, Georgia.
Mann, 31-years-old and a father figure to many young men, was mentored by his older brothers growing up. He shared that they really took care of him and were more like uncles to him.
I learned that Brandavious didn't start playing football until the 10th grade. Mann indicated that Coach Pat Burdette asked him to play as a ninth grader. He was actually once told by a coach that he would never play a snap at Mary Persons High School.
Coach Mann communicated to me that he was awful his first year playing football … but he was motivated to prove his coach wrong. It was time to MANN up. Mann and Coach Burdette would do drills after practice.
Coach Mann started his last two years at Mary Persona and his determination proved that hard work truly pays off as he was rewarded with a scholarship to Georgia Southern University.
Mann's first game starting at Georgia Southern was started out by seeing the coach who told him "that he would never play a snap at Mary Persons" in the stands. Mann ended up starting three years at Georgia Southern and achieving a major in Justice Studies and minor in Psychology.
Coaching Career
Coach Mann started out as a community coach at Glynn Academy in Brunswick, Georgia. He was next blessed with an opportunity to coach at Bradwell Institute in Hinesville, Georgia.
After a couple of successful years at Bradwell, which include the team's first playoff win in years over Groves, it was time to MANN up on another decision. Coach Mann was given an opportunity to move to "North Georgia" or "Atlanta"' as described by his friends. Mann accepted the job to join Coach Chip Walker staff at Newnan High School.
Newnan High
Coach Mann describes Newnan as a place full of pride which is very similar to Mary Persons. Coach Mann, who has been at NHS for two years, says the Newnan community wants their teams to be successful on and off the field. He shared that he truly loves coaching his defensive lineman.
Coach Mann has coached Julius Beavers (Reinhardt Signee), Brandon Tolvert (Tarleton State Signee) Eric Geter (Cumberland University Freshman) and Michai Hill (NHS 2022 College Prospect). He had some very powerful words about all of them:
Julius Beavers - "A kid who busts his tail and asks so many questions about the game of football. He is someone you would want to marry your daughter."
Brandon Tolvert - "A great kid who was the most physical player I have ever coached. He truly wants to hurt somebody."
Eric Geter - "A great kid from a great family … one of the nicest kids off the field but turns into a different kid on the field."
Michai Hill - "A 'yes sir, no sir' type of kid who truly believes in investing in the younger Cougar players."
Supporting his kids
"It is so important for my students to see me outside the classroom or field. I want to go support them at their jobs or any other activities they have going on," Mann said.
Coach Mann's biggest joy at Newnan was talking to Michai Hill after he received his scholarship offer to Georgia Tech. Coach Mann stated that Hill's hard work played off as he was coming off a bad shoulder injury the previous year and spent the previous year on the junior varsity team.
Impacting others
Derrius Teagle stated, "I love being in Coach Mann's class my freshman year as he was one of my best teachers because he cared about everybody."
Sammy Williams expressed, "It was great to have my coach at my baptism."
Coach Chip Walker shared, "Brandavious Mann is such an outstanding role model and coach for our student athletes! He is a tireless worker that puts the same energy into teaching in the classroom that he puts into coaching on the field. His desire to be great at whatever he does is the lesson that we want our young to learn while in our program and a lesson that will serve them throughout their life!"
Legendary Coach Rodney Walker said, "When Brandavious was a student at Mary Persons High School, he was a leader both on and off of the football field. He was one of our hardest working athletes. Brandavious worked as hard at academics as he did at being a great football player. It was a pleasure to coach Brandavious, and now it's a pleasure to watch him be a coach."
The Tornado
On March 26, 2021, our community was hit by an EF4 tornado with winds of up to 175 mph. Coach Mann stated that he didn't realize Newnan was in the path of a tornado. He indicated that he is an early bird, and around 9:30 p.m., he was asleep in his bed.
Coach Mann was awakened at 11:30 p.m. by NHS teacher Mrs Williams who told him, "You need to get in the tub." Coach Mann asked why, and she asked him, "Are you watching television?" He immediately started watching the weather reports and got in the tub. He then went and got a mattress to cover his head while he was in the tub.
Coach Mann expressed that he prayed like he has never prayed before as the roaring train sound was extremely loud. After the storm had passed, Coach Mann went outside and was very thankful to see only five trees lying in his yard. Coach Mann then realized that his neighbor's house was severely damaged. It was time to MANN up and help others.
Cleaning up the city
Coach Chip Walker started immediately checking on the staff and kids from Newnan High School. The team, as well as other local schools, started helping clean up the areas damaged by the storms.
There have been an estimated 1,700 homes damaged by the Newnan tornado, and Coach Mann has been very influential in making sure the football team is out serving the community. Coach Mann once again saw a need to MANN up.