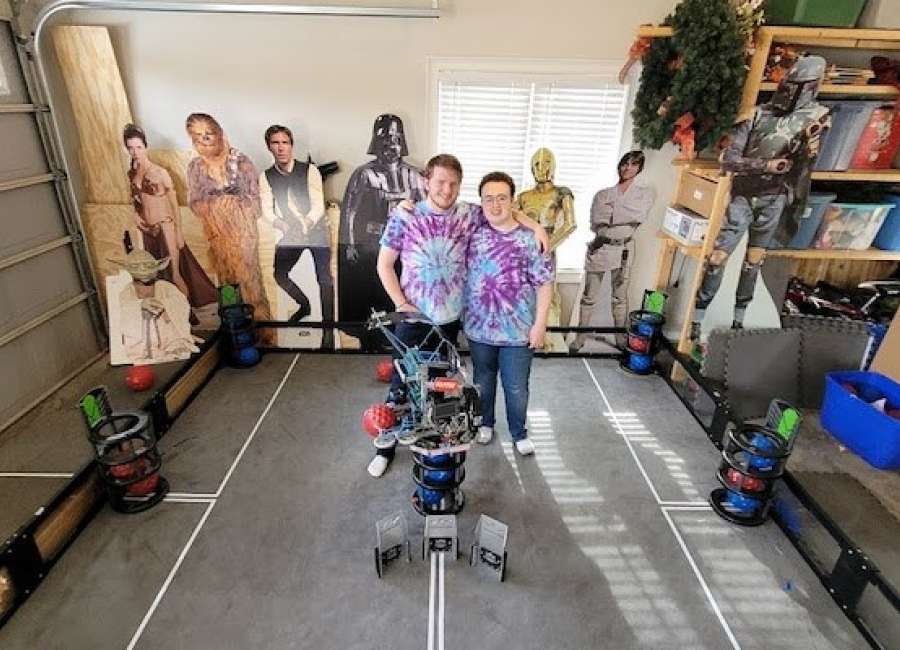 Two local high schoolers, Jacob Zawacki and Dawson Pent, have been competing as an independent robotics team, and have qualified for the world championship.
Zawacki and Pent attend the Central Education Center as well as their respective base high schools, East Coweta for Pent and Northgate for Zawacki. Every year since they were in eighth grade, they have been a member of the CEC's competition VEX Robotics teams, according to Zawacki and Pent.
"The last two years of VEX we were team leaders of our team 95E with the CEC," they said. "However, because of the introduction of COVID-19 into the world, many activities throughout everyone's lives were disrupted, including our VEX Robotics season."
The two wanted to keep following their dreams and gain experience from competing in robotics. So, they decided to buy their own robotics parts and create an independent team named 94999E – Yokai Independent.
"This meant we were on our own, and we wouldn't have any peer or coach support. we took
this newfound independence in stride and began to work towards being even more successful than previous seasons," the team said.
VEX Robotics Competition is a unique competition, in which each year, a new challenge is designed for teams to partake in. Four teams each with their own robots, two per colored alliance, compete in a 12-by-12 field, with multiple scoring objects and a total of two minutes to score as many points for their respective alliances.
In this season, there are nine goals in a grid formation throughout the field; teams score in these using red or blue plastic balls, corresponding to each alliance color. The team that owns the top ball denotes that goal as owned. The object of the game is to own rows of goals for more points, and whichever team has the most points at the end of the driver period wins the match.
Zawacki and Pent had to brainstorm, design and build a robot to complete the task efficiently, updating designs throughout the season.
"As our perception of what a robot needed changed throughout the season, we went through multiple designs until we arrived at what we think is one of the best designs," the team said.
As a challenge, they decided to build a robot in the three days immediately following the challenge reveal, commonly known as the "Robot in Three Days" challenge.
Using their knowledge and experience gathered throughout the beginning of the season, they began building the second iteration of their robot, Yokai V2. From brainstorming and talking with other teams, they decided that a robot that could cycle the balls around from the bottom to the top of the goals would be ideal, for easy scoring and descoring.
From this concept, they built their first iteration, which used a flywheel mechanism to launch balls into the goals. Although the design worked well, it was unstable, and the flywheel was overkill for launching the balls. To fix these issues, they decided to scrap the flywheel in favor of a slower top roller, and spent time properly bracing all of the towers on the robot.
"With Yokai V3, as it was dubbed, complete, we decided to design the next iteration for use at our first in-person tournament," they said.
Starting in September, they began taking notes on what parts of Yokai V3 they wanted to improve upon. They decided that the scoring speed needed to be increased, and the base should be able to move side-to-side as well as forward and backwards.
To meet these new expectations, they decided to design the robot using Computer Aided Design software to create exact models of the robot virtually before building. By using CAD, they were able to reduce building mistakes to a minimum.
After building and programming Yokai V4, they competed in two tournaments, one in Brentwood, Tennessee, and one in Carrollton.
The first tournament, in Brentwood, was Halloween themed, and Zawacki and Pent received the sportsmanship award.
In Carrollton, the team won the excellence award, the award for the best overall team, as well as earning tournament finalists.
They made several improvements to the robot, to create the current version, Yokai V5. This robot was taken to numerous competitions, including going undefeated and winning tournament champions at a tournament at Whitewater High School in Fayetteville, Georgia.
"At the same time as we were iterating our robot, we were also competing in skills competitions, in-person competitions and live remote competitions," they said.
Skills competitions are competitions with two separate sections. One section is the driving portion, and the second section is the fully autonomous portion, where there is no controller input and the program has to directly control each motor to move in the desired direction.
In-person competitions are set in a format where four robots compete on a field at the same time, two on the red alliance and two on the blue alliance. This creates a competitive and difficult competition where robots are descoring and rescoring goals constantly to try and outscore the opposing alliance.
These competition formats were rarely held due to COVID-19 concerns, so Zawacki and Pent had to find an alternative. Closer to the middle of the season, the Live Remote Tournament format was created, with teams being able to compete remotely from their schools or homes.
This Live Remote event format enabled them to compete in more tournaments remotely throughout the season.
They competed at numerous Live Remote Tournaments this season, the first of which was hosted by the RECF in Texas. At this tournament, they achieved tournament finalists, narrowly missing champions by one ball. They also participated in an LRT hosted by Ola High School in Henry County and in practice events for the state championship, ranking second overall.
This year's state championship was in the LRT format with two separate divisions, each division running similar to a typical tournament, with both division champions facing off in a grand finals match.
There, Zawacki and Pent fought their way to the title of division finalists, where they lost by one ball to the eventual State Champions. However, because of their high score during the skills competitions, they were able to receive a qualification for the World Championship, the largest and most competitive international competition in the world.
"Throughout our season, we have also interacted and befriended numerous teams and organizations," Zawacki and Pent said. "Our team is part of multiple Alliances, groups of competitive teams that have joined together to provide feedback, tips and teams to become friends with. In addition we have also partnered with multiple alliance members in tournaments, such as the RECF LRT, Greenville, South Carolina, and the Georgia State Championship."
They also published YouTube videos about their team and robot, as well as to provide inspiration for other teams.