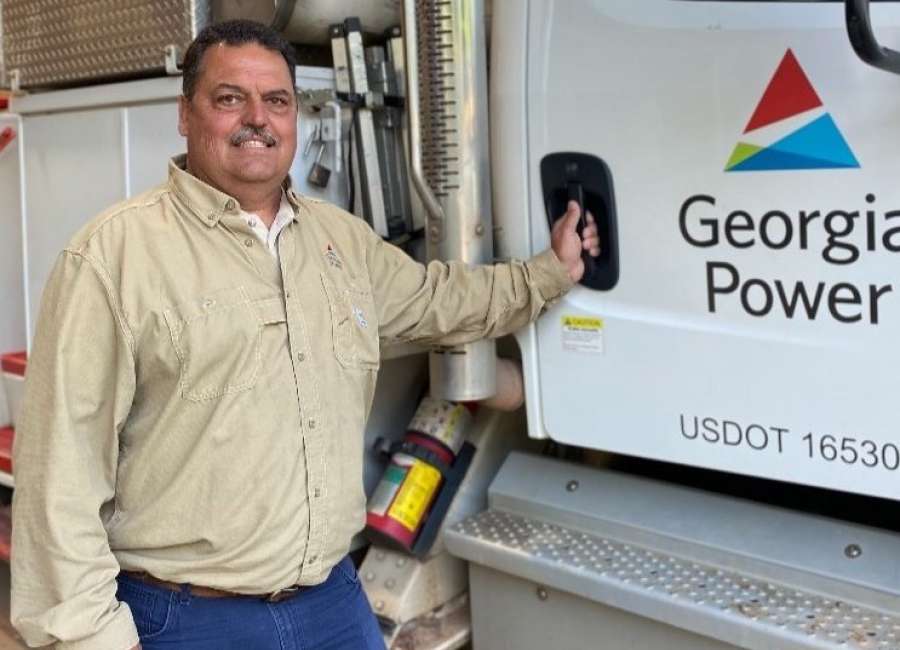 For Scott Nix, Newnan is more than a growing community on the south side of Atlanta – it's home.
Nix has lived and worked in Newnan his entire life. He's married to his high school sweetheart – Natalie, who he has been with since their senior year at Newnan High School.

By day, he has worked with Georgia Power for the past 37 years. First, at Plant Yates and now, as a lineman for the last fifteen. In his role, he does the "underground" work around Coweta County that includes replacing cables and fixing transformers.
"I've grown up here and know a lot of people in this community. Often, they will call me when they have an issue with their power," said Nix.
As a senior member of the team, he often takes on the role of mentoring the apprentices – those just beginning their line work journey.
"It's a rewarding experience to help the younger guys on the Newnan crew who are just coming up – not only with work skills, but in life too," he said.
Most recently, that crew was hard at work in their own community following the devastating tornado that struck in March.
"The storm hit one road over from our home and affected a lot of families that we know," said Nix. "It really wakes you up when it hits that close."
Nix said he is grateful that Georgia Power was able to work in their own community to help get the lights back on and provide additional assistance to the teams at Newnan Utilities.
"It makes you feel good when you can help your neighbors during a disaster like this."
At the end of the day though, Nix is just happy to go home safely to his wife and family. His son, Tyler is getting married this summer and his loving wife of 34 years donated her kidney to him when he needed a transplant a few years back.
"It's a dangerous job, but if you follow the safety rules, we can all look out for each other," he said. "Seeing these young guys learn the trade and carrying on to keep the lights going is really special."
Share your thanks this Linemen Appreciation Month
During the month of April, Georgia Power and other electric utilities in Georgia are celebrating and thanking utility workers across the state. The daily work done by line workers in Georgia's communities is always recognized, but their work has been especially pronounced over the past year, as many families continue to work and learn at home due to the COVID-19 pandemic.
Utility crews and personnel respond to outages and essential work in all conditions and following severe weather, including the recent spring thunderstorms and tornadoes across the state.
Throughout Georgia Power's 2021 Thank a Lineman initiative, saying "thank you" is quick and easy by signing the digital card at www.GeorgiaPower.com/ThankALineman.
Additionally, Georgians can celebrate and engage through social media by using and following #ThankALineman and visiting Georgia Power's Facebook (www.Facebook.com/GeorgiaPower), Twitter (@GeorgiaPower) and Instagram (@ga_power) pages.