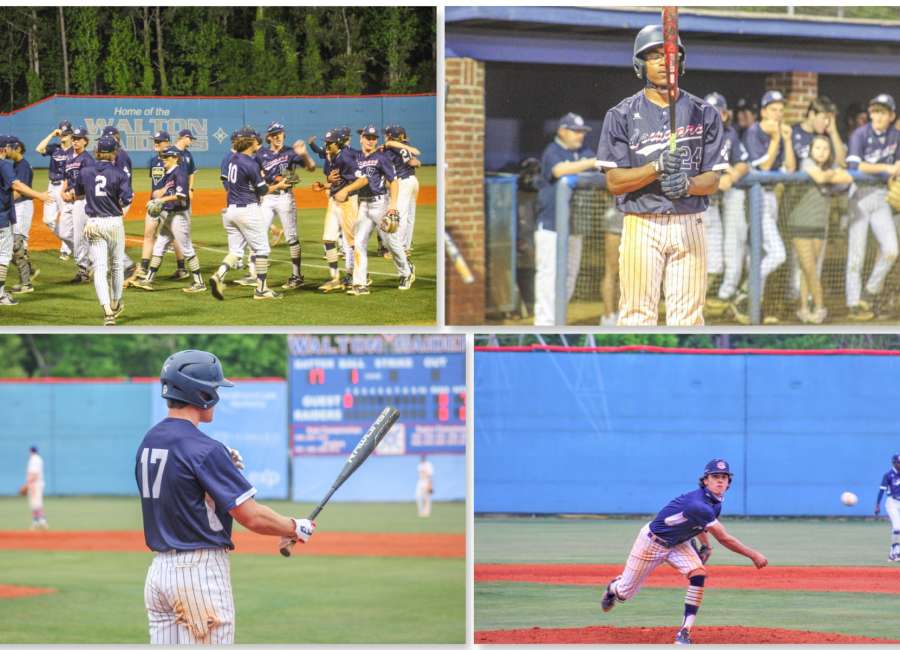 By Rob Grubbs
(Marietta, Georgia) - It is all a matter of perspective.
The Newnan Cougars had a five-run lead late in the first game of their Georgia High School Association (GHSA) playoff series. They had lost game one just forty minutes later and were down in the second game, 8-0.
How would they respond? #NewnanStrong.
For a team that lost last season with a COVID shutdown, then endured a COVID pause this season before the tornado took aim on their school and field, adversity is just a frame of reference. On Thursday night, they steadied themselves and fought their way back to win Game Two 11-8 and tie the series.
With the Cougars down 8-0 and facing the prospects of a long bus ride home into an even longer offseason, they simply did what they have all season, just play ball.
Chasin Cash drove in the Cougars' initial run in the bottom of the first with a single and Garett McGee followed with a sacrifice fly to score two. It was a modest start to an eight-run deficit, but it was the start of something special.
Newnan Head Coach Marc Gilmore brought in senior Jett Lovett to pitch in the first inning, and the senior delivered. He gave Newnan the time they needed to continue the comeback by not allowing a run over the final six innings.
Meanwhile, the offense continued to work. Michael Maginnis homered into the trees in left-center and Cash had a double that scored Lovett, making it 8-5 after two innings. Things stayed that way until late in the game.
The bottom of the sixth inning will be remembered for years to come for the Cougars. After the Walton pitcher got the first out, the offense erupted. Aubrey Carter started it all with an innocent six-pitch walk and suddenly the Cougars had the bases loaded and the tying run at first.
Coach Gilmore brought in freshman pinch hitter Wills Maginnis who was hit by a pitch to make it 8-6. When asked about the big spot for the young man, Coach Gilmore shared, "Next man up. It's late in the season now. It's not 9th grade. It's not 10th grade. It's not 11th grade. It's not 12th grade. It's which Newnan Cougar is going to go up there and give us a chance."
Michael Maginnis and Lovett did the heavy lifting from there. Each had a two RBI hit, Yates Kelleher added an RBI single and suddenly it was 11-8 Newnan.
Jett retired the side in the seventh, including a nifty, around-the-horn double play to end the game.
After the game, Coach Gilmore saw similarities between the season and the comeback win. He shared, "You tell your kids to keep playing. Just like we keep telling people in our community. Keep loving on people. It's going to get better. As bad as it is, it's going to get better."
It has been a season like no other for the Cougars. The coach added some insight. "We've only practiced five times in the last 33 days. We've just been playing. That's ground balls, cages, swings, bunt defense, first and third. We haven't been able to; we've just been playing, and these kids have been fighting. Since COVID and we get a week and then we get the tornado. I got nothing to do with it. These kids did it. These kids did everything."
As the Cougars left the field at around 10 p.m., they would have to be back less than 24 hours for a deciding third game. For most teams, to go on the road to face an elimination game is a daunting taste, for Newnan, it's just another day in their season. Fight adversity and overcome it.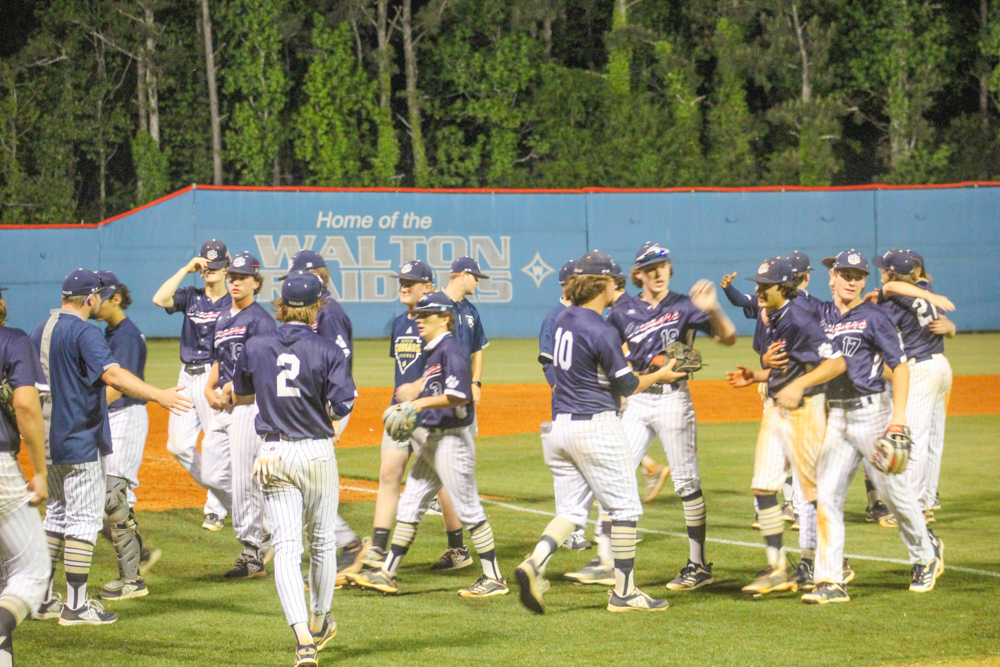 The Cougars celebrate a Game Two win, they will be back for Game Three in about 19 hours.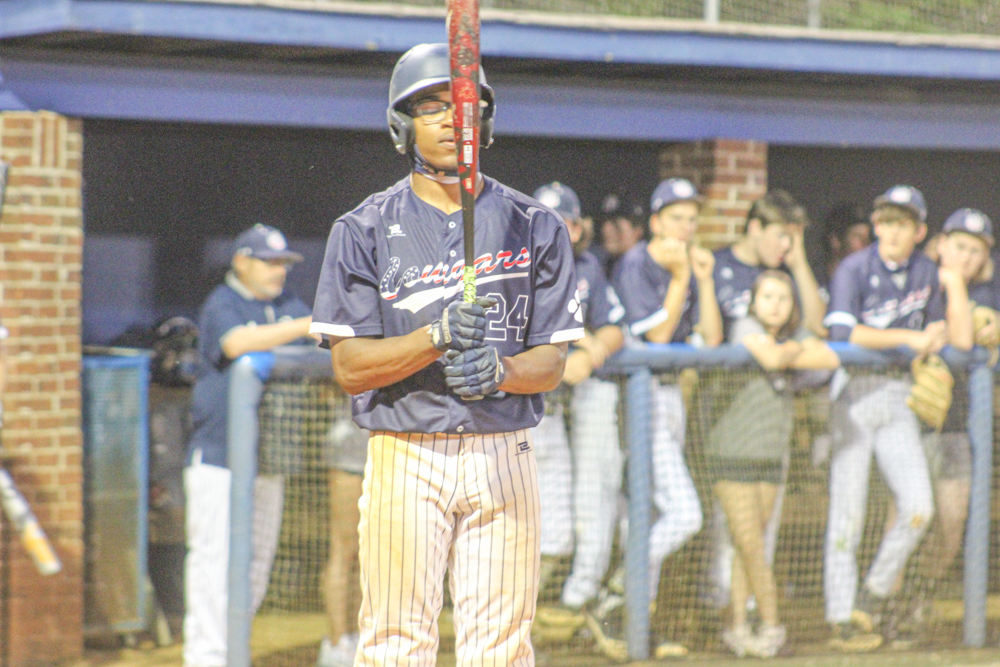 Aubrey Carter stands in at the plate. The senior had a key at-bat in the Cougars six-run sixth inning and scored a run.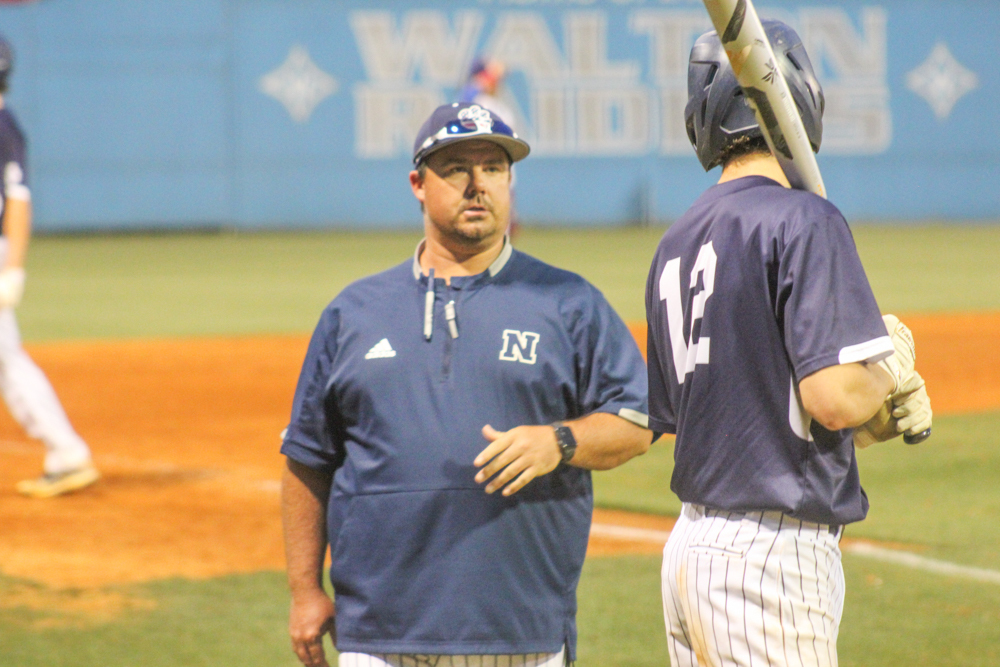 Coach Gilmore confers with Garrett McGee before an at-bat. McGee delivered a sacrifice fly for the Cougars in the first inning.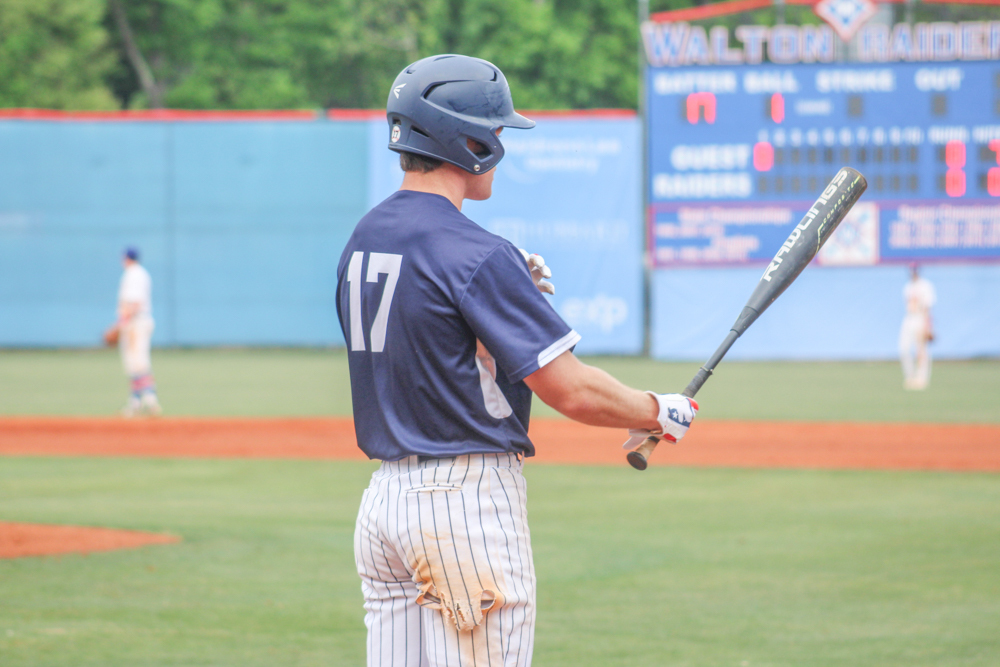 Senior Michael Maginnis prepares to leadoff for the Cougars in Game Two of the series.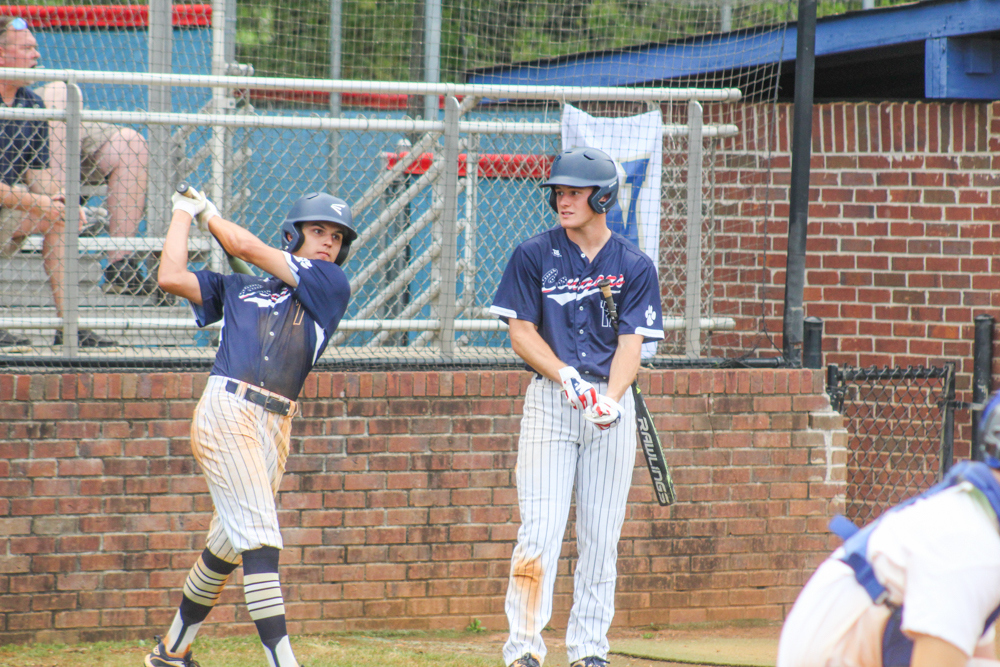 Seniors Lovett (left) and Maginnis (right) combined for eight hits and 7 RBI in the two games.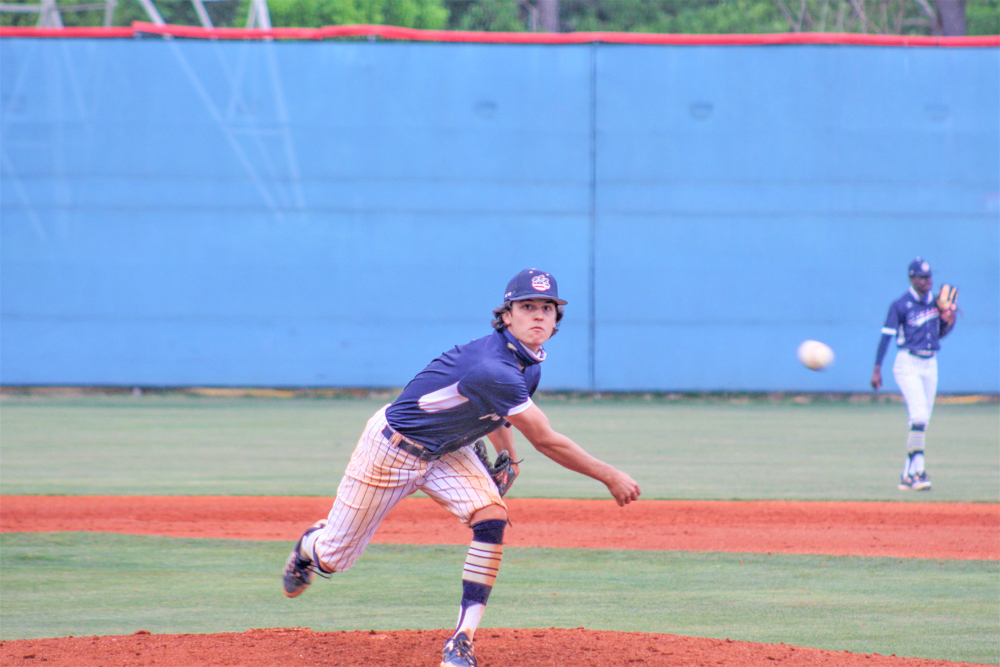 Cougar Coach Gilmore on Jett Lovett "He put us on his back, and that's what seniors do."