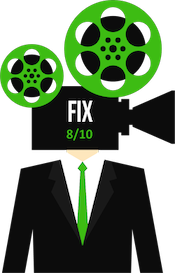 Review by Jonathan W. Hickman
"Invincible" is the current, leading guilty pleasure for any self-respecting comic book fan. Taking a page from the enduring DC Animated Universe, this colorful adaptation of a Robert Kirkman/Cory Walker/Image Comics series is something truly special.
Available on Amazon Prime, "Invincible" tells the funny and sometimes violent story of a high schooler named Mark (voice of Oscar-nominated Steven Yeun), whose father is Omni-Man (voice of Oscar-winner J.K. Simmons), the world's most powerful superhero. As Mark enters the end of high school, he develops powers like his dad and blossoms into the title superhero. And when Earth's heroes, The Guardians of the Globe, are savagely attacked, it's up to Mark to step into a Guardian role.
A sweet and heartfelt approach, "Invincible" follows Mark as he navigates his teen years, dealing with girlfriends and typical coming of age issues. But, at the same time, he's got to learn to harness his emerging powers and put them to good use. With his father as his teacher, Mark's journey isn't without peril. Dark forces from other worlds and those at home threaten the globe.
Don't discount this one as just another cartoon. This is mature storytelling that doesn't shy away from adult situations while also retaining a wholesome, family-oriented vibe. However, a word of caution: with some adult-skewing situations and comic violence, "Invincible" isn't intended for sensitive, younger viewers.
This show is the brainchild of "The Walking Dead" writer Robert Kirkman. The all-star voice talent is deep with Walton Goggins, Mark Hamill, Sandra Oh, and Seth Rogen, just to name a few.
The 8-episode run of "Invincible" concludes on April 30, with a new episode premiering every Friday.
A RottenTomatoes.com Tomatometer-approved critic, Jonathan W. Hickman is also an entertainment lawyer, college professor, novelist, and filmmaker. He's a member of the Atlanta Film Critics Circle, The Southeastern Film Critics Association, and the Georgia Film Critics Association. For more information about Jonathan visit: FilmProductionLaw.com or DailyFIlmFix.com