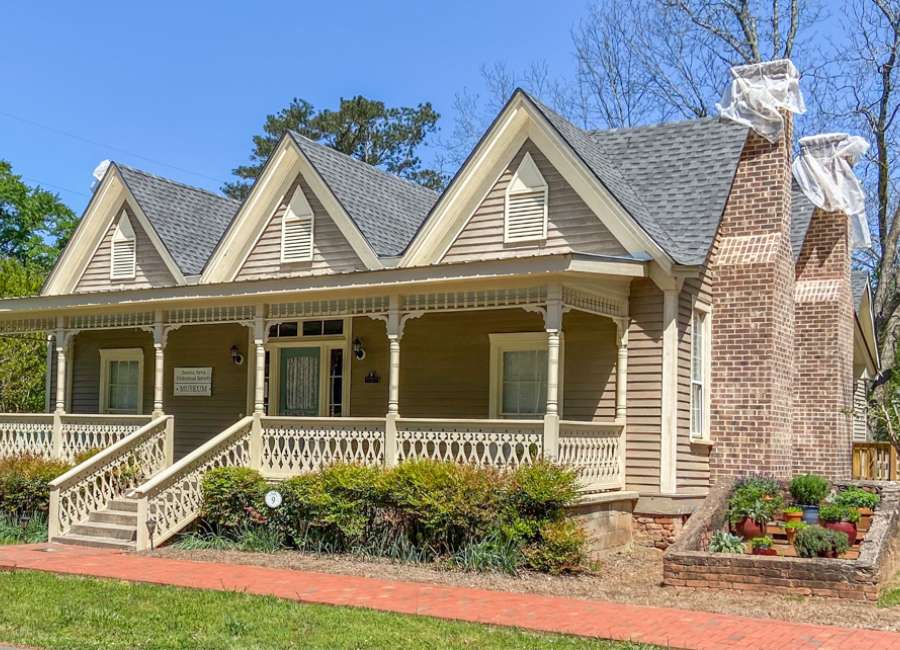 Although never winning the Emmy it rightfully deserves for its portrayal of the small town of Woodbury on the hit television show The Walking Dead, if there is ever an award for having the strongest connection to the past, the city of Senoia would win it hands down.

The Senoia Area Historical Society History Museum, located at 6 Couch St. — just a short walk from downtown — is a tribute and testimonial to a city proud of its history and heritage. And there is perhaps no one prouder of it than the Museum Director, Maureen Schuyler.
I've known Maureen since Cindy and I moved to Senoia almost seven years ago, and I know for a fact she puts her heart and soul into her job. A cliché, I know, but it's not meant to be. If you know Maureen, you understand. If you don't, I encourage you to meet her and find out for yourself. (Incidentally, the correct pronunciation of the city is Se-noy, and if you say it incorrectly — with three syllables, for example — it means you're not from around here.)
Join Maureen as she takes us on a tour of the museum, pointing out some of her favorite artifacts and exhibits:
In the Senoia Room (early 1800s to early 1900s) rests an oversized, leather-bound guest register from 1927 from the Hollberg Hotel (now the Veranda Historic Inn). As you look at the names of the guests — some from as far away as California and New York — you can almost picture them signing their names with a fountain pen. In the display case sits two Coca-Cola bottles with "Senoia" embossed on the bottom, dating back to the days when the beverage was bottled locally.
The History Room (mid 1900s) contains the elaborate, large and rather ornate silver cash register used in R.S. Sewell's General Merchandise store (30 Main St., smack dab in the center of town) from 1946 until 1973. On a tiny wooden chair sits the teddy bear of Wanda Jones, a longtime resident of Senoia. The teddy bear, crafted by patches of quilts made in 1915 by Wanda's grandmother, boasts a history of being "hugged, drugged and probably slobbered on."
In the Heritage Room (late 1900s to present) sits the largest object in the museum: a large projector used by Riverwood Studios from 1989 through 2001 that was once loaned to AMC so they could use it as a prop for The Walking Dead (season 9, episode 11). And the room wouldn't be complete without a display dedicated entirely to the hit show: one that a true fan wouldn't want to miss.
The museum also contains a research library that features a 4-by-5 map of 1898 Senoia; "a Portrait of Senoia," an exhibit lining both walls of the entrance featuring black-and-white photographs of local residents taken between 1988 and 2001 by local photographer Gary Gruby; and a meeting room with an ongoing military display — the museum is honored to recognize service to our country by the men and women with ties to Senoia — and, not one but two attractive fireplaces (there are two on the other side of the house as well).
There is so much more to see — to experience, and Maureen and the many docents who volunteer their time to preserve and promote Senoia's proud history are eager to give you a tour or, if you prefer, invite you to move about at your own pace and make themselves available to answer any questions you might have.
***
The museum was originally a house built by J.A. McKnight in the late 1860s and purchased in 1900 by A.P. and Beulah Carmichael for $1,500, where they lived and raised their eight children. The Senoia Area Historical Society purchased the building in 1990, using it for meetings and events for 20 years before deciding to make it into the ultimate fixer-upper and convert it into a museum. In 2010, The SAHS Museum officially opened its doors to the public, and to date, thousands of visitors from all over the world have ventured inside.
As one can imagine, it took an extensive amount of labor and expense to get a structure originally built more than 150 years ago in shape to safely receive guests. Labor, expenses and, just recently, a ton of bricks (also not a cliché). Four fireplaces and chimneys had to be totally reconstructed, as the original ones were all past their "expiration dates." The expense for the construction — requiring the aforementioned ton of bricks — was more than 25 times the original cost of the house. And for an organization that operates primarily on donations, that was a lot of money. Especially now.
Under normal circumstances — that is to say, when there isn't a global pandemic to contend with — the museum hosts a variety of special events to raise funds: the Spring Tea and the Fall Auction, for example. However, neither could be held last year, causing a negative impact on the museum's funding. The other major means of financial support is through the generous donations of the visitors; however, the museum's sporadic schedule over the past 12 months compounded the problem caused by the absence of the special events. While the museum was closed during the recent construction project, history came alive once again on Saturday, April 2, at which time regular visiting hours — 1-4 p.m. on Fridays and Saturdays — were revitalized. (Private tours are also available.)
The SAHS recently launched a GoFundMe page (Senoia Area Historical Society Museum Renovation) to help with the costs for the four fireplaces and chimneys, as well as other needed repairs in the near future. Supporting the SAHS is a way of saying you care about the history and heritage of Senoia, a small part of Coweta County that offers so much. Your contribution supports what the SAHS is trying to accomplish: the preservation of our history.
***
If you would like to become an annual member of the SAHS, schedule a private tour of the museum, or have any questions, please give Maureen Schuyler a call (352-428-9916) or send her a note (maureenschuyler@yahoo.com). Be prepared to experience that "heart and soul" I mentioned earlier.
***
Scott Ludwig lives, runs and writes in Senoia. His latest book, "Southern Charm" is a collection of his first 101 columns for The Newnan Times-Herald. He can be reached at magicludwig1@gmail.com .