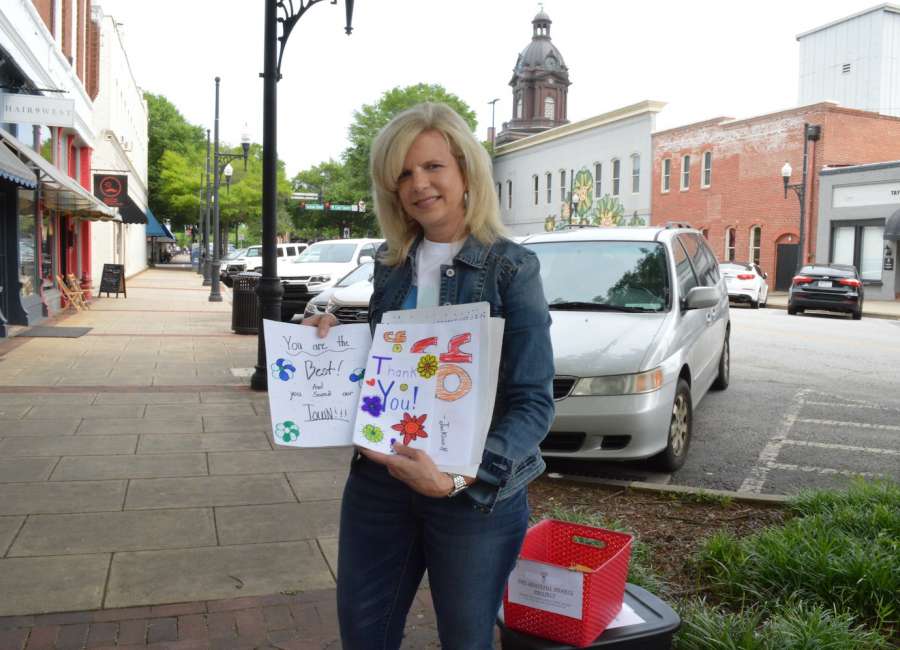 All over Coweta, people are making thank you notes to be sent to medical workers, first responders, and those working with tornado cleanup as part of the Grateful Hearts Project.
The Grateful Hearts Project asks Cowetans to write thank you notes, which are then distributed to various workers around the community.
The project is the idea of Cowetan Kim McCurry.
"This is just something that came to me when we marked a year of the pandemic," McCurry said. She wanted to do a community project to show gratitude.
She thought about people who have put in so much over the past year – healthcare workers, first responders, delivery drivers, and others providing essential services.
"They've all had a really heavy burden placed on them. They're led to help others, of course, but they have really endured this past year," McCurry said.
Her history as a nurse certainly had an influence. "I understand the hardships that frontline workers go through of course," she said. But something completely unexpected like the COVID-19 pandemic, that struck so quickly, is something altogether different.
She decided to go with hand-written thank you notes as a way to reach out and give something to those who have given so much.
"It's handwritten, it's not electronic, not an email, not a text, but something they can hold in their hands. Something they can open and read, from someone who is showing appreciation," McCurry said. "To me that means everything, and it goes back to 25 years ago when I worked in a hospital."
McCurry said she still has thank you cards from patients she cared for.
"I remember, just like it was yesterday, how much that meant to me," she said.
Several schools are participating by having students make cards, some churches are participating, and McCurry reached out to businesses around Coweta to be collection sites. At the sites, there is a red basket where cards can be cropped off, and some businesses also provide blank cards that can be filled out on the spot.
Current drop off locations are Jersey Mike's Subs, Karvelas Pizza Company, Happy Life Nutrition, Percolate Coffee and Boutique, Pet Supermarket, RPM Full Service, STart Dance Studio, The Hug Box, and U Dirty Dog.
"We're trying to collect as many of them as we can," McCurry said. The cards will be distributed to police and fire stations, hospitals, urgent care centers and the like.
"In times like these, to me, it reminds us to live in gratitude," McCurry said. "And letting others know that they matter."
The project was just starting to ramp up when the March 26 tornado struck.
Since then, cards have been given to electrical crews working to restore power and other services, and to the Georgia Department of Transportation crews doing storm clean up.
McCurry said the reaction to the project has been great. There's a Facebook page, @thegratefulheartsproject, and the idea has spread quickly.
Tiffanie Teel said she was excited to hear about the project, and got involved right before the tornado. When the storm struck, "it brought it all back home and made it so much more important. My heart is to give back into the community and this was a great opportunity."
"We've had a really good response. People are saying – oh, that's something I can have my kids do," McCurry said. "It is a good lesson for the children and it kind of makes everybody just stop and reflect – reflect on the humanity and the kindness. I think we all need to do that."
For more information, visit the The Grateful Hearts Project page on Facebook or contact McCurry at 918-409-6494.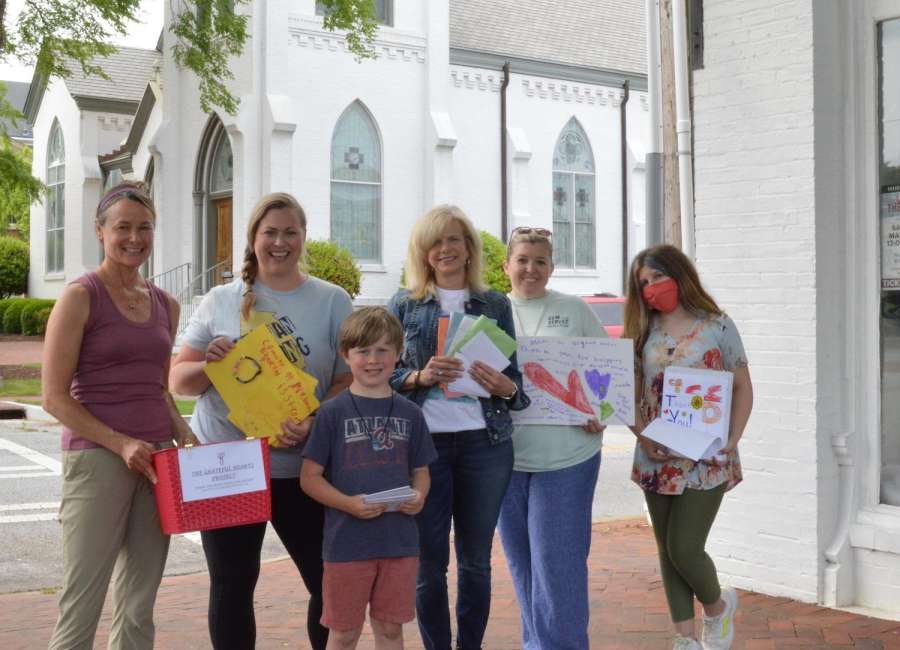 Showing some of the thank you notes submitted for The Grateful Hearts project are, left to right: Vicki Sanders, Tiffanie Teel, Rhett Teel, Kim Mcurry, Rachel Rine and Allie Rine.