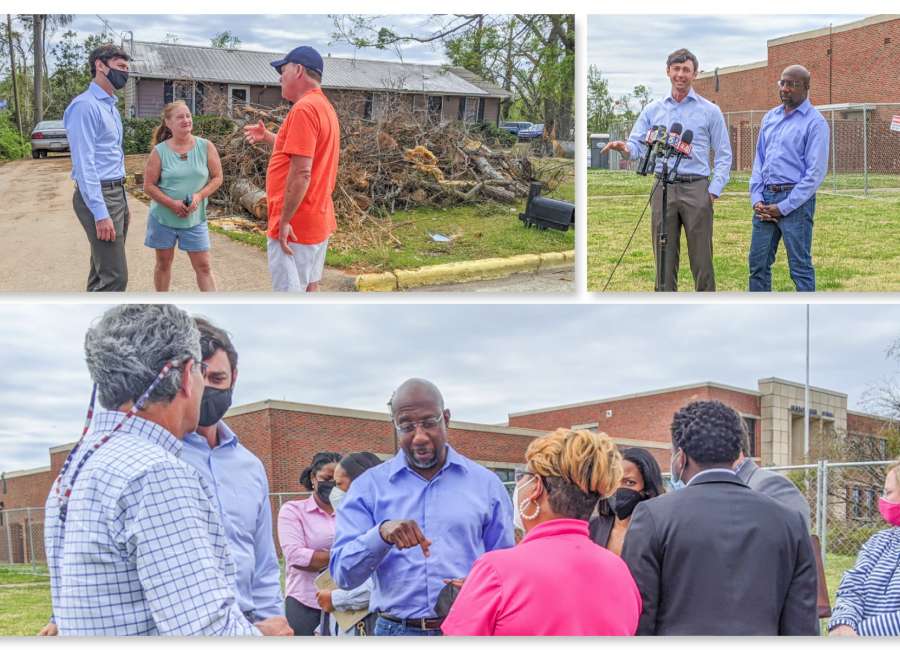 Three weeks after a tornado ripped through Coweta County, Sens. Jon Ossoff and Raphael Warnock both toured the damage in Newnan Saturday.

The two promised to petition the Biden Administration and FEMA for federal disaster relief and said they would work to ensure the government will provide resources to those impacted by the storm.
"Sen. Ossoff and I are going to do everything we can to make sure the federal government steps up," Warnock said.
It's estimated the public assistance portion, which includes local government, school system and nonprofit utilities funding, could top $28 million.
Aid could also come in the form of funding for crisis counseling, case management, Small Business Administration loans and help with individual families.
According to the National Weather Service, the tornado impacted around 1,800 homes, businesses, churches and schools, displaced 400 families and accounted for one death.
Nic Burgess, Coweta County Emergency Management coordinator, said help could come in the next two to six weeks and attributed delays to the storm happening around the Easter holiday and GEMA having to inspect so much damage.
Burgess estimated the ongoing cleanup would continue for several months and said debris removal trucks are working nonstop.
"There are a lot of folks who lost their homes, the places they worked so hard to have," he said. "We're going out and helping them put it back together and do everything we can to help those in need right now."
Warnock praised local leaders and the local school district for managing coordination response efforts after the storm.
On March 26, Gov. Brian Kemp also visited Newnan High School and assured state agencies were going to see through the cleanup efforts in Newnan and across Coweta County.