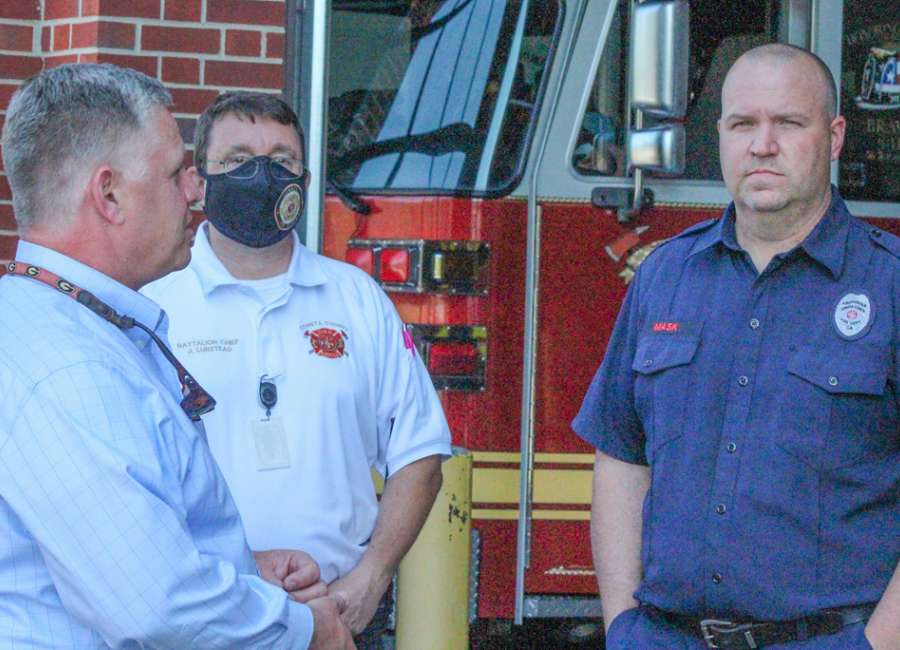 Congressman Drew Ferguson, who represents Georgia's 3rd Congressional District in the U.S. House of Representatives, visited Newnan and Coweta County today to talk about disaster relief.

Ferguson said he was thrilled to see the enthusiasm of people who are determined to rebuild the city.
"The darkest times will bring out the very best in folks, and we've seen that throughout Coweta County," he said.
Ferguson said he met with representatives from Newnan and Coweta County on Tuesday to talk about the status of disaster relief. He understood that the total amount of uninsured public damage in the state exceeded $16 million, which would allow FEMA to get involved with helping local governments clean up in the aftermath.
"There's a certification process that it's got to go through," Ferguson said. "That's what GEMA's working on now. They want to make sure they get that right as soon as they sign off on it, then we feel like the Governor will sign off on it, and then it goes to the Federal level, and that will trigger that. Hopefully this gets done over the next couple of weeks."
Ferguson said the area will be facing two major challenges in the aftermath of the disaster:, that of a housing crisis and of an educational crisis.
According to preliminary data from the Coweta County government, more than 1,700 homes were impacted by the EF4 tornado that struck Newnan on March 26, with some of them completely demolished as a result.
"There's already a low inventory of rental units available in Coweta County," Ferguson said, "and we're trying to make sure we're trying to find creative solutions to make sure that people that live, work and operate in Coweta County aren't displaced somewhere else. We want the folks to make sure they've got a place here."
Ferguson said the Newnan City Council discussed those creative solutions on Tuesday, which would involve temporary measures to keep residents housed while homes were rebuilt.
"We want to make sure we've got a long enough runway to get them so it's not just a six-month issue, but rebuilding these homes will take at least a year, if not longer to do, so I think they're trying to be very mindful that the runway to do this is long enough," the congressman said.
Ferguson also expressed a sadness for those students at Newnan High School, whicha school that sustained severe damage as a result of the March 26 tornado.
"These poor students that have been through two years of COVID restrictions, distance learning and hybrid learning, to have this senior class and this year's rising seniors, to not have the normal high school experience, is going to be a real shame," Ferguson said. "That's going to have a real impact on them."
Ferguson said he was excited to see the community help out to find ways to ensure boththe senior classes' experiences were as normal as possible.
"Newnan High School is just a fantastic school;, there's been some great investments that have been made there, from the educational facilities to the athletic facilities., iIt'll get rebuilt," he said. "But we've got to make sure these kids are taken care of in the meantime."