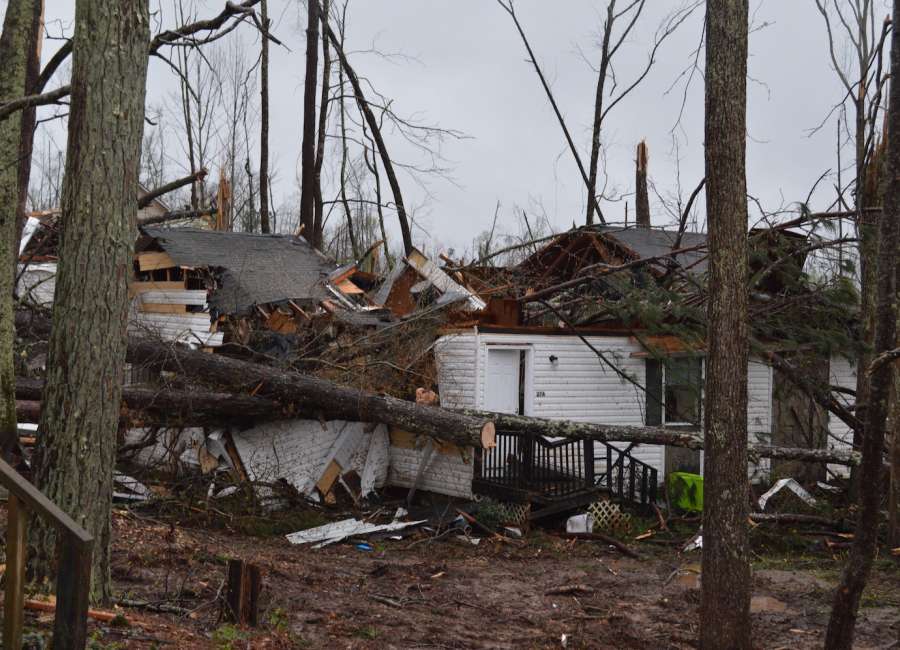 The Federal Emergency Management is on the ground in Newnan doing its own assessment of damaged properties from the March 26 tornado.
Once that assessment is complete, calculations will determine if Georgia – and by extension, Coweta – will qualify for federal disaster assistance.
Federal disaster assistance requires certain damage thresholds, both for individual counties and the entire state. While Coweta certainly meets the county thresholds, the disaster may not have been widespread enough to get a federal disaster declaration.
Coweta Emergency Management Director Michael Terrell gave the Coweta County Board of Commissioners some updates on the FEMA process, as well as other updates on storm recovery, at Tuesday night's commission meeting.
The Georgia Emergency Management Agency and county officials have already done their needs assessment and found 1,744 affected homes, including 120 with major damage and 70 that were destroyed.
But FEMA does its own assessments.
FEMA teams consist of four people, including a GEMA representative and a local official in each vehicle.
The FEMA assessment started with two teams for individual assessments, and two more teams came in Tuesday.
There are two sides to FEMA assistance: public, which means expenses borne by cities and counties and nonprofit utilities such as Newnan Utilities and Coweta Fayette EMC, and individual assistance for homeowners, renters and businesses affected by the disaster.
FEMA teams with local officials made extensive assessments of the public buildings and facilities on Tuesday.
Terrell said it's hoped that all of the assessments will be completed by Thursday.
There are separate thresholds for the public assistance, known as "PA," and individual assistance, "IA." Coweta could get a federal declaration for either, both – or neither. For PA, the threshold for the state is $16 million.
The determinations for individual assistance aren't so finite.
Under federal regulations, federal assistance "may not supplant the combined capabilities of a state, trial or local government." Instead, it is intended to assist people when state and local government resources and assistance programs are overwhelmed.
State fiscal capacity and uninsured home and personal property losses are the principal factors. Under the regulations, if the need for federal assistance isn't clear from evaluating the principal factors, FEMA can add in other factors, including the state's resources, per capita income and other resources available.
Federal disaster relief is intended to be supplemental and not a replacement for state emergency relief programs, services and funds.
Six other counties were impacted by the overnight storms March 25-26, and their damage will also be included in the total.
Once the assessments are done and documentation is complete, then it will be determined whether or not the disaster meets federal thresholds.
If so, Gov. Brian Kemp will have to write a letter to the president to request a disaster declaration.
There is no timeline for how long that can take. Some declarations can be done in a matter of days; others have taken longer, Terrell said.
FEMA disaster relief for individuals can take many forms.
According to the FEMA Disaster Guide, subsidized loans through the Small Business Administration are the primary form of disaster assistance for both individuals and businesses.
Those loans can help with repair or replacement of disaster-related damages to homes or personal property, and can help business owners with repair or replacement of disaster-damaged property, including inventory and supplies. Economic Injury Disaster Loans provide capital to small businesses to help them through the disaster recovery period.
FEMA also has the Individuals and Households Program, which is a combined state and federal program, to provide money and services to people whose property has been damaged and destroyed and whose losses are not covered by insurance.
The IHP program includes housing assistance and "other needs assistance." Housing assistance can include temporary housing assistance, which can be funds available to rent a different place to live or a temporary housing unit (aka FEMA trailer) if rental properties are not available. There are also grants to repair damage and, under rare conditions, limited funds to replace disaster damaged homes, according to the FEMA Disaster Guide.
The other needs assistance program is for those who have disaster-related expenses but do not qualify for a low-interest SBA loan. The program can include grants for necessary and serious needs, including medical and dental expenses, property moving and storage and transportation needs.