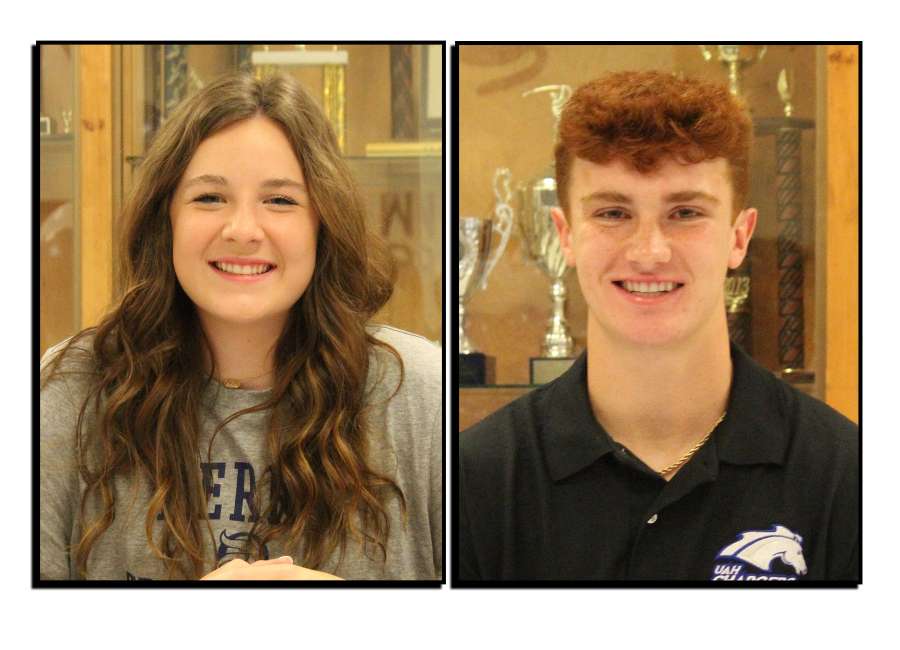 Two student athletes from East Coweta High School formally signed letters of intent to continue their athletic career in college.
Madison Duke, a track and field athlete, will continue her track days at Berry College, while Jackson Millians of the men's lacrosse team, will go to the University of Alabama at Huntsville. The two signed their letters of intent in front of a large crowd of family, friends and other well-wishers.
"He's a hard-working kid," said Nicholas Johnson, head coach of the East Coweta men's lacrosse team. "He takes care of his business on the field and in the classroom. He's one of those guys that's a coach's dream. I enjoy coaching him; he's fun to be around."
Johnson said Millians was someone he could depend on in the heat of battle and when they were in a tough spot to get the team going in the direction they needed.
"I've been coaching him for two years, and he's one of those guys you love to be around, and I'm excited to see how he does at the next level and gets that free education."
Johnson said a player like Millians is one a program would need to get going to the next level.
Madison Duke, who is going to Berry College, is second in East Coweta history in the high jump, said her coach, Chase Smith.
"I'm ecstatic," Smith said. "Not a lot of kids get to continue the journey past high school track, and she's fortunate enough to do it."
Smith said Duke was a key figure in the East Coweta track team, placing in numerous events, and was only held back by the COVID-19 pandemic from reaching bigger and better things.
"She's competed in everything," Smith said. "She's been in the 4x1, she's been in the high jump, she's done the 400 for me, the 100; she's a very dynamic athlete. I think if we didn't have that quarantine, she definitely would have gone to state and placed this year, but due to quarantine, it was kind of hard for her to get to where she wanted to be."
Hap Hines, athletic director for East Coweta, said days like Thursday were the best part of his job.
"They worked hard, put in the time, the effort and took care of their studies," Hines said. "To have the opportunity to go and compete at the collegiate level, we're just so proud of them we can't see straight."
During the ceremony, Hines encouraged both Duke and Millians to come back to East Coweta whenever they get a chance.
"Don't forget where you came from," Hines said. "We love you, and we can't get enough of you, but it serves as a great example of people who aspire to want to go to college and compete and shows what it takes, so thank you for representing everything that is great about East Coweta High School both on and off the field."