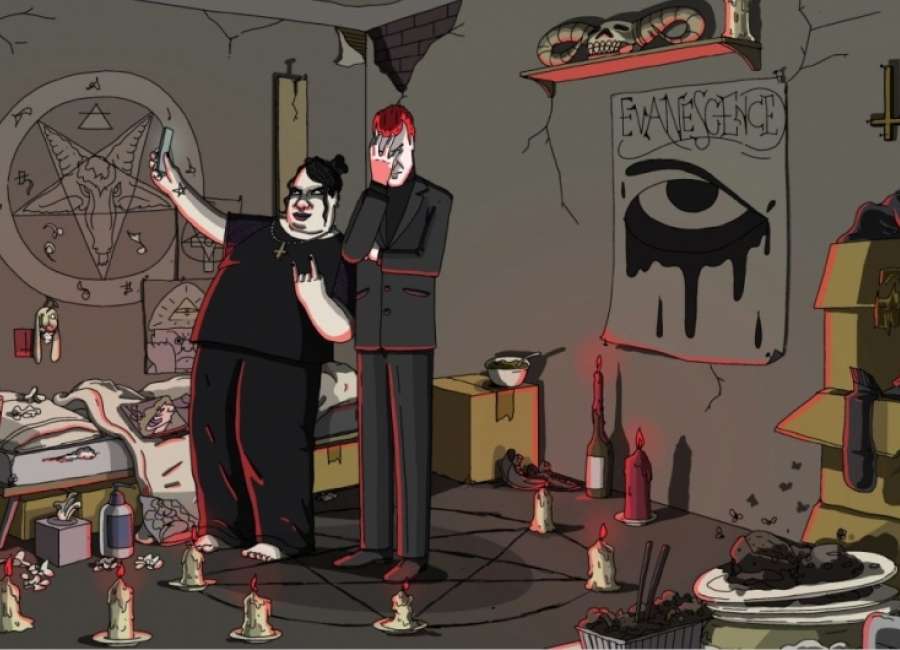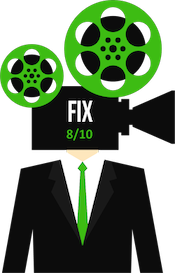 Review by Jonathan W. Hickman

All the cool kids end up in hell, if for no other reason than it's darned funny.

"Robot Chicken" creator Douglas Goldstein's latest animated series for SyFy is gleefully profane and often hilarious. Not a show for the squeamish viewer, the story follows the hapless Beans (voice of Asif Ali) as he surprisingly finds himself stuck in Hades. Why he's there remains a mystery, but soon after arriving, he does find a purpose.
The big red guy in charge (voice of Alan Tudyk) recruits him to help spice things up in the nether world by bringing the insidious evil of social media to the fiery depths. Beans' job as the social media consultant involves handling various trending topics for the growing community of lost souls.
He becomes a de facto member of the Devil's ruling cabinet. Made up of a strange collection of the deceased, Beans initially can't believe that he's a part of this dysfunctional crew. For example, the Devil's right-hand man is President McKinley (voice of Fred Tatasciore). Yes, the same American leader assassinated way back in 1901. McKinley was the low-key president who managed to win nationwide election without leaving his front porch.
Series creator Goldstein, who also worked on "The Simpsons," skewers everyone from his not so lofty perch in hell. It's from there that he's never able to punch down. This "devil may care" approach means that nothing's sacred.
In one episode, Gwyneth Paltrow makes a brief appearance with understandably "goopy" results. And while Beans' importance to the hell political machine is integral, just why he's there is the nagging question.
As he attempts to embrace his new eternal life, there's the potential for some profound commentary on our existential issues. How does one end up in the bad place, anyway?
This project's satirical nature appears to be building up to something that should resonate beyond recurring laughs. I appreciated the Devil's back story where Macon, Georgia's Jack McBrayer lends his voice talents as God himself. And none-other-than Lindsay Lohan can be heard playing a Beans romantic interest named Ziva. Naturally, in hell, nothing turns out well.
There are joys down there, however, but those produce tainted moments. Like, at one point, the residents are excited to get one of the Stars Wars sequels but find themselves subjected to "The Rise of Skywalker." Depending on where you fall on that space opera installment, you'll know whether "Devil May Care" is for you. I dug it.
Goldstein and his co-writers do find a bit of heart in the infernal regions. And as the Devil, the infinitely likable Tudyk plays the character with a combination of sarcasm and not so subtle understanding. After all, the Devil is charged with maintaining order as souls continually arrive, and while he's often concerned with his own needs, begrudgingly, he's required to tend to others. The Devil does care in this incarnation of hell, if while also doing a lousy job of showing it.
"Devil May Care" is a series that will appeal to fans of "Futurama," and it's every bit as edgy and keenly observant. And in 2021, with the world recovering from a deadly pandemic, it's also a show reflective of what some may refer to as the coarsening of society.
Without missing a beat, Goldstein leans into that criticism wholeheartedly, never pulling back and pushing the joke beyond. It's that place beyond, the extended, extended metaphoric expanse, where he might discover the true metaphysical answer to why the otherwise moral and good Beans ended up going down instead of the other way.
All seven episodes of "Devil May Care" are now available on Hulu and SyFy.

A RottenTomatoes.com Tomatometer-approved critic, Jonathan W. Hickman is also an entertainment lawyer, college professor, novelist, and filmmaker. He's a member of the Atlanta Film Critics Circle, The Southeastern Film Critics Association, and the Georgia Film Critics Association. For more information about Jonathan visit: FilmProductionLaw.com or DailyFIlmFix.com