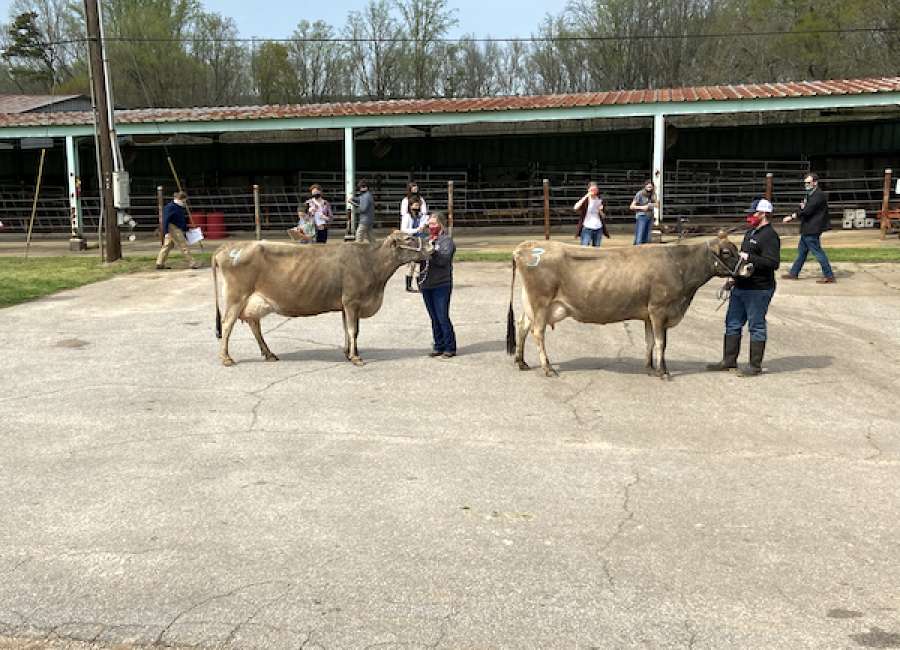 Twenty-six youth participated in the Georgia 4-H State Dairy Judging Contest on March 26 at the University of Georgia Teaching Dairy in Winterville.
A team of 4-H'ers from Coweta placed second in the junior division of the competition. Representing Coweta were Gillian Ramponi, Josie Roberson and Nolan Hahn.
This evaluation competition — sponsored by the John W. Cook Memorial Fund, Georgia Dairy Youth Foundation and the Milk Check Off — is a major event for the Georgia 4-H Livestock Program, part of UGA Cooperative Extension, according to a press release from UGA's College of Agricultural and Environmental Sciences Newswire.
Participants learn to identify types, grades, breeds and classes of dairy cattle while developing skills in dairy science and profitable farming. The contest also encourages youth to enhance their skills in decision-making, critical thinking, problem solving and social skills as a team member.
"What a delight it was to see young people back in person to compete in a dairy event. The quality of the youth at this contest was ever-present, from their placings to discussing those placings during reasons set," said Jillian Bohlen, UGA associate professor and dairy Extension specialist in the release. "I commend them as well as their coaches on their commitment to dairy youth activities."
Senior participants in grades nine through 12 reviewed classes to place the different dairy cattle into specific classes and provided three sets of reasons providing explanations for their placings. Junior participants in grades four through eight viewed classes for placement and provided one set of reasons explaining their placements.
Youth compete individually for high individual and as a team through the combination of the top county individuals. All of the competitors received an award pin for participation. The top three individuals and top three team members will receive medallions, and a team plaque will be presented to the top participating teams.
The first place Senior Team will have the opportunity to represent Georgia at the 2021 National 4-H Dairy Judging Contest held in Madison, Wisconsin, in the fall.
The 2021 Georgia 4-H State Dairy Judging Contest winners are:
Seniors
First place team: Jazmine Ralston, Katie Reynolds, Joshua Carr and Breana Manning – Gordon County
Second place team: Holt Sapp, Abby Joyner and Erin Rivers – Burke County
Senior high individual: Jazmine Ralston – Gordon County
Juniors
First place team: Sara Morgan Sapp, Macy Doyen, Emree Williams and Victoria Chamberlin – Burke County
Second place team: Gillian Ramponi, Josie Roberson and Nolan Hahn – Coweta County
Third place team: Maggie Harper, Audrey Williams, Mackenzie Morris and Andrew Gardner – Morgan County
Junior high individual: Maggie Harper – Morgan County