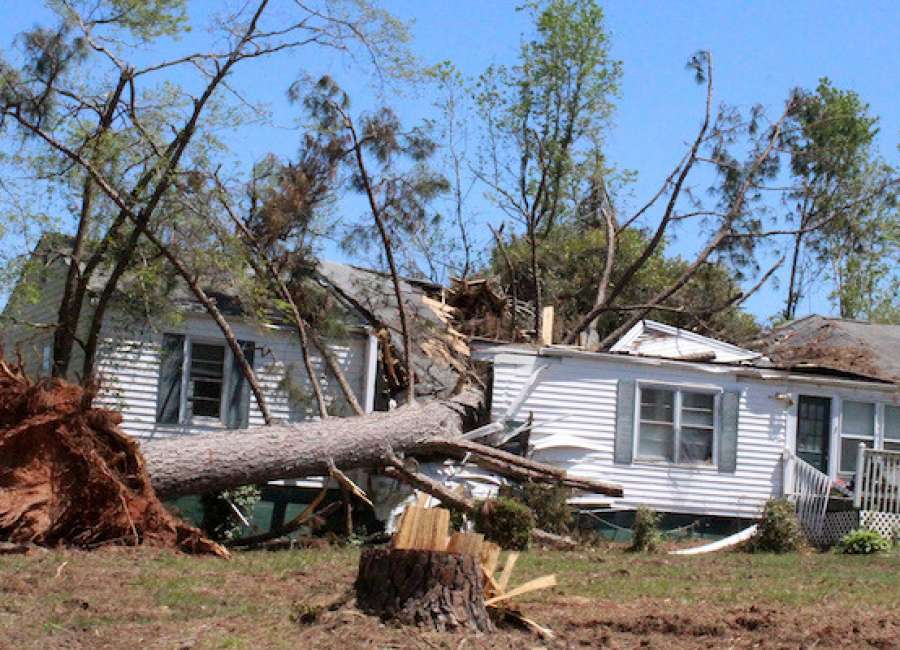 The Community Tornado Relief group shared its plans to continue housing people in hotels at the Pastors and Leaders group meeting held via Zoom Monday.
The Rev. David Jones of Newnan Presbyterian Church said many faith organizations have stepped up to help directly following the tornado that hit Coweta County March 26.
"The kind of repair work we're going to be engaged in is going to be a marathon, not a sprint," Jones said. "We probably have a number of years ahead of us in terms of all the work we have to do.
"And that's not due to any kind of shortcoming on any part of our government officials, or the work they're doing. No matter how much help we get, this is a long term effort in recovery," Jones added.
Jones said many of the local faith organizations got together the Sunday after the tornado at Central Baptist Church and formed a group called Community Tornado Relief. In doing that, a fund was set up at Newnan Presbyterian Church that is managed by a community board, not the church.
He said the board's first goal is to help bridge the housing gap for those who have been identified as needing housing by the American Red Cross, One Roof Ecumenical Alliance Outreach and St. Vincent de Paul.
Jones said they know of 52 families who are in hotels because their housing isn't adequate at the moment.
"We know we can't solve everybody's problem, we can't make everybody whole, but our group is committing $60,000 to try and house folks in two week intervals, if they need it, all the way through the end of the school year, which is June 1," Jones said.
He said they think they can get six weeks worth of hotel time, for one room in a reasonably priced hotel, for a total of $3,000 per family.
"That's the number we're shooting for, and that's what we're trying to do," Jones said.
He said they're going to be able to cover 20 families just from the money they've raised so far with the Community Tornado Relief fund.
Jones said among the community board are Newnan Chapel UMC Pastor the Rev. Terri Lemons, Newnan City Council Member Cynthia Jenkins, Coweta Samaritan Clinic Medical Director Dr. Kay Crosby, Newnan Presbyterian's Church Outreach Coordinator and Shelton Martin of GO Church.
Jenkins said they know the families who are being housed through One Roof and through St. Vincent de Paul, but they don't know if there are other churches, companies or individuals who are also paying for housing.
"The biggest need we have right now is that gap, to give us all a little more time to figure out these long term strategies," Jenkins said. "To keep people in our community in some sort of permanency, because you're not going to build back anything in a couple of weeks, it's going to take a long time."
Jenkins said that's why Community Tornado Relief talked about providing short-term housing, through the end of the school year, to provide some stability for the families. During that time, the group can work on what happens next, and see if FEMA is going to do anything.
"That's why this is such an important focus for us," Jenkins said.
She added that if FEMA does come in, they're going to want to know about the families they know are being housed, but they're also going to need to know who else is housing people, and where those people are.
"Working together to try and figure out this housing issue is paramount," Jenkins said. "Not just to pay for it, but to even find out where people are so that we can keep up with it, and be able to make the right ask when presented with the opportunity to help people."
Jenkins said when the Red Cross was here they were housing people in Peachtree City, LaGrange and South Fulton.
"They definitely were being housed out of county in some cases," Jenkins said.
She said in speaking with representatives from St. Vincent de Paul, they're having to schedule hotel rooms for two weeks at a time, just to make sure they have a room because some of the hotels are getting booked up quickly.
"Everything else hasn't stopped happening because we've had a tornado," Jenkins said. "Cancer Treatment Centers of America still has patients coming in, and there's weddings, and there's various other things going on, so our hotels are pretty full."
Jenkins said a new hotel just opened up Monday, where Falcon Aviation Academy students were formerly housed.
Kelli Yeager-Nelson, executive director of Bridging the Gap, said they have been giving items such as crock pots to people living in hotels along with shelf-stable food and fruits and vegetables so families can cook some small meals.
"We're accustomed to feeding people living in hotel rooms, so our boxes are pull-top cans, but also stuff they can put in the microwave that can go in their very small refrigerator," said Yeager-Nelson. "A lot of them are asking us for crock pots so that they can cook a meal for their family in the crock pot in the hotel."
The Community Tornado Relief fund can be found at www.newnanpres.org/our_missions .