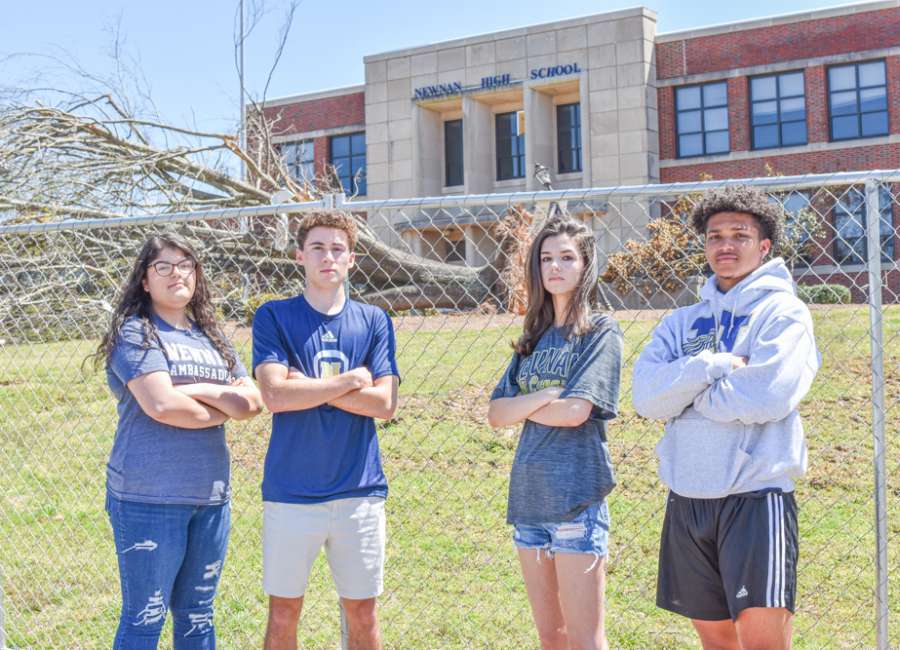 Jaylen Whatley was lying in bed, listening to the new Rod Wave album and thinking about hitting his long jump mark at track practice the next day – and then his window blew in.

Across town, Jane Campbell was talking to a friend and worrying about a math quiz when her father told her to get in the basement. Campbell called him dramatic and her friend said, "Tell your dad to calm down."
But the EF4 tornado that hit Newnan just after midnight on March 26 took part of the roof off Whatley's Smokey Road home and missed Campbell's home off Newnan Crossing Boulevard by mere yards. And Whatley and Campbell – both seniors at Newnan High School – quickly learned that their school had taken a catastrophic hit during the storm, which also demolished hundreds of businesses throughout the city.
The global COVID-19 pandemic had forced the pair to bid an abrupt goodbye to their junior year in March of 2020, and Coweta County Schools had resumed regular operations just weeks before. A few days later, the school system announced that Newnan High students would finish the year virtually.
"After the winds died down and we surveyed the damage to our campus and community, there was no way to sugarcoat it," Principal Chase Puckett said.
So he texted the Class of 2021.
"The past two years have not been fair to them," Puckett said.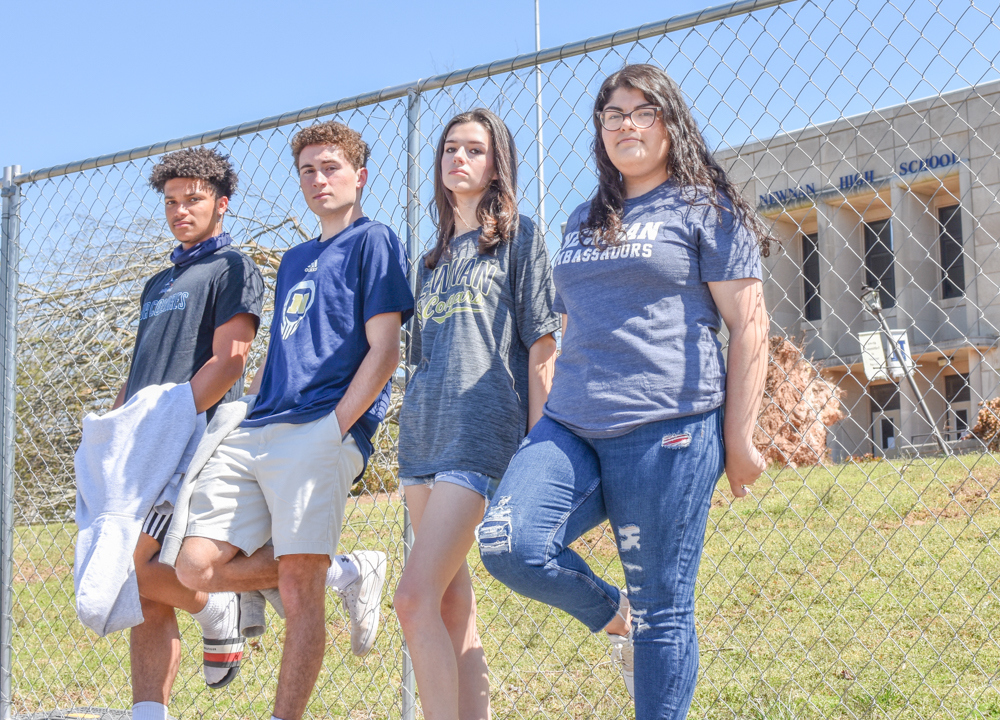 Jaylen Whatley, Jack Johnstone, Jane Campbell and Angela Ayala.
He told the students it's ok to be angry, it's ok to cry and it's ok to feel cheated – and that they aren't alone.
"(The past year) showed us how much our teachers and principal really care about us," Campbell said. "I feel like Dr. Puckett just gets it."
Two weeks later, Campbell, Whatley and classmates Angela Ayala and Jack Johnstone returned to the campus during their spring break. Campbell said she immediately realized the damage to the school was far worse in person than in the photos she had seen.
"(That) was very hard," she said.
Johnstone, a member of the Cougar lacrosse team, is dealing with his disappointment over another abbreviated season. COVID-19 canceled the 2020 season after just six games.
"I was really looking forward to having a full season," he said. "I was really looking forward to my senior year. We were starting off pretty good, looking to get into the playoffs."
All of the team's non-region games have been canceled, and the Cougars will practice at the Central Educational Center and play home games at East Coweta and Northgate high schools. East Coweta also is hosting the Newnan track team's practices, and Whatley said the Cougars still hope to earn a place at the state meet.
Campbell, Ayala and Whatley all serve on the yearbook staff.
"We were trying to make the best out of the year as it was already with COVID," Campbell said.
Ayala is a member of a dozen clubs and organizations at Newnan High, and she said she had been excited about getting out and volunteering.
"I thought I would be giving out water at races, holding up signs and helping clean up around campus," Ayala said.
It would be easy for Newnan's senior class to stay in one place, feeling cheated and angry and sad, Puckett said. But he said there's work to be done, and that's when the strength and resilience of the Class of '21 shines through.
The reality of giving back
Giving back is more than just a fleeting thought for the students at Newnan High School. For several years, Puckett and his staff members have fostered a spirit of community service at NHS by organizing spring work days, matching teams of students and staff members with projects around the county in the "Newnan Gives Back" initiative.
"As a school, over the past few years we have focused a lot of energy and time in fostering our connections to our community around us and between our staff members and our kids," Puckett said. "You can see this sense of volunteerism and school spirit as they rolled up their sleeves and got to work out in our communities."
"You wake up the next morning and you're worried if your friends have a house," Campbell said. "The dynamic totally changed. Obviously with volunteering, you don't really ever think you're going to be helping out the people closest to you."
"I thought I'd be helping out Bridging the Gap and Keep Newnan Beautiful," Ayala said. "We can still help them – it's just not like I imagined it would be."
Driving through familiar areas is much different now, Johnstone said, but one constant has been the willingness to help.
"It doesn't even look the same," he said. "It just blows my mind. But it's been great that the community can come together to help out people in need."
Being part of something bigger is what has fueled their Cougar pride, according to Puckett.
"Our seniors have grown up quickly, dealing with one calamity after another," he said. "What I have witnessed over the past four years has been kids growing into young adults. They have become a senior class that values relationships over stuff, people over buildings and giving back over taking in.
"Our seniors have demonstrated a strength, a grace and a tenacity that will serve them well in life," he added.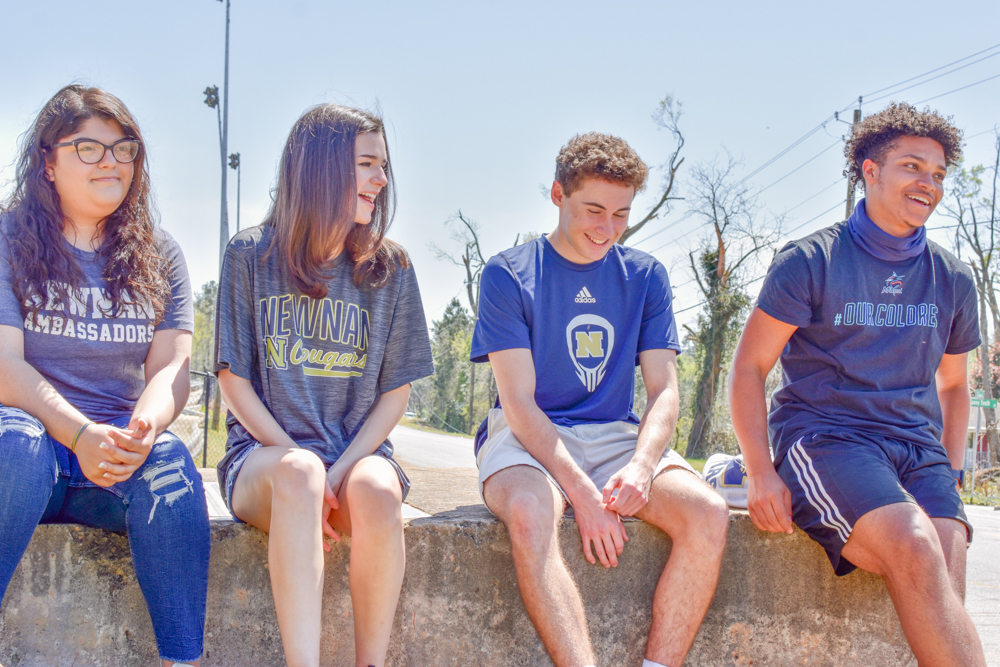 Angela Ayala, Jane Campbell, Jack Johnstone and Jaylen Whatley share a few smile-worthy stories during a visit to Newnan High School two weeks after a devastating tornado.
Using humor to cope with calamity
Just because it's a serious situation doesn't mean there's no room for levity. Whatley's home is unlivable, but he has still managed to maintain a sense of humor in describing his harrowing experience.
"It was kind of surreal," he said. "You wouldn't think stuff like this would happen to you. I was almost asleep upstairs in my room when my window blew in."
He said he was so startled that he could only yell, "Yo!" down the stairs to his mom. Over the next few moments, the family hid in a downstairs bathroom as the house shook around them, and at that point he said he borrowed a couple of favorite phrases from his track coach to shout at the storm.
"I was like, 'Are you kidding me?' and 'You bum!'" Whatley said. "I'm never scared if my mom's not scared, but after the storm my grandmother ran out of the house, and my mom ran out of the house right after her. I was like, 'Oh, all right, y'all are scared!'"
He said he even questioned his choice of music as the storm raged around him.
"I'm worried, like am I really going to die like this, listening to Rod?" Whatley said. "I can't go out like that. Let me throw on some Little Baby or something."
The next morning, Whatley got help moving a power line off of his mostly undamaged car.
"I thought I was going to Hardee's or Chick-fil-A or something," he said. "Then I looked down the road and said, 'Are we in a Mad Max movie? We can't even get out.' I wasn't even worried about my house – I was hungry."
One more time, with feeling
Campbell said finishing the year virtually will not be difficult, but it will be sad.
"I looked forward to the last day of school and being able to walk through each building to say goodbye to my teachers and friends, but unfortunately the ability for us to do that got taken away," she said.
Puckett said if he could gather his seniors all together in the school auditorium one more time, he would tell them how much they are loved and how proud the staff and community are of them. And he has a message especially for them.
"We are all Newnan because of you, and because of all the generations of Newnan Cougars who have come before you," he said. "We haven't forgotten you, and we are with you as we all work together to pick up the pieces of our community one street at a time, one household at a time. No storm of life can break the Cougar pride."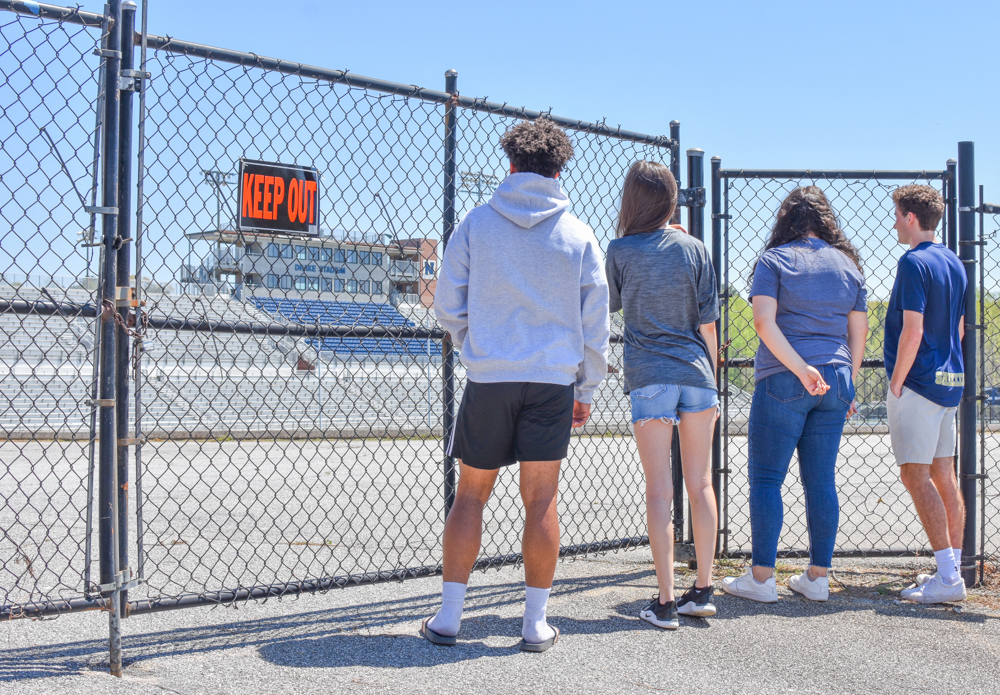 Athletes in the Class of '21 will have to finish out what's left of their final seasons somewhere besides Drake Stadium.