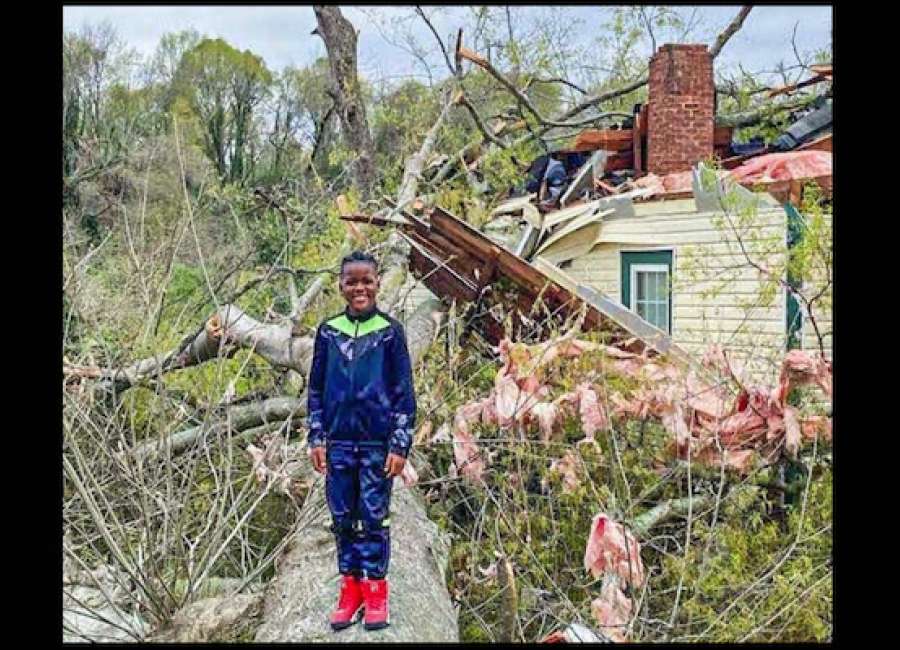 One week after an EF4 tornado ravaged Newnan, Stacy White pulled up to his Burch Avenue home in a rental van.

"I'm coming back to get the refrigerator because I just bought it," said White, 48, who has rented the home for 4 ½ years.
In the front yard lies his ruined flatscreen television. The trees that destroyed the family's two cars remain exactly where they fell when the storm hit the Chalk Level community in the first hour of March 26.
"It was a terrible night," White said. "Trees were coming through the house, glass was breaking, trees were falling on the house … it was a nightmare."
White and his wife, Vernita, sheltered in the hallway and emerged unhurt. Once he got Vernita outside to safety, White said he and a neighbor began going door to door.
"We just started getting everybody and putting them out in the street," he said. "We had wires down and they were popping, it was raining and lightning, and we were trying to get the elder people through the trees that were lying in the road."
They had to force their way through to one neighbor whose house was visibly damaged.
"I don't know if she was trapped, because we beat and kicked and beat and kicked trying to get in the door," White said. "All I could see was that the roof was gone, and I thought somebody might be hurt in there."
Another neighbor – an elderly woman – was too frightened to leave her home.
"She was in there just praying, and she wouldn't come out of the house," he said. "We had to tell the 911 people when they came to go check on her and make sure she was OK."
They managed to salvage some of their clothing, but White said the family's furniture was ruined. His wife's car has full coverage, but his car was paid off and only had liability. He does not have renters insurance, and he said his landlady's insurance does not cover trees falling on cars.
White is paying out of pocket for the family to stay at a local hotel, and he said he has been looking every day for a place to live, with no luck.
"I'm looking for something, anything," White said. "I'm willing to work with anyone that will work with me and my wife and family – we'll rent to buy or whatever. But I haven't found anything."
He is adamant that he isn't looking for a handout.
"Me and my wife don't need anybody to feed us or take care of us," White said. "We both have good jobs. We just need housing, and we're willing to pay."
Expensive, frustrating to rebuild
It's not just the tenants who are affected by the damage to Chalk Level. Enrique Vicente Munoz owns rental houses in the neighborhood, and a tree took the back off of one on Robinson Street.
He paid $350 out of pocket for an inspection, and he said the front part of the home was determined to be habitable. But city of Newnan inspectors disagreed and posted a red placard declaring the structure unsafe. The electric meter was removed, so the home has no power and Munoz, who works in construction, is running his power tools off a gasoline generator.
Munoz said he is trying to get his tenant – a woman with two dogs – back into the home as quickly as possible. She can't find a hotel room, and even if she could, they're unlikely to allow her dogs to stay, and she can't afford to board them, he said.
The tree that took the home was one he said he's repeatedly petitioned the city to remove, and he's become increasingly frustrated with the rebuilding process. Munoz said he's had to pay $4,000 out of his own funds for tree removal, enlist a licensed contractor friend's help and obtain several permits just to begin rebuilding.
He said he understands there are procedures and ordinances, but that the urgency of some people's circumstances should be taken into consideration.
"It's an emergency," Munoz said. "I don't understand why the city's not helping us more."
Neighbors helping neighbors
While some may be displeased with the official response, Kathy Ward said neighbors are determined to look after each other in Chalk Level. Ward grew up in the tight-knit community, living in a house on Pinson Street for 50 years before moving to the north side of the city.
She has been canvassing the area since Monday as a volunteer for Samaritan's Purse, an organization that is offering free assistance with debris cleanup, roof tarps and salvaging of furniture and belongings.
Ward is having a hard time convincing some residents to accept the help they need.
"The first thing they say is 'Kathy, help somebody that's in more dire need,'" she said. "I tell them 'I'm going to get to them, too, but I'm going to help you.' They're looking out for other people still."
It's a neighborhood where many residents live in family homes they've inherited, and Ward said the positivity stems from gratitude.
"They're all thankful to be alive, and that's the reason they're so grateful to help everybody else," she said.
Community unity eclipses issues
The people of Chalk Level have work to do, though. Homeowners may struggle to keep their spirits high as they work to rebuild and recover – especially when many don't have sufficient insurance, or any coverage at all.
"They have to figure out which bill to let go when money is tight," said Lauren Odom, Executive Director of Newnan-Coweta Boys & Girls Club.
One of her club members, 10-year-old Elijah Laster, is unable to live in the home he shares with his grandmother, Lisa Brooks. A tree demolished the home, and while Elijah and Brooks escaped unharmed, the uninsured structure is likely a total loss.
The next day, as Brooks began to salvage what belongings she could, a man working next door helped distract an anxious Elijah by taking his photograph. An image of the smiling Welch Elementary School student ended up on Instagram and eventually helped connect Brooks with a donor who funded a hotel stay and some new clothing for the pair.
It didn't come as a surprise to Odom, who said she's seen an incredible outpouring of support for Newnan.
"I've seen the community come together everywhere," she said. "It's just huge to see people coming out, taking time out of their day to make it happen for these people."