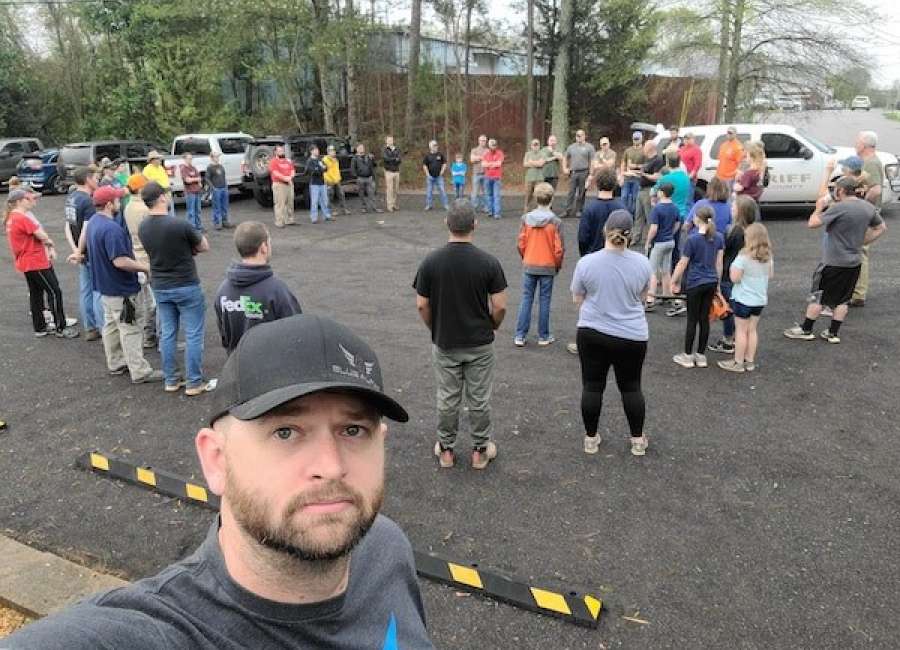 Blue Alpha has worked with volunteers from the Coweta County Sheriff's Office to clear debris and mobilize volunteers in the wake of the EF4 tornado that struck Newnan last week.
Blue Alpha is a local company that makes tactical belts. Kurt Sills, who started Blue Alpha with Jesse Frei, said he lives in Moreland and was standing outside watching the storm come through March 26, looking north towards Newnan.
He said he received a notification that there was a tornado on the ground in Newnan and started watching the cameras at their shop, located on Andrew Street.
Sills said he saw on the camera that there were still employees at the shop, and then the camera went out.
"I loaded my truck up and drove north to get to the shop," Sills said.
He said he usually drives up Highway 29 to get there, but couldn't make it through Greenville Street to get to town. He said he ended up at Newnan High School, about 20 minutes after the tornado had come through.
"I could see whatever my headlights could see," Sills said. "It was weird how dark everything was. There was lots of metal across the road."
Sills said he was on the phone with Frei, who was able to get to the shop, and confirmed that all the employees had made it out in time, and the shop was unharmed.
From there, they tried to get to Pine Grove Circle, where their manager lives, who nearly got a direct hit from the tornado. Because of the amount of detours from trees and power lines down, they ended up near their tree farm located near Grantville around 2 a.m.
They decided to go to the farm to load up a tractor, chainsaws, water and whatever they thought could help. They made it back to downtown around 3 a.m. Friday.
Sills said they were in communication with the Coweta County Sheriff's Office and were able to park their trailer by the football field at Newnan High School.
He said they were looking for work to do around the high school, but didn't want to interfere with utility companies who were working on downed power lines. So they went to Pine Grove Circle and started helping clear trees.
Call in the volunteers
Sills said they had volunteers working all day Friday in Pine Grove Circle, and they started making more formal volunteer plans and working more directly with the sheriff's office.
He said because Blue Alpha supports law enforcement with its products, they have a close relationship with the sheriff's office. Sills said they had equipment and people, and the sheriff's office had organizational help and access.
"The guys from Blue Alpha have been a galvanizing force behind this community's rebuilding efforts," said Coweta County Sheriff Lenn Wood. "They've worked tirelessly, both out in the field and in coordinating the efforts to get the right equipment and volunteers to the most desperately needed areas."
"Our community is truly blessed that this business calls Coweta County home. I am fortunate to call them friends of our community, friends of our agency and personal friends of mine," Wood added.
Sills said Major Warren Campbell with the sheriff's office has been integral in helping them.
"We're very thankful for their support; they have been awesome," Sills said.
Friday they gathered employees, families and people they knew, and off-duty sheriff's deputies to work together.
Sills said Campbell and Frei went scouting and knocking on doors, asking people for permission to help them clear debris. They would text Sills the details and the addresses, and then he coordinated the work crews.
Sills was riding on his tractor looking for people who needed help, and he ended up on Georgian Drive and Colonial Drive.
"It's essentially ground zero," Sills said.
He said it's been crazy to stand in the areas where the tornado did the most damage.
"It's a crazy, crazy, crazy place to be and stand in the destruction," Sills said. "It's a miracle no one was killed directly by the tornado."
He said he worked with a crew of people he didn't know to clear someone's driveway.
"Our mission starting on Friday, once the roads were cleared, was giving people access to their homes so they could get their belongings," Sills said. "We wanted to give them hope and ease some of their burdens."
Sills said he ended up on Mink Hollow Court, and saw how bad some of the homes had been damaged.
"I was shocked at what I saw," Sills said. "It was the worst damage I had seen yet."
After seeing that area, Sills said they knew what they would be doing Saturday.
A big mess
Sills said he had a police escort in his tractor to get through the roadblocks, and they had a crew of about 15 people clearing trees Saturday to give people access to their homes.
"That was a big mess, such a big mess," Sills said.
He said each day they would plan the next day. In the mornings, they would meet at the Blue Alpha shop to have a safety meeting before sending people out.
Sunday, half their crew was comprised of off duty sheriff's deputies. He said they ended up across the street from the high school, where pieces of the roof from the school were in residents' yards.
They then ended up on Creekside Drive to help with tree removal at a police officer's house. He said there were lots of youth from the Newnan High School Band, Scouts and Church of Jesus Christ of Latter-Day Saints Newnan Ward helping.
"We're using the resources that we have to be good neighbors and to do for our community what our community would do for us," Sills said.
He said it was amazing to watch Campbell do everything he can to help people out. Sills said law enforcement has been the definition of public servants through the tornado aftermath.
"We witnessed that in an incredible way," Sills said. "They've run chainsaws, talk to people, give out hugs, offer whatever support. They've been very generous volunteering with us and working together as a team has been awesome."
Sills said they took Tuesday and Wednesday off to further organize volunteer efforts. They created a Facebook group to help organize volunteers.
He said they were also creating Google forms to track addresses of those that need help and to track who was working on them.
"Where we can be needed the most, that's where we'll be," Sills said. "We don't know how long we'll do it."
Community support
Sills said it's been incredible to see the community show up to help in the aftermath of the storm.
"If you lost hope in America – come see Newnan, Georgia," Sills said. "Obviously we are a tiny piece of this. A whole lot of people have to take small bites out of this to recover. So many people are out there doing awesome stuff."
He said tons of people stopped by to offer food and water. Sills said if this had happened to him, he'd love it if the community showed up to help in this way.
"The community feel is pretty amazing," Sills said. "There are so many groups out there doing this, and it's awesome to be a small part of it and to see how generous this community can be."