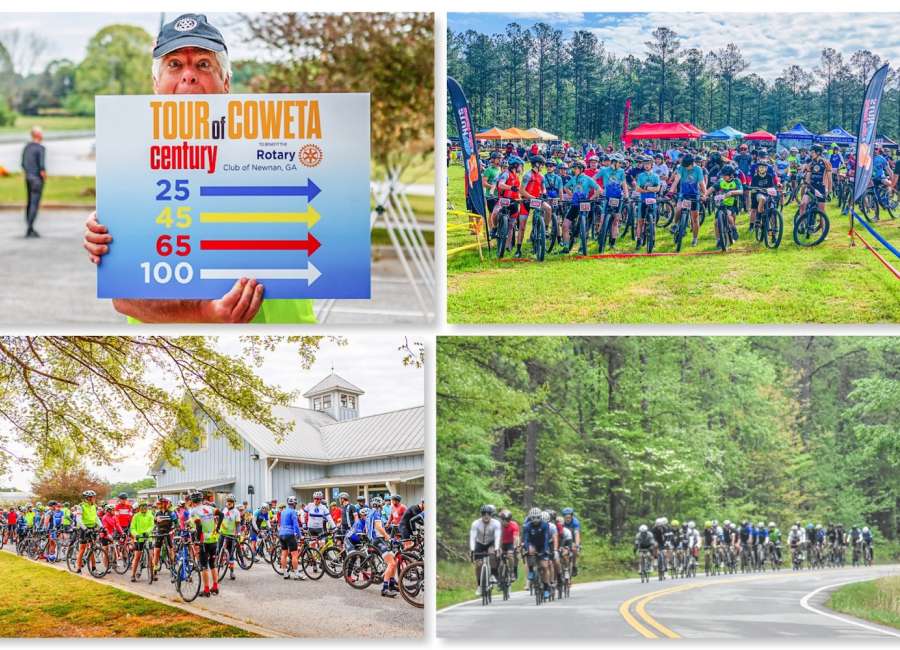 It was a weekend on wheels in Coweta County.

Nearly 300 cyclists embarked on a bike ride across the county on Saturday as part of the Rotary Club's "Tour of Coweta" event.
The ride originated at the Welcome Community Center and routes of varying lengths allowed cyclists a chance to see the county on a spectacular spring day.
Originally slated to leave from downtown Newnan, the ride was relocated to the Welcome Community Center after the tornado created the potential for unsafe riding leaving the city.
At 8 a.m. Saturday, riders left the Welcome Community Center and embarked on their ride. Participants had the option between 25, 45, 65 and 100 mile rides. Riders had rest stop options in Grantville, Moreland, and Haralson before returning to Welcome.
After the ride, many riders made their way downtown for an afternoon of music performed by Leonard Washington on the Court Square, along with enjoying local fare from restaurants like The Mad Mexican, Redneck Gourmet, Leaf and Bean and ACE Beer Growlers, who provided refreshments and food for the riders.
A number of business owners said they saw an uptick in business thanks to the event.
Chad Smith, owner of The Mad Mexican, estimated around 100 cyclists showed up to eat, the majority of them for the first time.
"It was an awesome day," he said. "We're truly blessed to be a local, family-owned downtown business."
As of Monday, the Rotary Club reported 320 registrations for the ride, which puts the fundraiser near $39,000, according to Garnet Reynolds, president of the Newnan Rotary Club.
"This first-time Rotary event looks like it will turn into an annual event with our partners," Reynolds said. "Our goal is to keep this money local and put (it) towards our service project budget which includes fireworks, scholarships, grants and other community outreach."
At Browns Mill, 206 mountain bikers and 54 runners took to the trails for the Go Nuts Squirrel Hunter event held Saturday and Sunday.
Economic Impact
According to Go Nuts owner David Moore, the majority of riders in Sunday's race arrived a day early to preview the trail, so local hotels and restaurants may have seen increased numbers for the weekend.
In a projected report from the Georgia Department of Economic Development, a total of $174,713 in local business sales was attributed to participants in the Squirrel Hunter Trail Run and Mountain Bike Race.
Data shows the race attracted 144 overnight attendees and approximately 576 day attendees.
A total of $92,688 was seen from the local lodging, transportation, retail, food and beverage sectors.
For the Tour of Coweta, a total of $110,957 was reported from local business sales, while approximately $58,992 was seen from the local lodging, transportation, retail, food and beverage sectors.
The race attracted 60 overnight attendees and approximately 540 attendees, according to the report.
Food and beverage industries benefited the most from the weekend activities, reporting $48,886 in sales from both events, followed by $39,479 in retail and $30,630 in lodging.
Rotary member and Bike Coweta founder Chris Doane said the economic impact Century Rides and Mountain Bike races have on communities is well documented.
"Local businesses benefit from events organized around outdoor recreation," he said. "Simply put, outdoor recreation is one of the largest industries in the state of Georgia. The city of Newnan and Coweta County should be commended for their investment in amenities that promote passive recreation. This past weekend demonstrates that modest investments have significant benefits."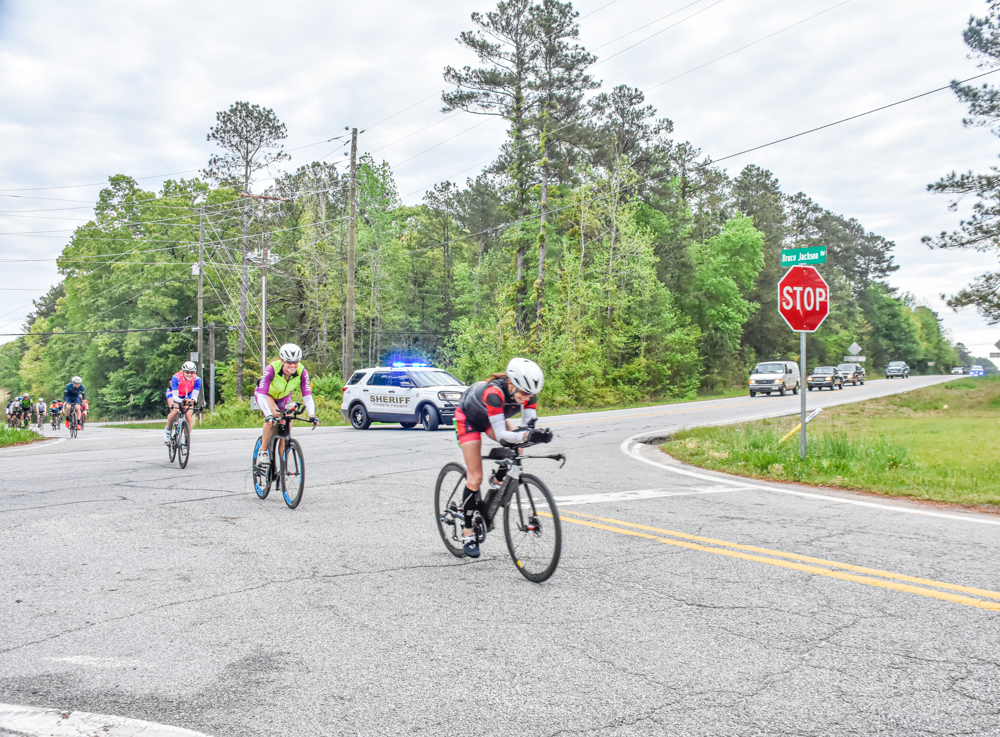 Riders on Bruce Jackson Road cross Highway 34 with assistance from the Coweta County Sheriff's Office. (Clay Neely)
Riders had rest stop options in Grantville, Moreland, and Haralson before returning to Welcome. (Clay Neely)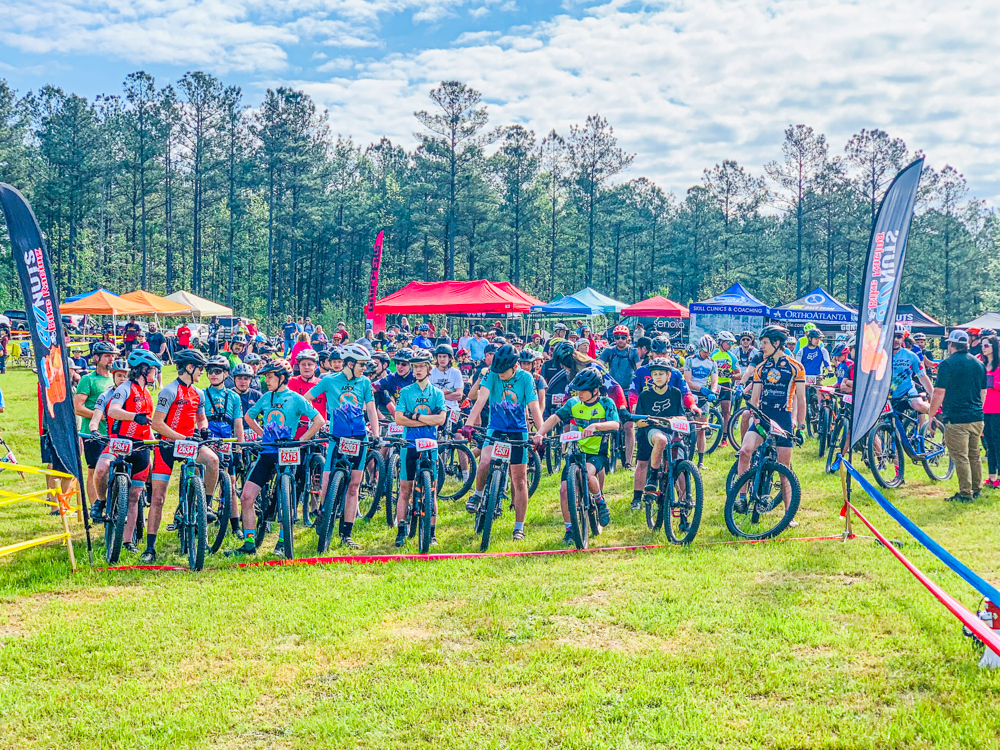 On Sunday, riders prepare to hit the trails for the "Squirrel Hunter" race by Go Nuts Racing held at Brown's Mill. A trail run was held at the facility on Saturday.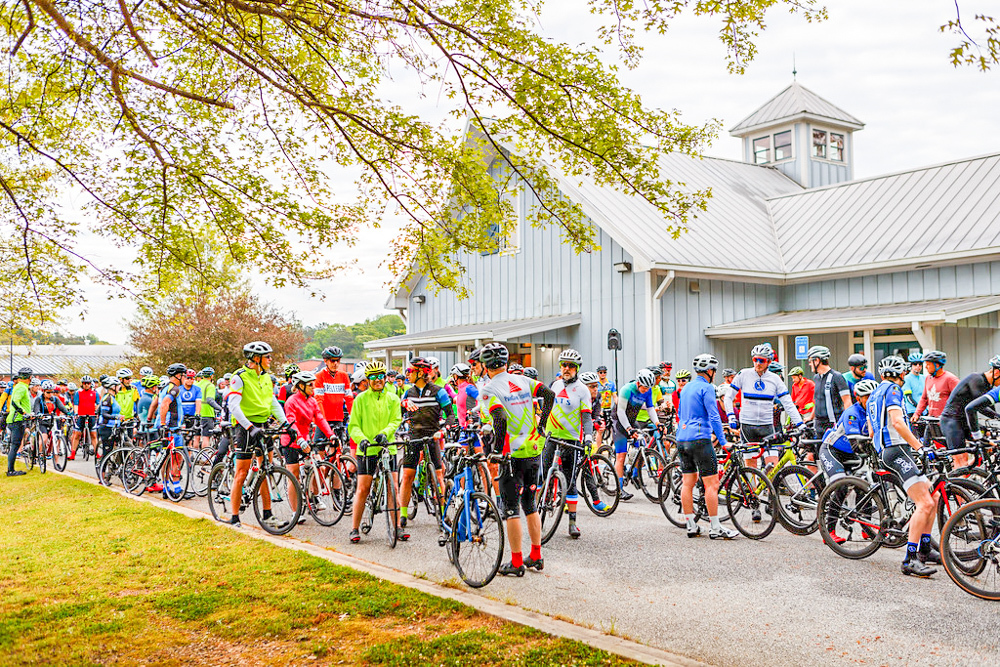 At 8 a.m. Saturday, riders left the Welcome Community Center and embarked on their ride. Participants had the option between 25, 45, 65 and 100 mile rides. (Chris Martin)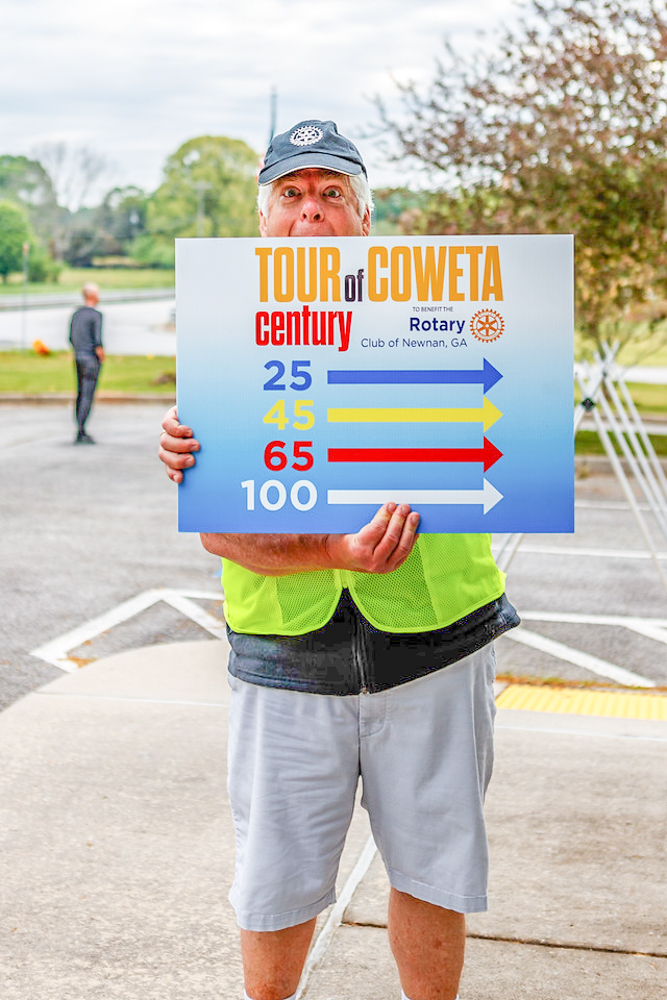 Rotary member John Thrasher displays the various routes for riders during last week's "Tour of Coweta." (Chris Martin)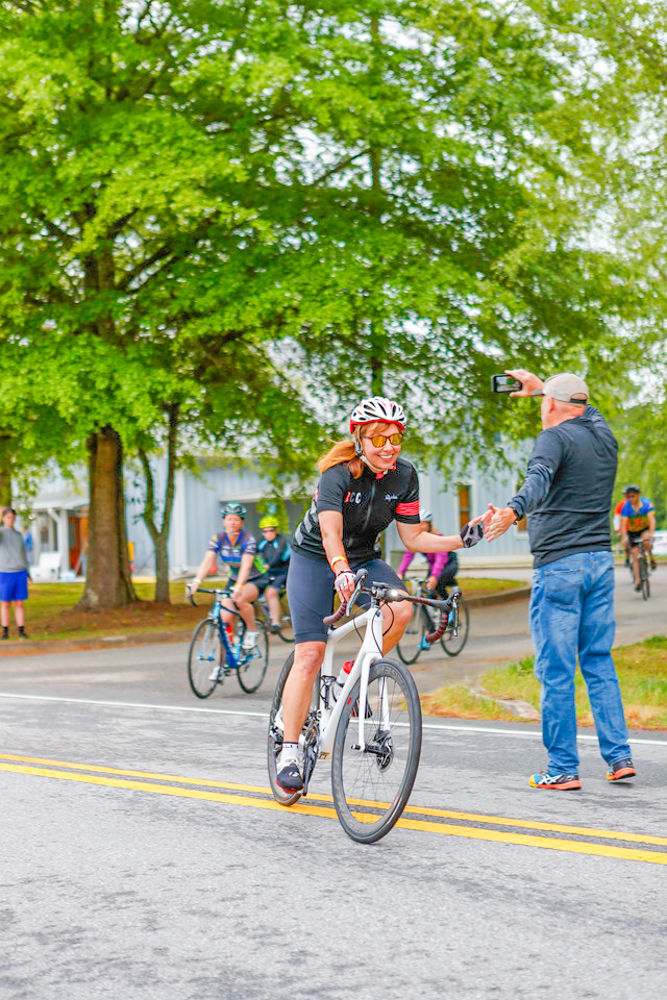 Cyclist Vickie Kaiser slaps the hand of Chris Doane as she makes her way onto Welcome Road during Saturday's ride. (Chris Martin)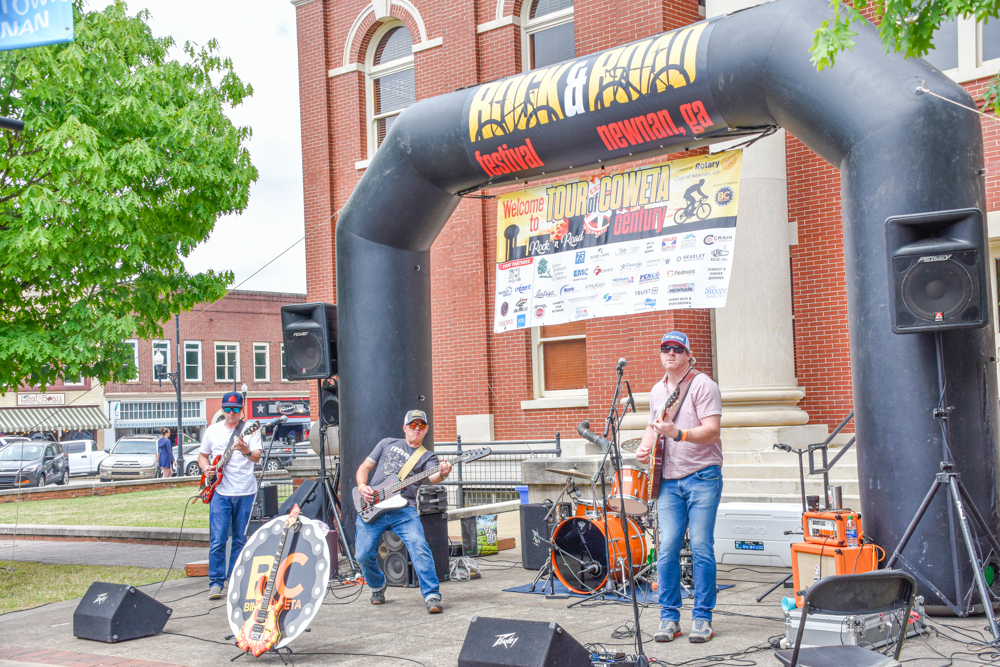 Local rock group Leonard Washington plays the "Rock and Road" festival on the Court Square after Saturday's ride. (Clay Neely)