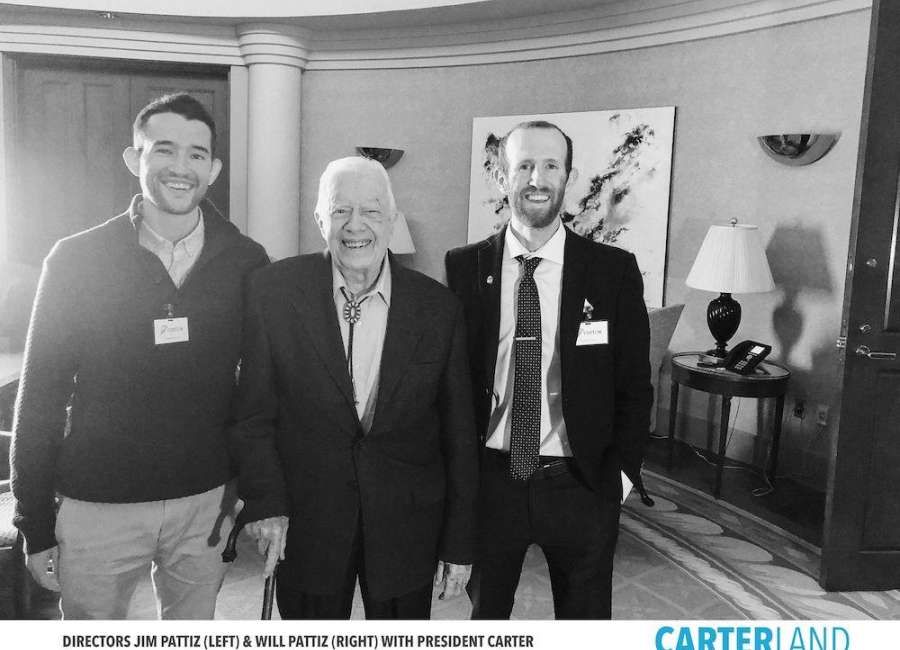 Interview By: Jonathan W. Hickman
"We grew up in Georgia where we were taught that Jimmy Carter was a great ex-president, but a failed president." Filmmaker Will Pattiz on why he and his brother, Jim, made their documentary feature, Carterland.
The film is in competition at this year's Atlanta Film Festival. The handsomely made and comprehensively mounted reexamination of the 39th president's legacy is available to watch virtually as part of the festival. A sold-out screening is set for May 1st at the Carter Presidential Center.
The Pattiz brothers, who grew up in Peachtree City, Georgia, began their education in film in Coweta County, where they attended The Heritage School (Will, class of 2009, and Jim, class of 2010). Retired facility member Jeff Stuart helped to foster their interest in the artform.
"It was through Mr. Stuart's film classes and the school's annual FilmFest that we really acquired our lifelong passion to become filmmakers." Jim confessed. He referred to Mr. Stuart as a "remarkable teacher."
After high school, the brothers attended college. Will went to the University of Georgia, and Jim attended Georgia Southern.
"Neither of us studied film in college, but we ultimately found our way back to it and taught ourselves." Will said.
Their self-education led them to produce several projects for the National Park Service. And during that time, President Carter's name kept popping up in their work.
"It turns out he preserved an incredible amount of land, more than any other president in US history." Will said. "So, we initially set out to tell that story, but the more we learned the more we realized that the story we've been told about President Carter is all wrong."
Without a sizable budget, but filled with passion and questions, the brothers embarked on the ambitious process of making a documentary about a high-profile subject. This was no easy task.
"We began our research by reaching out to academic experts and people who worked closely with President Carter while he was in office." Jim said. "We also reached out to The Jimmy Carter Presidential Library and The Carter Center. They were both extremely helpful."
Their research led them to interview some significant historical figures. The film starts with a statement from recently deceased Vice President Walter Mondale.
"We spent an afternoon in Minneapolis with Vice President Mondale who could not have been more kind and gracious to us." Will said of the late vice president. "We enjoyed his wonderful stories and cherished the opportunity to get to know him as a person."
Because the film is co-directed by brothers, it should come as no surprise that the Carterland production was a family affair.
"Given our limited resources, while we were traveling the country interviewing approximately three dozen individuals, our parents, both of whom are retired Georgia educators, made countless trips to the Jimmy Carter Presidential Library where they reviewed hundreds of hours of film and examined tens of thousands of photographs." Said Will. "We could not have done it without them."
The family connection offered both benefits and advantages for the brothers.
"Working with your brother allows you to be brutally honest with one another without having to worry about being reported to HR." Jim admitted. "We also live in different states when we're not filming so that helps keep us sane!"
The interviewees featured in the film include academics, who helped make the case for a different view of the Carter presidency.
Jim noted, "As NYT best-selling author and journalist Jonathan Alter points out in the film, Jimmy Carter was the last American president to ask Americans to sacrifice for the greater public good."
Jim suggests that examples of Carter risking his political future include "negotiating the Panama Canal Treaties and the Camp David Accords, to his decision to appoint Paul Volcker as Federal Reserve Chairman to break the back of inflation."
For balance, the movie doesn't ignore criticism of President Carter.
"We interviewed academic experts who were not afraid to criticize President Carter where such criticism was warranted, and those criticisms are included in the film." Will said.
"It's been Republicans who have defined President Carter since he left office, and they have been unsparing in their criticisms of him as they seek to cast President Reagan as a savior." Jim explained. "The truth of the matter is quite different from what Americans have been conditioned to understand, and we felt that it was our job to tell the other side of the story."
Carterland covers many positive aspects of the Carter Administration that may have been overlooked.
"We were also impressed with Jason Carter's insight that his grandfather was, in fact, the first 'millennial president' who championed putting solar panels on the roof of the White House, protecting public lands, tackling climate change, pursuing racial and social justice and tackling so many issues that have become so important to all of us today." Said Will.
"Ultimately, it's a classic tragedy that asks viewers the question: what are the kinds of qualities we should look for in a leader?" Will said of the theme of his movie. "Is it someone who is honest and challenges us to be better? Or is it someone with a good catchphrase and who asks the least of you? Our political system should reward leaders like President Carter rather than punishing them."
Carterland is now playing virtually as part of the on-going 45th annual Atlanta Film Festival running through May 2nd. For more information and to purchase tickets visit the Atlanta Film Festival website.
A RottenTomatoes.com Tomatometer-approved critic, Jonathan W. Hickman is also an entertainment lawyer, college professor, novelist, and filmmaker. He's a member of the Atlanta Film Critics Circle, The Southeastern Film Critics Association, and the Georgia Film Critics Association. For more information about Jonathan visit: FilmProductionLaw.com or DailyFIlmFix.com