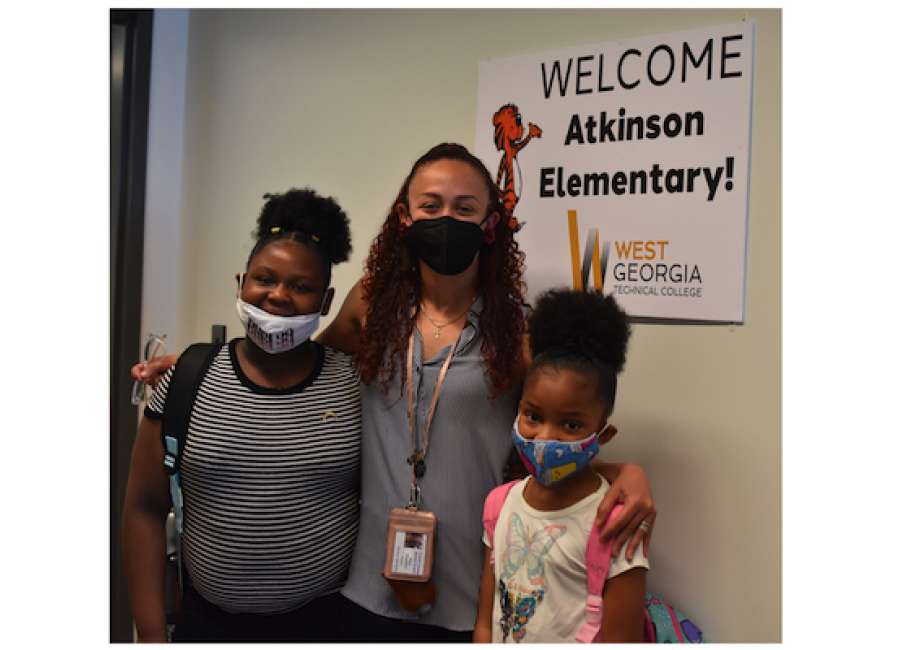 While many parents of Atkinson Elementary students dream of sending their children to college, they likely didn't dream it would happen this week.

Atkinson is undergoing extensive repairs after the March 26 tornado damaged the school building on Nimmons Street. But students will still have the opportunity to attend classes in person at the Coweta Campus of West Georgia Technical College.
With a large number of its students still enrolled in online classes because of the pandemic, West Georgia Tech – a longtime educational partner of the Coweta County School System – was able to accommodate the entire Atkinson operation for the remainder of the school year.
"We are so appreciative of our partners at West Georgia Tech, and of the chance for Atkinson students to finish the year on our local campus," said Dr. Evan Horton, superintendent of Coweta Schools. "This presents yet another opportunity to support Coweta County students by building on a great partnership that has been developed over a number of years."
Students resumed regular classes Wednesday in the new location after an open house and orientation Tuesday afternoon.
"We're excited about it," Principal Ben Tarleton said. "We're so thankful to West Georgia Technical College for giving us the whole upper floor of a building, rent-free. They've been very welcoming from the get-go – they want some laughter and joy in the hallways."
West Georgia Tech officials said they are happy to offer the school a short-term solution while repairs are underway.
"We are delighted that our Coweta Campus can provide a great setting in which Atkinson students can continue to learn," said Dr. Kristen Douglas, WGTC vice president for academic affairs, who added the college is "grateful for our decades-long partnership with the Coweta County School System."
Tarleton said the goal is as seamless a transition as possible for the 320 of Atkinson's approximately 380 students who are expected to attend classes at the Coweta Campus, with some still enrolled in the school system's Empower virtual program because of the pandemic.
The school also employs about 65 staff members who worked Monday and Tuesday to set up classrooms and stations in preparation for the return of their students, who have not been in school since March 25.
"We're going to make it as much like what we had at Atkinson as possible," Tarleton said.
That includes a fully functioning cafeteria, which the school system erected in a parking lot adjacent to the WGTC building where most of Atkinson's classes will be held.
"They'll be able to sit down and eat lunch like normal every day," Tarleton said.
One advantage of moving operations to West Georgia Tech is a built-in opportunity for career education. The college is collaborating with Atkinson's teachers and administrators for "Field Trip Fridays," when students will have the opportunity to observe some of the programs offered by WGTC.
"Our kids will get out there and see what nursing's about, or automotive – programs like that," Tarleton said.
"We are excited that our families will get to see the excellent partnership among the Coweta County School System and West Georgia Tech that has provided this opportunity for our Atkinson students to finish the year in a great educational setting," he added.