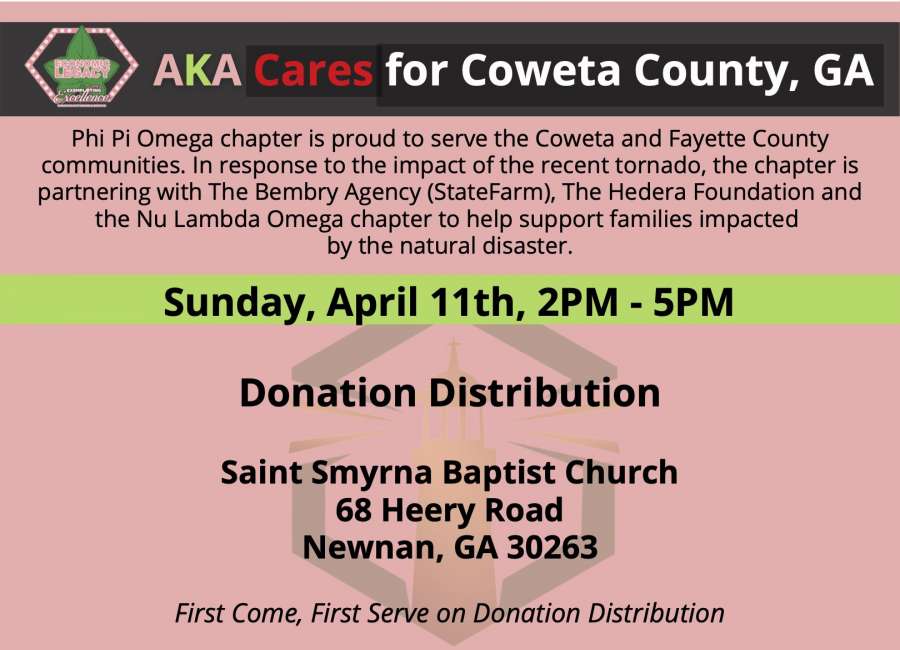 Alpha Kappa Alpha Sorority, Inc. Phi Pi Omega Chapter are donating items for tornado outreach.
On Sunday, April 11, 2021, from 2 p.m. to 5 p.m., AKA Phi Pi Omega Chapter will provide needed items to families impacted by the most recent tornado.
The distribution will occur at Saint Smyrna Baptist Church, located at 68 Heery Rd. in Newnan.
Water, sanitizer, paper goods, toiletries, cleaning products, hand wipes, and dried goods will be provided on a first-come, first-serve donation distribution.
The chapter will be partnering with The Bembry Agency (StateFarm), AKA Nu Lambda Omega Chapter, Hedera Foundation, Saint Smyrna Baptist Church, Pastor Tamarcus Cook, and the Calvin Johnson Jr. Foundation, Inc.