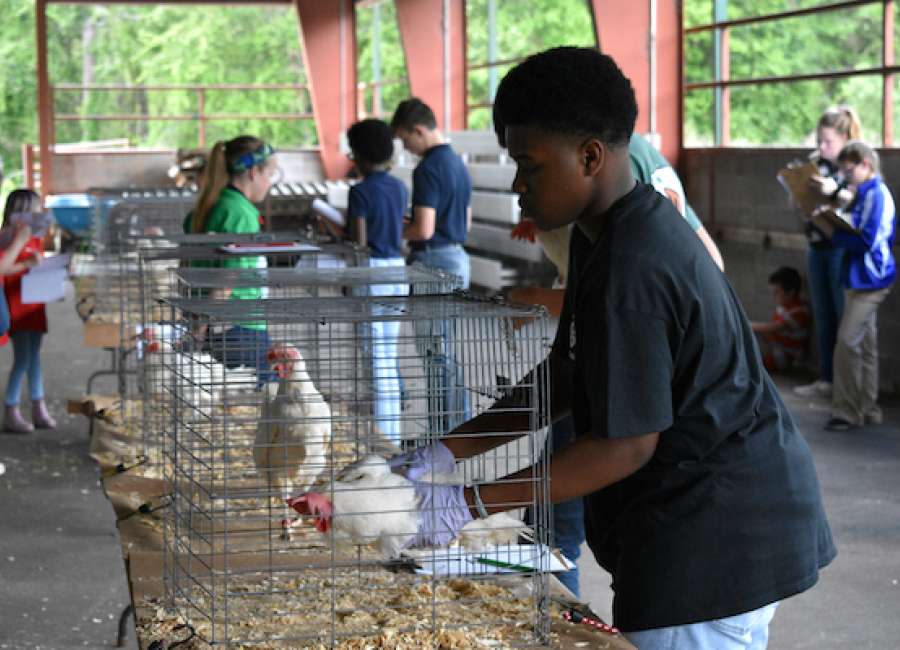 Ten 4-H'ers from Coweta County tested their poultry knowledge on April 15 at the Area 4-H Poultry Judging Competition held in Henry County.
At the competition, all contestants judged two classes of live birds for egg production and gave oral reasons for their selections on one class. In addition, they judged carcasses and ready to cook products for meat quality, candled eggs to determine freshness and grade, and judged eggs for exterior and broken-out quality, according to a release from Coweta 4-H.
"Despite the COVID challenges this year, students and teachers have done a great job preparing for and participating in the poultry judging events," says Dr. Casey Ritz, University of Georgia Professor and Poultry Science Extension Program Coordinator. "It is our pleasure as faculty of the UGA Poultry Science Department to assist with 4-H youth development efforts."
The junior team, grades 4-8, received fourth place. Team members were Addison Bellflower and Kimber Snelson.
The senior team, grades 9-12, received second place. Team members were Camille Jackson, Adriana DeSantos, Shelby Snelson and Bella Fisk.
Additionally, many 4-H'ers were recognized for their individual scores. From a total of 39 participants, Leopold Joh was recognized as the 4-H'er with the highest individual score.
Team members prepared for the event by attending classes and workshops instructed by volunteer coach, Bryan Massengale.
Designated senior teams and the overall senior high individual winner of the area event is invited to compete at the Georgia 4-H State Poultry Judging Contest on April 30 at the Oglethorpe County Livestock Facility.
Georgia 4-H empowers youth to become true leaders by developing necessary life skills, positive relationships and community awareness. As the largest youth leadership organization in the state, 4-H reaches more than 190,000 people annually through the University of Georgia Cooperative Extension offices and 4-H facilities.
For more information, visit georgia4h.org .