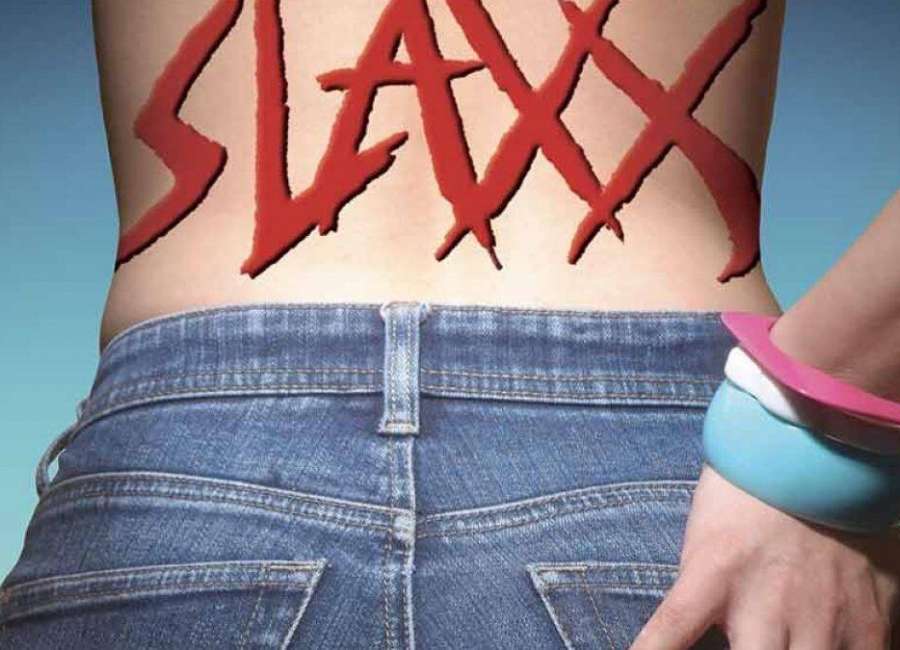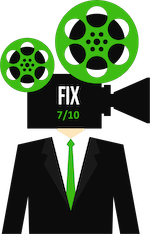 Review by Jonathan W. Hickman

Haunted houses. Cursed dolls. Stephen King wrote a book about a 1958 Plymouth Fury that badly needed an exorcism. Why not add possessed blue jeans to the creepy, supernatural pantheon?
Well, "Slaxx" is the answer.

Canadian director Elza Kephart co-wrote the high-concept "Slaxx" with her "Graveyard Alive: A Zombie Nurse in Love" collaborator Patricia Gomez. They deliver a denim-inspired satire that might make you think twice before slipping on that trendy, soft, form-hugging alternative to sturdy dungarees. The Kephart /Gomez team skillfully makes jeans a metaphor for many of life's crushing inequities while, of course, weaving a sinfully fun comedic horror romp.
On her first day at a fashionable, hip clothing chain, Libby (Romane Denis) encounters more than one monster. For years, she's dreamed of working for the company, but what she discovers is a collection of superficial characters not consistent with the brand's woke sensibilities.
It's a big night, the company's latest offering will debut, and a social media influencer is making an exclusive appearance to promote the product. That product is a one-size-fits-all pair of jeans that will make anyone's body look better.
The marketing-speak promotes that through ecologically responsible cotton sourcing in India, the denim in the jeans relies on heat-sensitive technology to shrink snuggly around your figure. Naturally, people are dying to put them on.
Once the store employees begin preparing for the event, strange things start happening as one-by-one their staff mysteriously shrinks in size. And as the campaign for the popular tight-fitting product might tease: these are the jeans to die for.
Kephart smartly restricts her narrative to the store, its cramped offices, bathrooms, hallways, and storeroom. And she sets her 78-minute tale in almost real-time as the employees work feverously to roll out the product for the owner's arrival and the social media maven's appearance. There's even a clever store lockdown procedure that might remind viewers of 1986's "Chopping Mall."
It's all very contrived, of course, but that's the point, "Slaxx" is an exaggerated satire sure to acquire a level of cult recognition.
It helps that Kephart and Gomez infuse their story with digs at corporate evils, shallow influencers, consumerism, and even Bollywood. Nothing is sacred as jeans become symbolic of all types of exploitation. And on a serious level, nuggets of thought-provoking truth are uncovered. Just where do the materials for your favorite threads originate?
Like other campy horror movies, "Slaxx" has ample amounts of comic gore to satisfy fans. The animated jean effects are entertaining, as the textile demons devour anyone who gets in their way. The special effects and animation craftily wedge an almost sympathetic personality into the first sentient denim monster.
Kephart/Gomez gives us a unique creature feature that fits nicely into the genre on a micro-level. If the Godzilla movies are cautionary tales about the dawn of the nuclear age, "Slaxx" asks us to consider a more personal consequence to our callous disinterest arising from consumerism.
Regardless of its lofty satirical ambitions, "Slaxx" can be enjoyed broadly as a fun horror/comedy. The Kephart/Gomez team should ply their talents to other mundane possessable items; the ridiculous and revealing possibilities are limitless.

***
A RottenTomatoes.com Tomatometer-approved critic, Jonathan W. Hickman is also an entertainment lawyer, college professor, novelist, and filmmaker. He's a member of the Atlanta Film Critics Circle, The Southeastern Film Critics Association, and the Georgia Film Critics Association. For more information about Jonathan visit: FilmProductionLaw.com or DailyFIlmFix.com