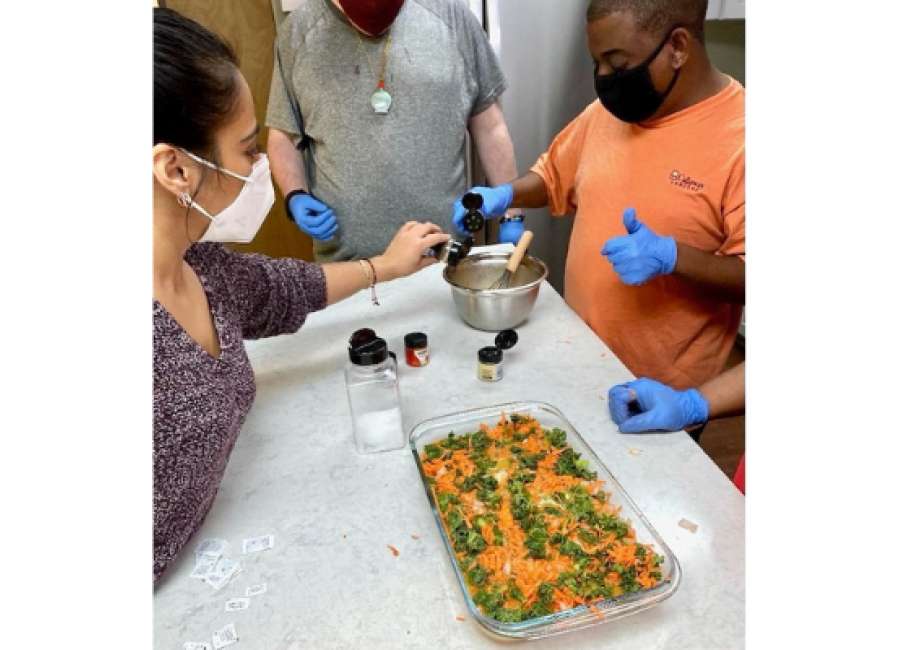 The Pathways Coweta Psychosocial Rehabilitation Group called "Stepping Stones" has been making great use of Pathways' new kitchen.
The PSR group focuses on learning social, independent living and career skills. Abigail Alvarez, client events coordinator for Pathways, said they have been steadily incorporating more and more cooking lessons into the schedule, with a focus on healthy and sustainable eating.
One of the PSR group clients lives and works on his family farm and brought in some farm fresh eggs to share with his peers. They used the eggs in a cooking lesson for a veggie breakfast bake. Clients were able to learn about the difference between grocery store eggs and farm fresh eggs, as well as learning how to cook a nutritious breakfast.
PSR Veggie Breakfast Bake
Ingredients:
2 dozen eggs, scrambled
1 bunch kale, shredded
1 large sweet potato, shredded or diced
1 onion, diced
salt and pepper to taste
herbs/spices to taste
Directions:
Mix veggies with salt, pepper and spices.
Pour into a greased casserole dish.
Pour scrambled eggs on top.
Add herbs as desired.
Bake at 350 F for 30-40 minutes.
To learn more about the PSR program, visit pathwayscsb.org .