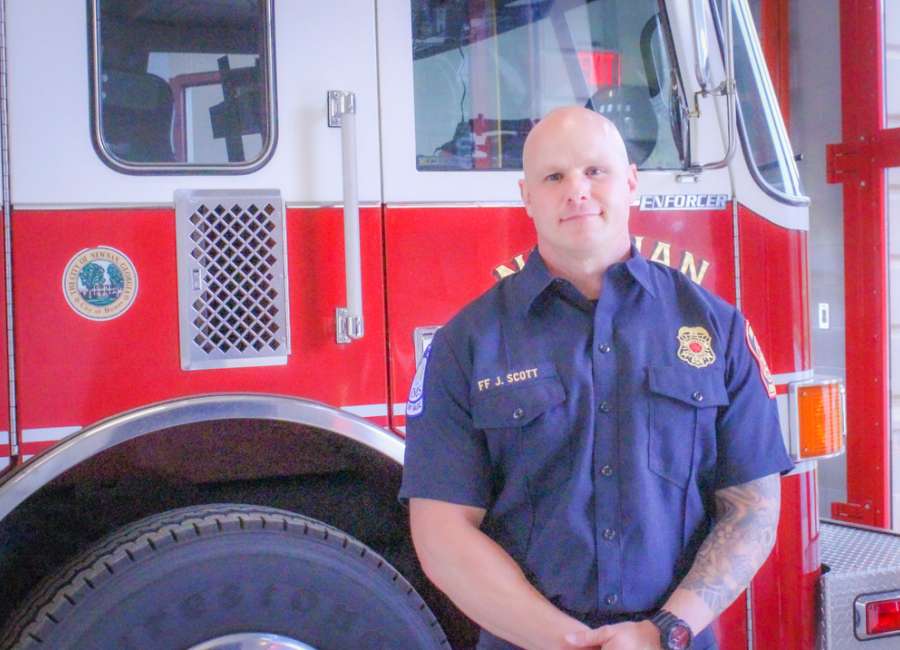 By Joe Adgie
Perhaps the enduring legacy that will come from last week's EF4 tornado in Newnan will be the community spirit of Newnan residents rallying around each other and helping out when able.
Even those that are usually called to serve have needed help of their own.
For instance, Jason Scott of the Newnan Fire Department was on duty when the tornado rolled into town, and unfortunately for him and his family, right toward his property, where his wife, children and dog were.
"I'd say about 11:50, we were woken up here at the station, and we were told the tornado was real, it was coming," Scott said. "It wasn't just an alarm. And within minutes of being told that, calls over the radio, the 911 center, just started going crazy. People stuck here, people stuck in their cars, cars overturned — it was just nonstop calls."
Scott said he called his wife, and after several failed attempts to reach her, she called saying their house had been destroyed in the tornado. He informed his chief that his home had been hit, and was told to go be with his family.
"I drove out, and the entire (driveway) was covered with trees," Scott said. "I just see a little cell phone light coming down the driveway and over trees. It's my wife carrying my baby and she even led our dog without a leash. So I put them in the car and took them to Sharpsburg to my aunt's. We both said, 'The family's safe, go back to work to see what you can do to help.'"
Scott said in the aftermath of the tornado, everyone came out to help each other – from the fire departments of both Newnan and Coweta County, the police department, utility companies and even residents that had the means to do so.
"Anybody that had a chainsaw and a pickup truck in all of Newnan seemed to be out there trying to clear ways so we could go out and help people," Scott said. "It was 100 percent all of the city from the bottom to the top. Every single person was out there working together, and still are. Still, every person in the community that had any way of helping is helping."
On top of that, the community rallied around Scott and his family to help him out.
"Every single person reached out and asked, 'What can we do to help you out?'" Scott said. "I said, 'I don't know, it might be four or five months before I can get down my driveway, there's so many trees.'"
The afternoon after the tornado, Scott went back to Sharpsburg to pick up his wife. When they went back to their property, they saw neighbors he had never met, as well as Brent Scarborough and his construction company, clearing the way for him to get to his house.
"It was already 90 percent cleared by the time we pulled up," Scott said. "I thought it was someone else's driveway."
The work from people that Scott had never met before allowed him and his family to get what they needed out of their house, including his wife's car and clothing.
"I told everyone, we have the necessities, there's so many people in Newnan that don't have that. Help those people," he said.
Scott said he and his family are fortunate compared to many others, but expressed some disappointment in the fact that while his home was insured, his insurance company would not handle any of the trees on his property that did not touch his house.
That disappointment centered around his wife seeing those downed trees, and having to relive the tornado by seeing the trees on the ground every single day.
"We lived in the center of five acres, surrounded by woods. You wouldn't even know your home was there. And now the trees are on the ground," Scott said. "All we have is a view of devastation that we have to see and my wife has to relive every day. They will not touch a single tree that is not laying on the house, and I've got hundreds of trees that are laying on the ground in every direction. And every direction you look, there's homes that we didn't know existed. That's how much it's cleared out."
Scott said he's received phone calls from people volunteering to help cut trees, but he said he doesn't know how they'd be hauled off.
"We know we'll never get the view again, but we just hope the view for the rest of our lives isn't the devastation."