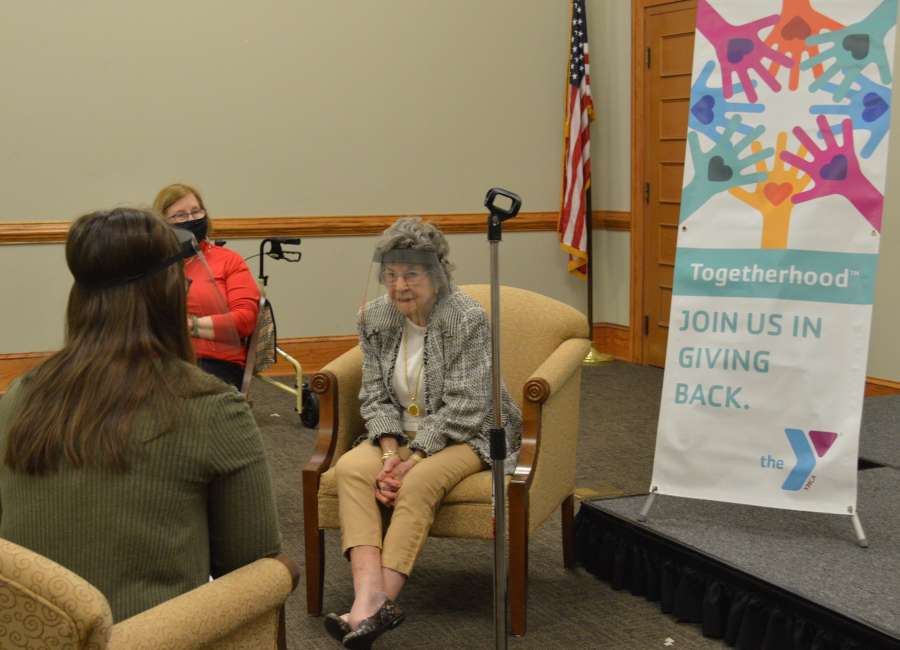 A variety of local senior citizens have been sharing the stories of their lives, and their experiences of resilience through hardship, as part of the Summit Family YMCA's oral history project.
More participants are needed for the project, which hopes to capture at least 50 stories.
In addition to senior citizens who are willing to share their stories, there are also opportunities for volunteers to do the oral history interviews. Volunteers are required to watch an online training class presented by the Newnan Coweta Historical Society, which is partnering with the YMCA for the project.
The oral history interviews are videotaped and will be archived at the historical society. Some interviews are done at "pop up" sites at the YMCA and Newnan Carnegie. For others, volunteers are interviewing family, friends and neighbors in their homes and submitting the interviews.
For the first set of four popups, there were seven interviews done, and several have been turned in from the community, said Jenny Simmonds, assistant director for community outreach for the Summit Family YMCA.
"The stories we've had are so precious," she said. "They're deep; they're wonderful."
With the theme of resilience through hardship, "the stories we've gotten are really inspiring," she said.
Some of the stories have been from African Americans talking about their experiences of growing up during segregation and going to an all-white school. There has been a story of dealing with cancer, and the story of a woman who came to America from Germany after the Cuban Missile Crisis.
"We've had a very diverse, lovely group," said YMCA Board Member Kelly Mansfield.
Mansfield is a member of the YMCA's Togetherhood Committee, and the oral history project was the brainchild of Togetherhood Committee member Kathryn Lawson.
"She came up with this beautiful idea of allowing the seniors to have an opportunity to just tell their stories and have their voices come across," Mansfield said. The project will also give future generations the chance to look back and hear every day stories – not just the stories of famous people, but "people who live in our community and talk about the things they have done and seen and lived through," she said.
"It's just amazing to learn all these things that people have lived through. And they still have joy in their lives. The wisdom that they share and the opportunity for us to learn from it – I just think it is amazing," Mansfield said.
One recent interview was with 103-year-old Winifred Glover Boone Klein.
Klein, sister of well-known Newnan pediatricians Howard and Nat Glover, had many stories to tell.
"You'll have to stop me," Boone told volunteers when she got started. And she was right.
"She shut the library down," Mansfield said.
Klein's daughter, Caroline Alford, said she never knows what she will hear when her mother starts to tell stories.
"Every time she does, I find something else I didn't know," she said. "She tells lots of fun stories."
Klein told the story of how her family first came to Newnan. Her father, Howard Clarke Glover, was born in 1870 in Alabama. There was a malaria outbreak in the area, Klein said, and her grandfather moved the family to Newnan to escape malaria. When they arrived, her father had four first cousins who were living in Coweta. Her parents were the first couple to be married at Central Baptist Church, she said.
Oral histories that are done at the popups are recorded with equipment on loan from the University of West Georgia.
"Everybody at West Georgia has been phenomenal," Mansfield said. "There have been many organizations coming together to do this.
"It's just such a beautiful project, and I'm so privileged and honored to be a part of it," Mansfield said.
For more information on the oral history project, to sign up to tell your story or interview a senior citizen, and for access to the training materials, visit https://lp.constantcontactpages.com/cu/NxpqbFj or contact Simmonds at 770-254-5920.