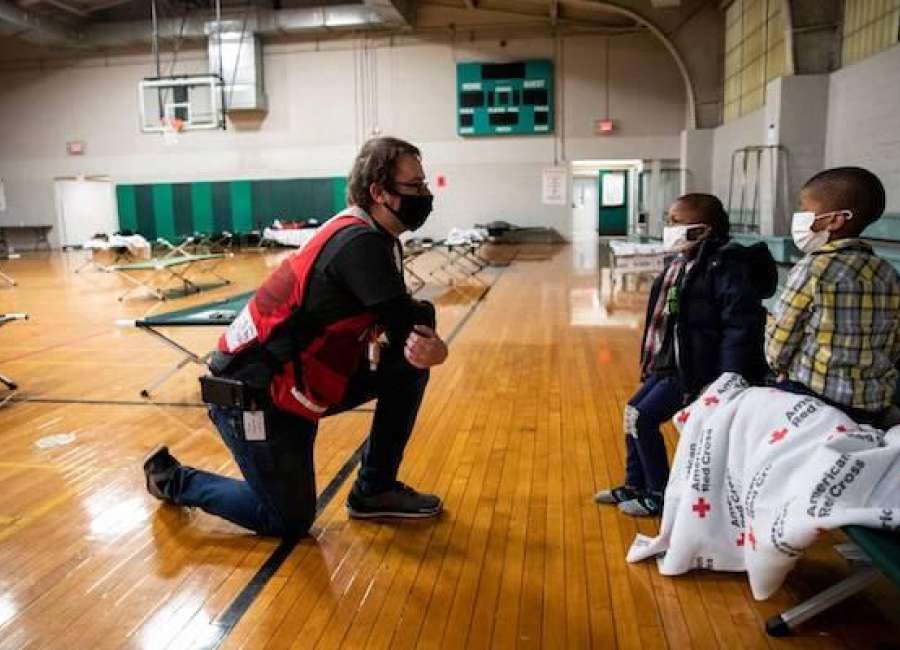 Annually, the American Red Cross is recognized in March during "Red Cross Month," when volunteers who help in times of crisis are honored.

Red Cross Month has been an annual tradition since 1943, when President Franklin D. Roosevelt issued the first Red Cross Month proclamation, according to www.redcross.org .
In the year since the World Health Organization declared COVID-19 a global pandemic, tens of thousands of Americans have stepped up to address the needs of those reeling from the pandemic as well as record-breaking disasters across the country, according to a press release from the Red Cross.
Americans experienced more billion-dollar disasters in 2020 than any other year on record, and for many, the pandemic compounded the trauma and financial strain of disasters: struggling families needed help quickly and faced more hurdles to recover, as increased anxiety exacerbated many health and mental health needs.
"The past year has taken an enormous toll on families, and that's why our trained volunteers are more critical to our mission than ever before," said Gail McGovern, president and CEO of the American Red Cross in the release. "Through our lifesaving work, people are coming forward to care for each other when help can't wait."
In addition to responding to disasters, Red Cross volunteers are supporting local communities across the country as they distribute COVID-19 vaccines. Depending on local needs, Red Cross volunteers may set up vaccination sites, collect information from people being vaccinated and provide water and snacks for medical staff and those waiting to be vaccinated.
Red Cross volunteers who are medical professionals may also be working with local authorities to help give vaccinations if their state licenses permit them to do so. Additionally, volunteers are helping to vaccinate U.S. service members on bases around the globe and are active in U.S. veterans' hospitals.
So far this year, Red Cross volunteers have provided emergency shelter, food and other assistance following disasters like tornadoes and February's record onslaught of winter storms, which blanketed some 70 percent of the continental U.S. with snow, ice and historically low temperatures. The severe winter weather forced the cancellation of Red Cross blood drives in more than 30 states, impacting more than 20,000 blood, platelet and convalescent plasma donations in February.
During March, the Red Cross said you can celebrate Red Cross Month by donating, volunteering, giving blood and learning life saving skills.
Those who give blood, platelets or plasma March 15-26 will receive a Red Cross T-shirt, while supplies last.
Each Red Cross blood drive and donation center follows the highest standards of safety and infection control, and additional precautions – including temperature checks, social distancing and face coverings for donors and staff – have been implemented to help protect the health of all those in attendance.
To protect the health and safety of Red Cross staff and donors, it is important that individuals who do not feel well or believe they may be ill with COVID-19 postpone donation.
Donors are asked to schedule an appointment prior to arriving at the drive and are required to wear a face covering or mask while at the drive, in alignment with the Centers for Disease Control and Prevention public guidance.
All blood types are needed to ensure a reliable supply for patients. A blood donor card or driver's license or two other forms of identification are required at check-in. Individuals who are 17 years of age in most states (16 with parental consent where allowed by state law), weigh at least 110 pounds and are in generally good health may be eligible to donate blood.
High school students and other donors 18 years of age and younger also have to meet certain height and weight requirements.
The following are local blood drives planned for March:
Thursday, March 4, Newnan First UMC – Parish Hall, 33 Greenville St., Newnan, noon to 5 p.m.
Thursday, March 4, Community Christian Church, 1717 Highway 154, Sharpsburg, 1 to 6 p.m.
Friday, March 5, Piedmont Newnan Hospital, 745 Poplar Road, Newnan, 9 a.m. to 3 p.m.
Monday, March 8, Newnan Church of Christ, 2675 Highway 34 E., Newnan, 2 to 7 p.m.
Monday, March 15, Newnan Presbyterian Church, 38 Greenville St., Newnan, 2 to 7 p.m.
Blood and platelet donors can save time at their next donation by using RapidPass to complete their predonation reading and health history questionnaire online, on the day of their donation, before arriving at the blood drive. To get started, follow the instructions at RedCrossBlood.org/RapidPass or use the Blood Donor App.
If you or someone you know is from Coweta County and is a current or past Red Cross volunteer, email laurel@newnan.com to be included in a future story.