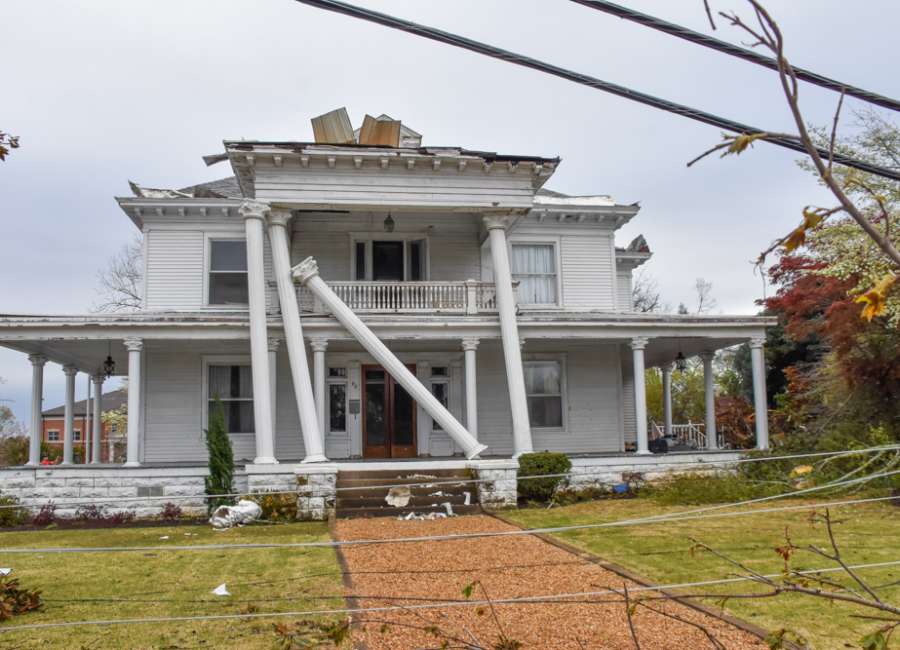 (Editor's Note: This story will be updated as more details emerge. Please check back regularly.)
A powerful storm that struck shortly after midnight is blamed for one death in Coweta, according to local leaders.

A major tornado, reported to be an EF 4, struck Newnan just after midnight Friday morning, causing significant damage to homes in a corridor along Smokey Road, LaGrange Street and East Broad Street.
The National Weather Service declared a tornado emergency for Newnan shortly after midnight.
Newnan High School and nearby homes sustained some of the heaviest damage.
Some phone lines remained down Friday morning, and Nulink/WOW internet and phone service had significant outages. There was no estimated time for service to resume.
Just after 2:30 a.m. Friday, the Coweta County School System announced all schools would be closed Friday due to extensive storm damage in many areas of the county. Officials said more information regarding the school system will be announced once damage has been assessed.
In addition to the Coweta County School System, Coweta Charter Academy, Odyssey Charter School, The Heritage School, Trinity Christian School and the University of West Georgia Newnan campus were also closed Friday.
Coweta-Fayette EMC reported just after 8 a.m. Friday morning that west Coweta was the hardest hit area including: Smokey Road, Corinth Road, J.D. Walton Road, Charlie B. Johnson Road, Bruce Jackson Road, Andrew Bailey Road and Belk Road.
There were approximately 1,200 without power, according to a Facebook post from Coweta-Fayette EMC.
The post stated that restoration would be a slow process, and there were about 30 broken poles already identified. Debris was making traveling the road difficult, and a lot had to be cleared before crews could work in some areas.
Widespread storm damage prompted the Coweta County School System to shut down its schools and facilities Friday.
"Our main concern today is the kids, employees and families," Superintendent Evan Horton said Friday morning. "We need to make sure everybody's OK. We know this thing has impacted the entire community."
Horton said Smokey Road Middle School, while in the storm's path, was largely undamaged. However, both Atkinson Elementary School and the school system's transportation facility suffered some damage.
Newnan High School took the biggest hit.
"The damage at Newnan is extensive," Horton said. "We're just in the beginning stages of assessing it, so we don't know what the long-term impact will be. We are trying to figure out where we are and what we have right now."
In a statement emailed to school system employees Friday morning, Horton said school system staff will continue to assess conditions and work with community leaders to provide assistance where needed.
"Our hearts and prayers are with those who have been affected, and we are hopeful that while homes and buildings have been damaged, students, staff and family members are safe," he said.
Newnan Fire Chief Stephen Brown said during a televised morning news conference that rescue teams were methodically checking every structure and assessing the destruction. They've found "heavy, heavy damage" in parts of the city's historic district, he said.
"It'll never look the same," Brown said. But he also complimented the resiliency of the community. "They're out. They're working. Family members are coming out there and they're already on their own doing the cleanup."
Newnan Mayor Keith Brady said he woke up at midnight and was watching the news when he saw a tornado had touched down, and Newnan was going to be hit.
Brady said he rode over to the Newnan High School area after it happened, and saw public safety out there keeping people away. He couldn't tell how much damage there was in the dark.
He said he drove back to downtown around 7 a.m. Friday, and walked around in the Sixth Street and Hollis Heights area.
"The thing that struck me was the number of citizens who were out with chainsaws, coming up into people's driveways and helping them," Brady said. "It was heartwarming. It's really what Newnan is all about, is people."
He said the donations and support from the community has been overwhelming.
Brady said Gov. Brian Kemp has done what he needed to do to help. He also said Newnan is a Municipal Electric Authority of Georgia city, and other cities from as far away as Albany have sent crews to Newnan to help.
"That's what MEAG does, it supports itself and it's family members, and we're grateful for them," Brady said.
Brady said the clean-up from the tornado could take months.
"Newnan is never going to look like it did last night when we went to bed," Brady said Friday.
For Newnan residents who were affected by the storm, Brady said the city will be there every step of the way and help them do what they need to do to get back on their feet.
"The most important thing we can think about and do is come together as a community," Brady said.
At 92 Greenville Street, Brandon Hand said he was watching TV when he heard the tornado alert on his phone.
He rounded up his family and immediately convened in the basement where recalled watching flashes of green light from exploding transformers nearby.
Suddenly, he recalled the sound of "things ripping away" from the home, then he laid over his wife and twin daughters.
"Then there was the 'boom' from our chimney falling through our kitchen and then into the basement where we were," Hand said. "Eventually it cleared up and we went outside to assess things."
Like many of his neighbors, the wreckage of the tornado has done extensive damage to some of Newnan's historic homes, including his own, which he expects will take at least a year of rebuilding.
But what Hand said he's heartbroken to see is the damage done to the historic trees.
"That's what bothers me most," he said. "It's not just the homes that make up Newnan, but it's the trees. You can't fix that."
PHOTOS BY Clay Neely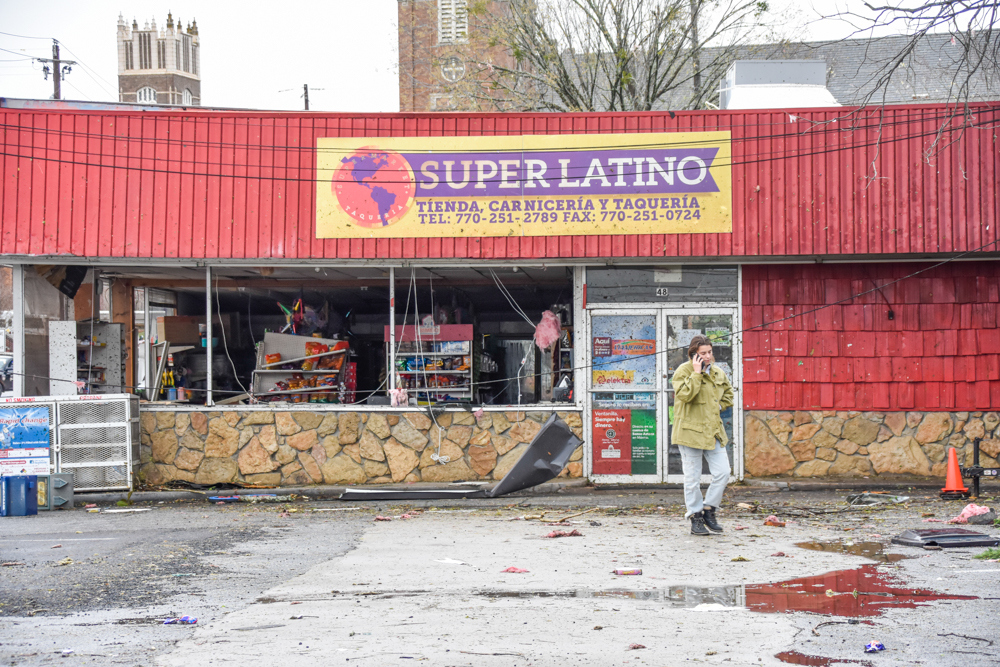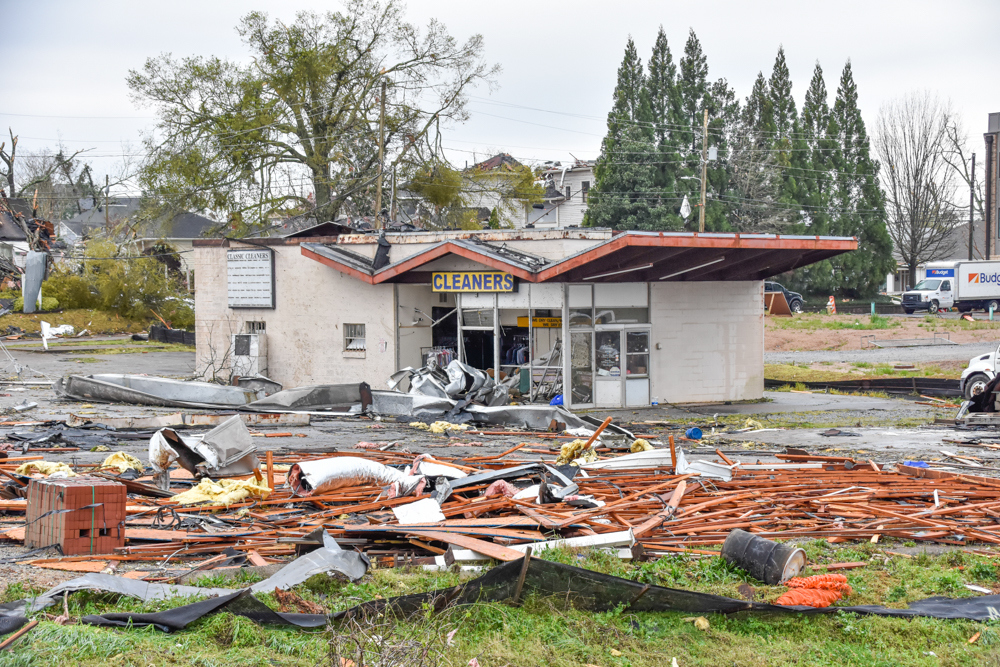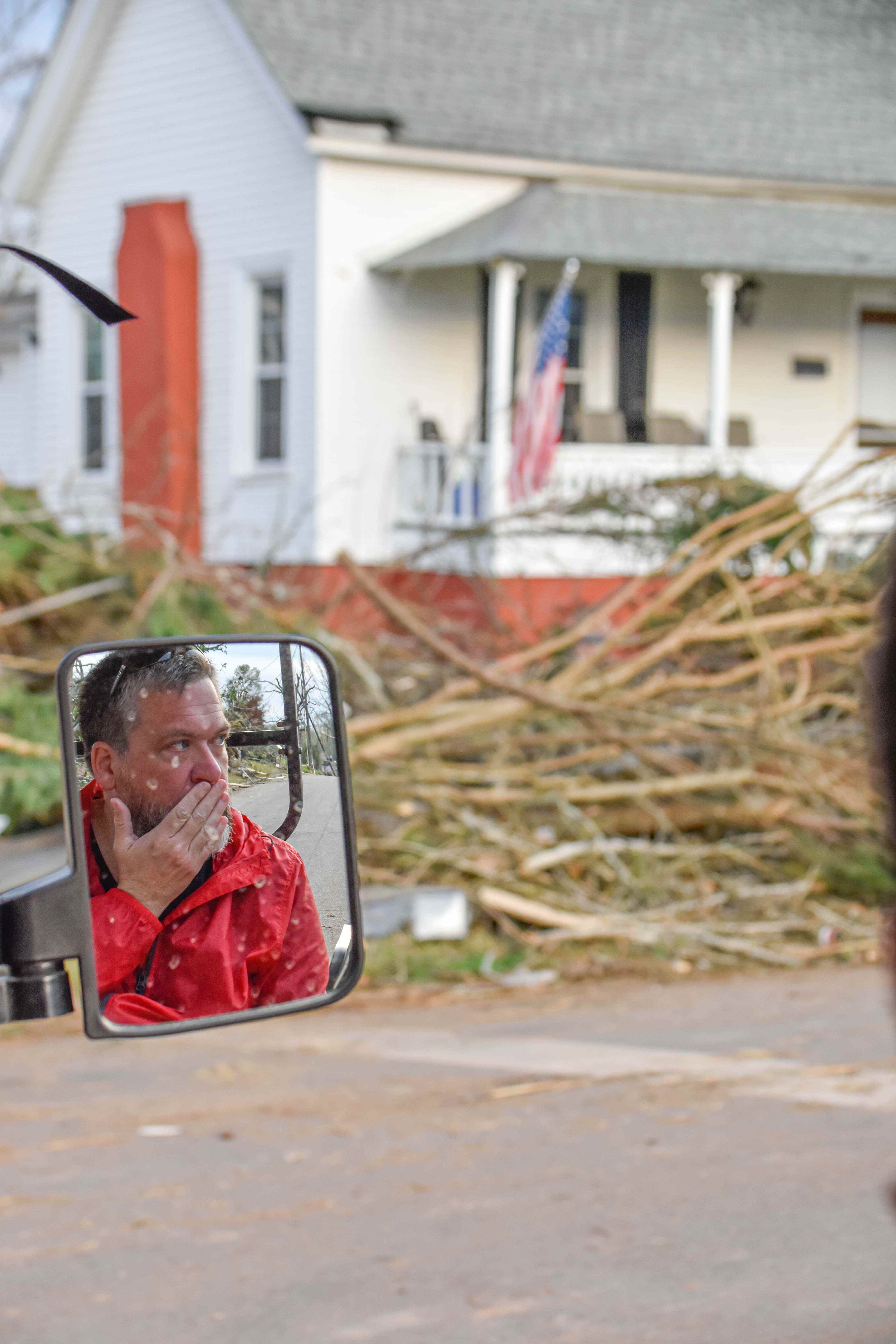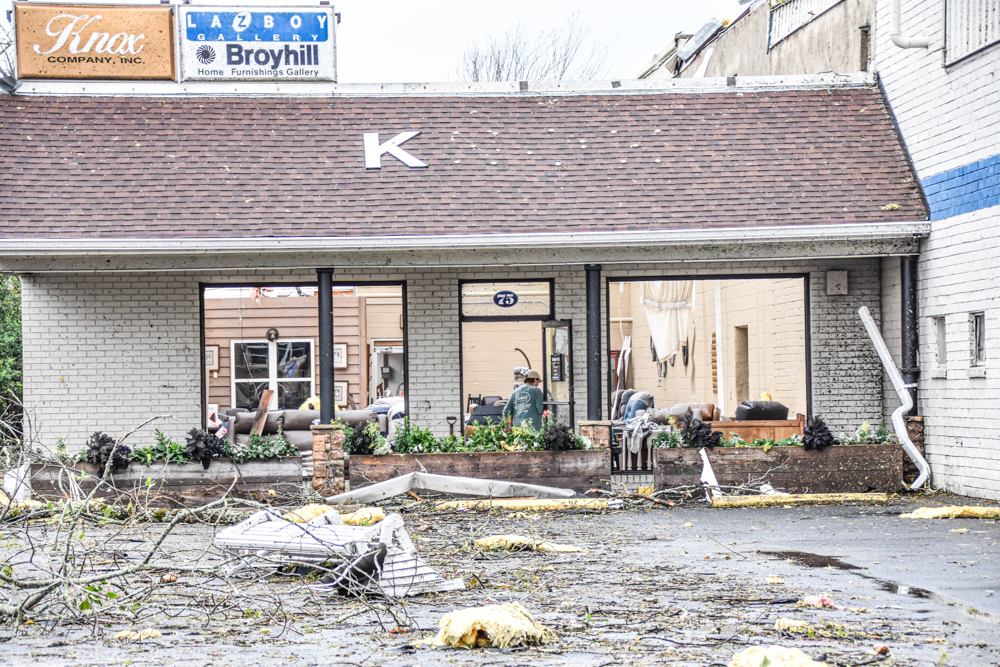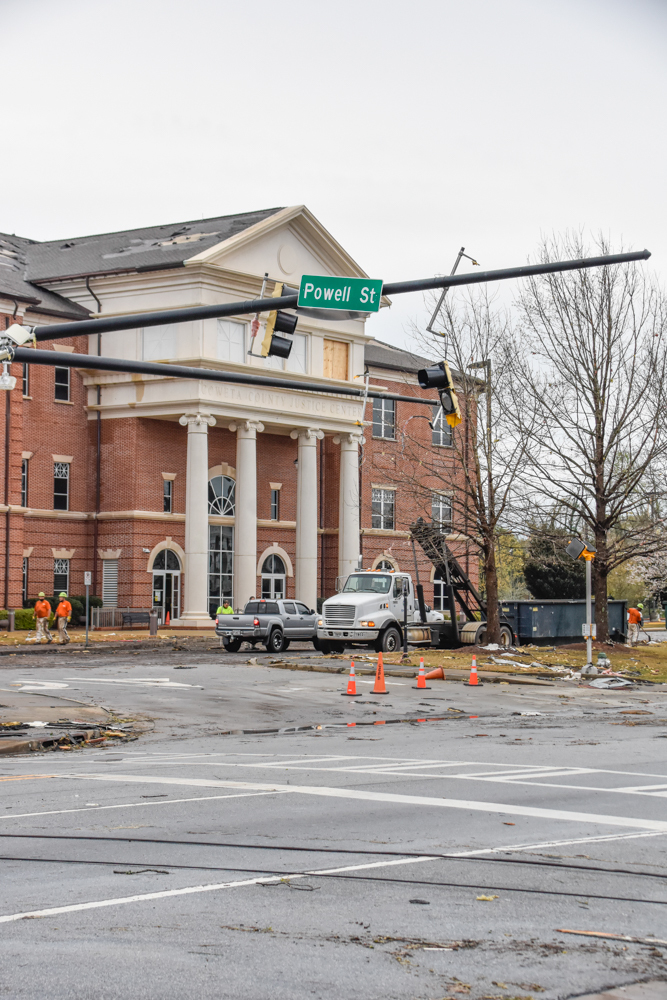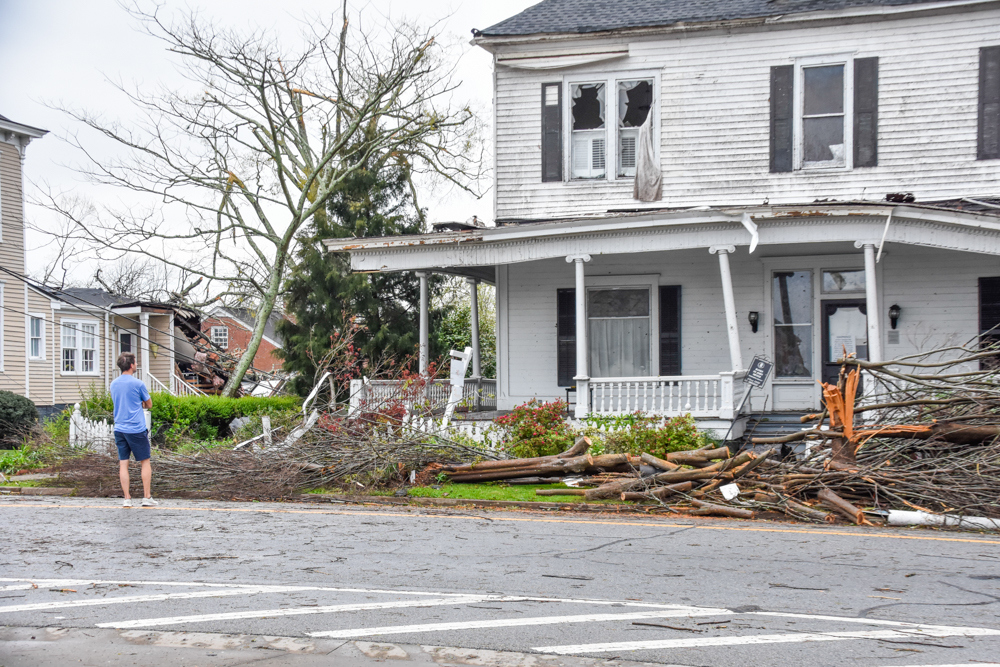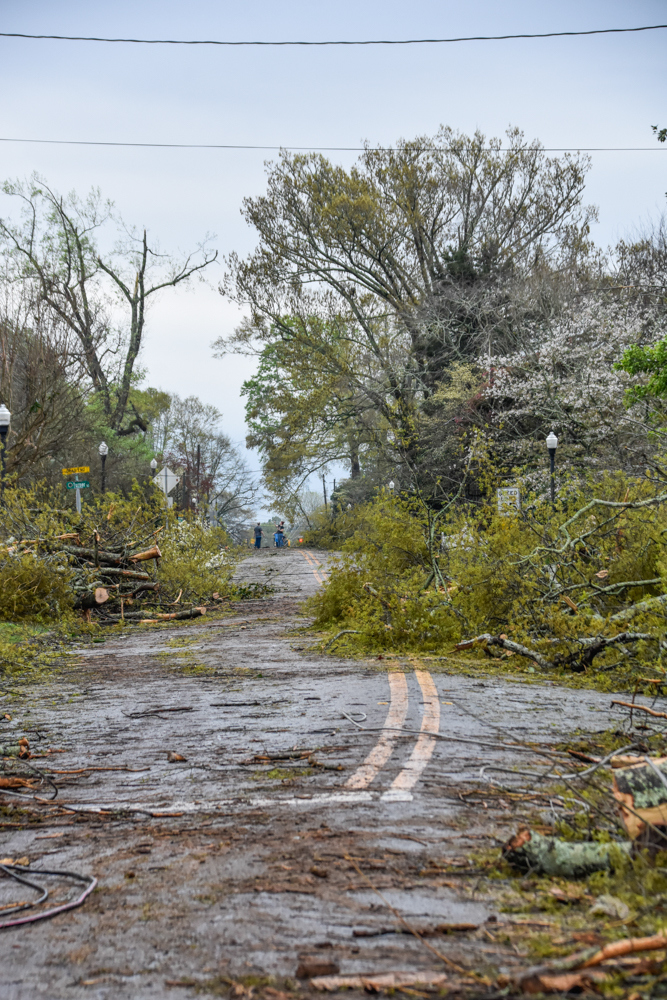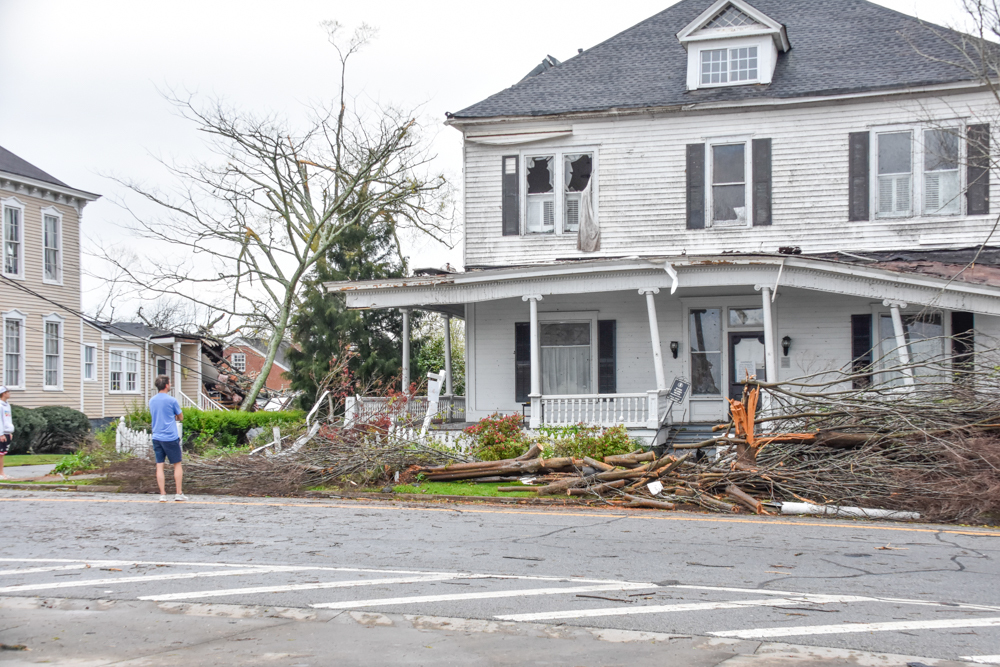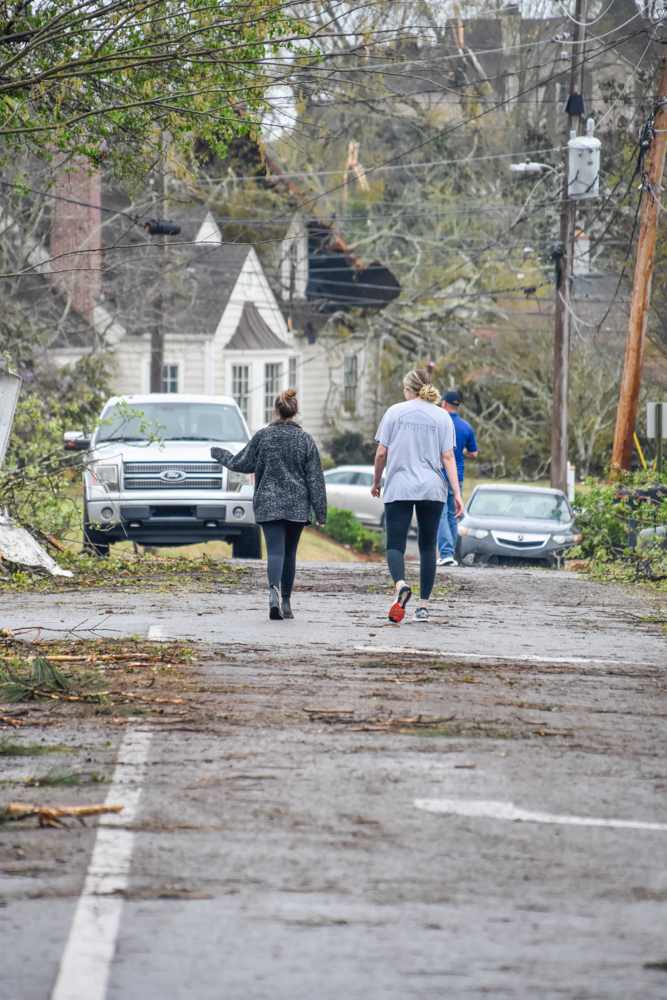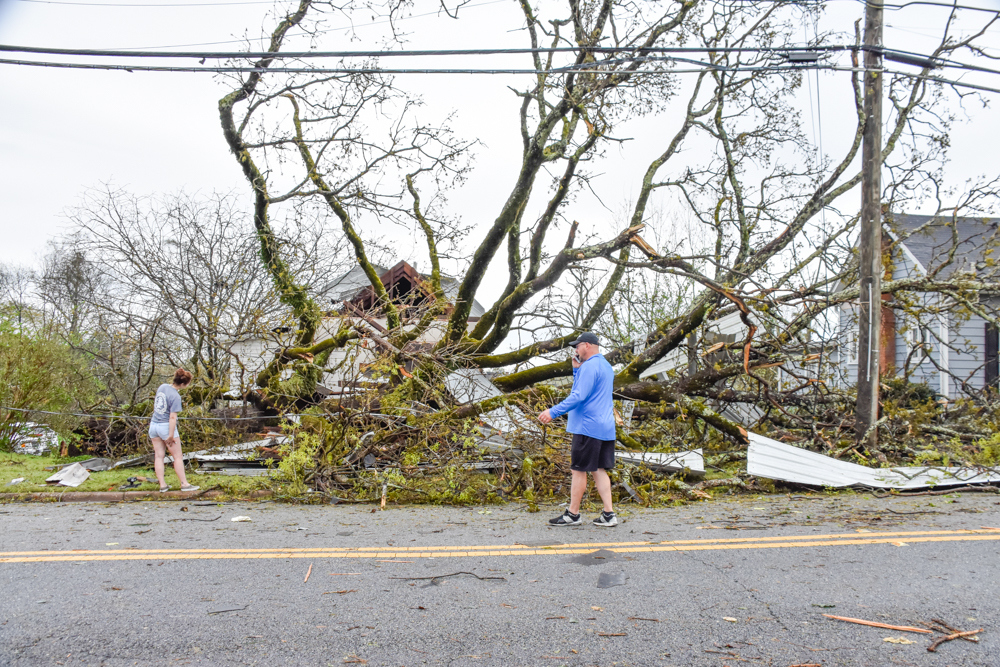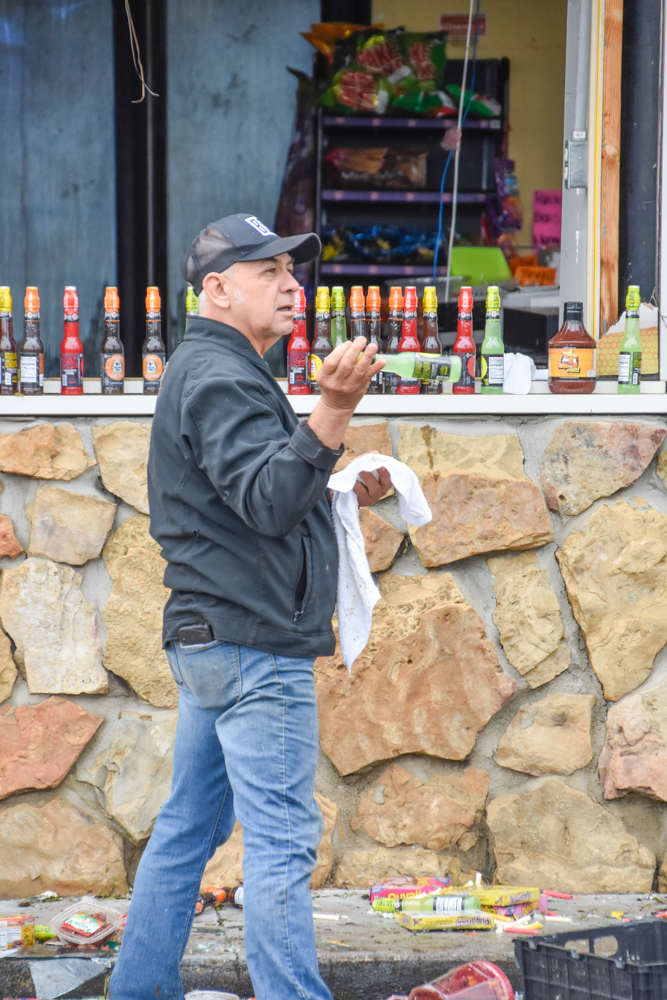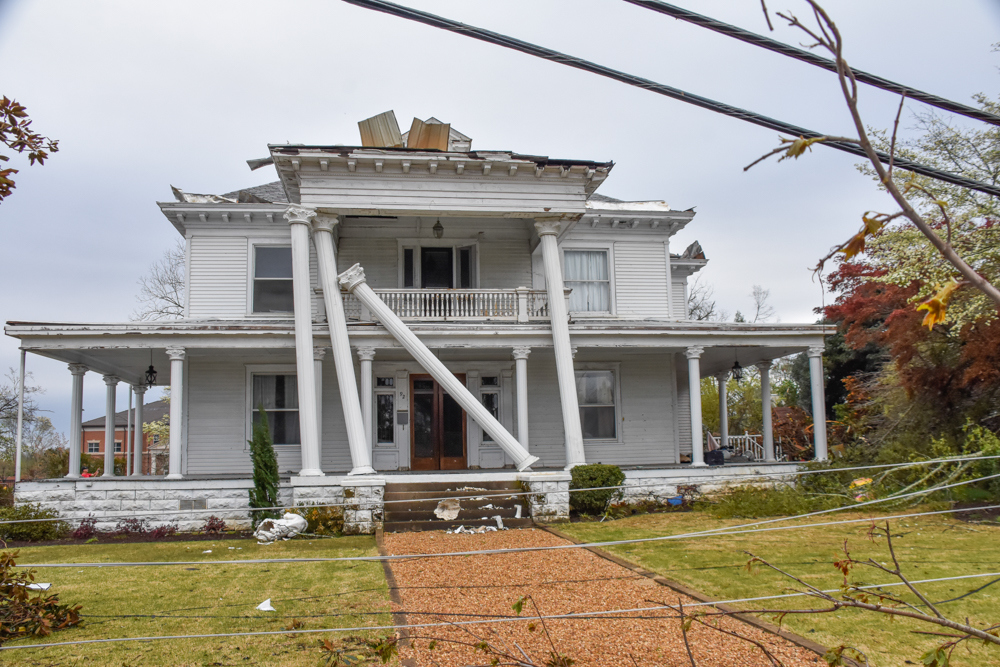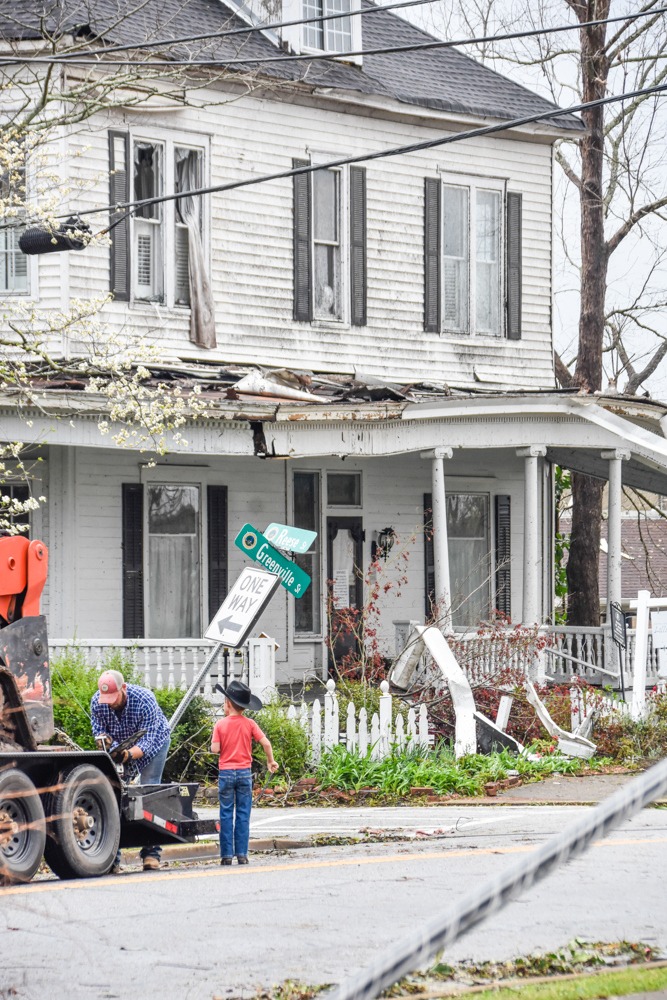 DRONE PHOTOS BY Phillip-Whitney Gable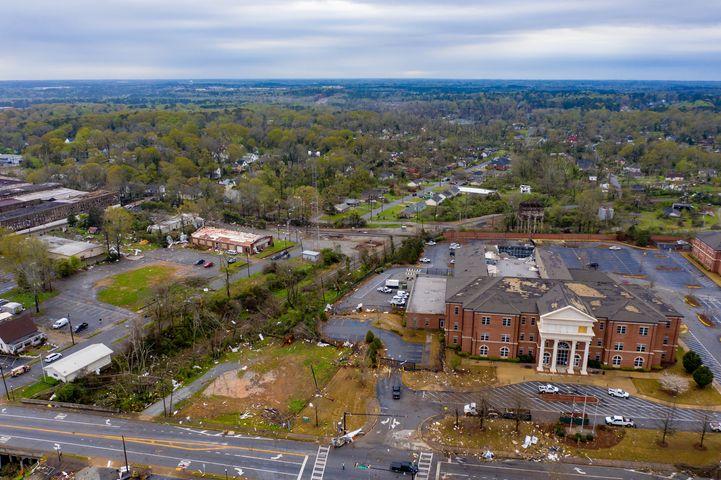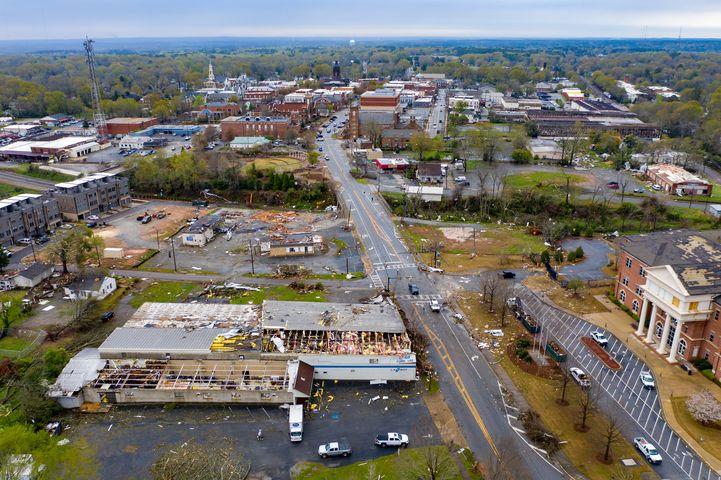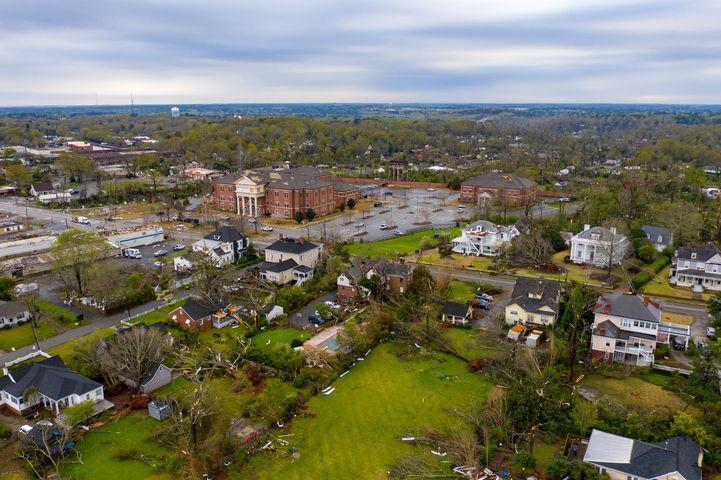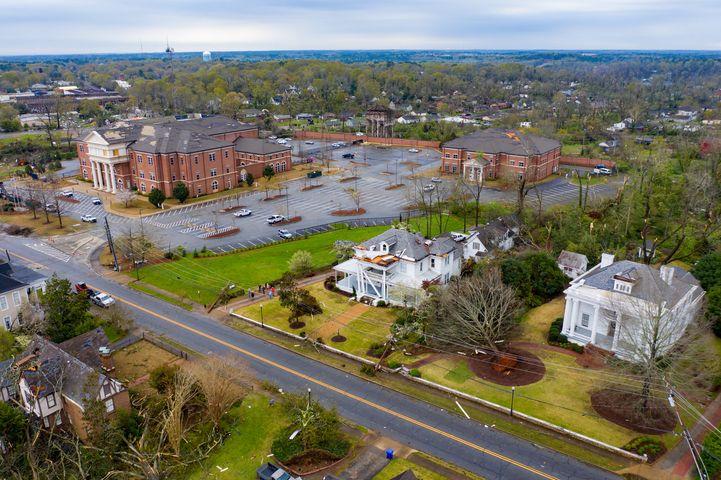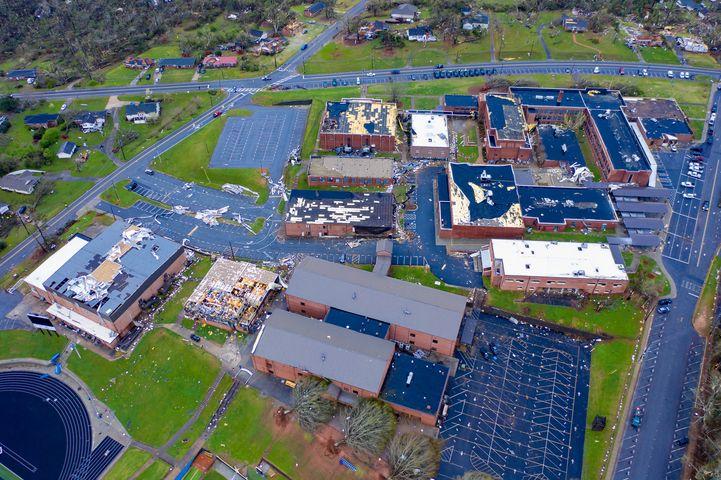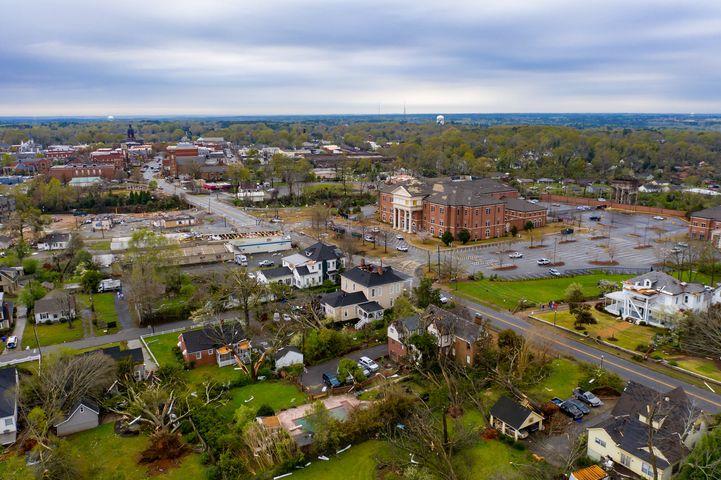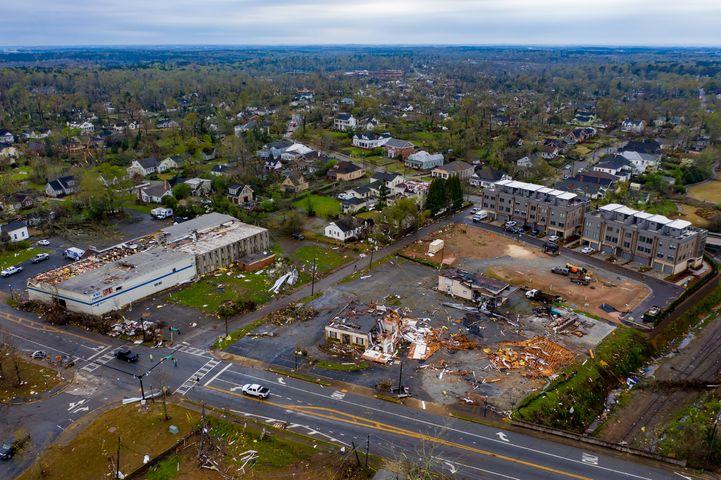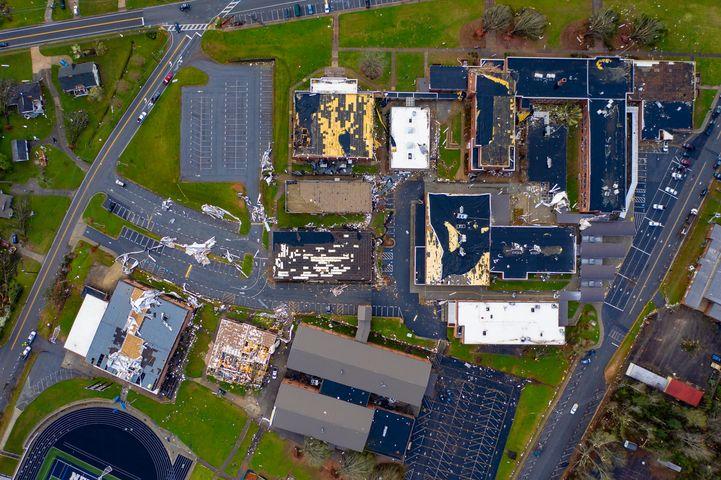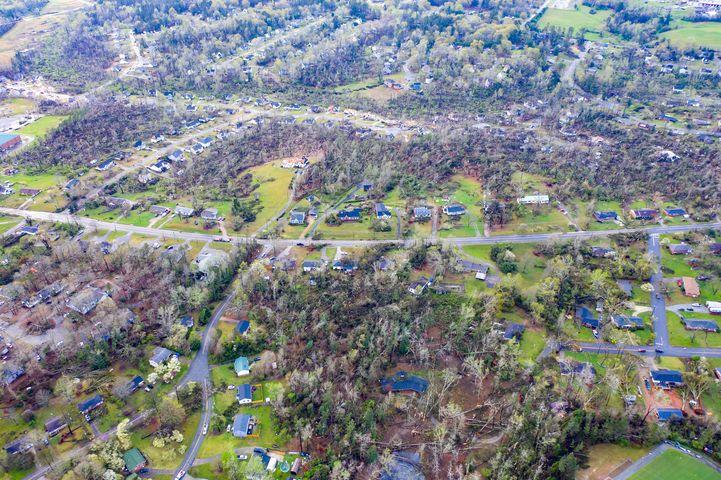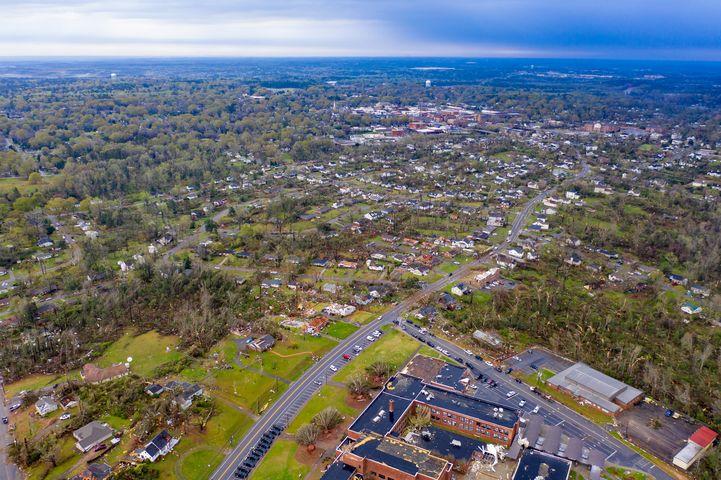 PHOTOS BY REBECCA LEFTWICH