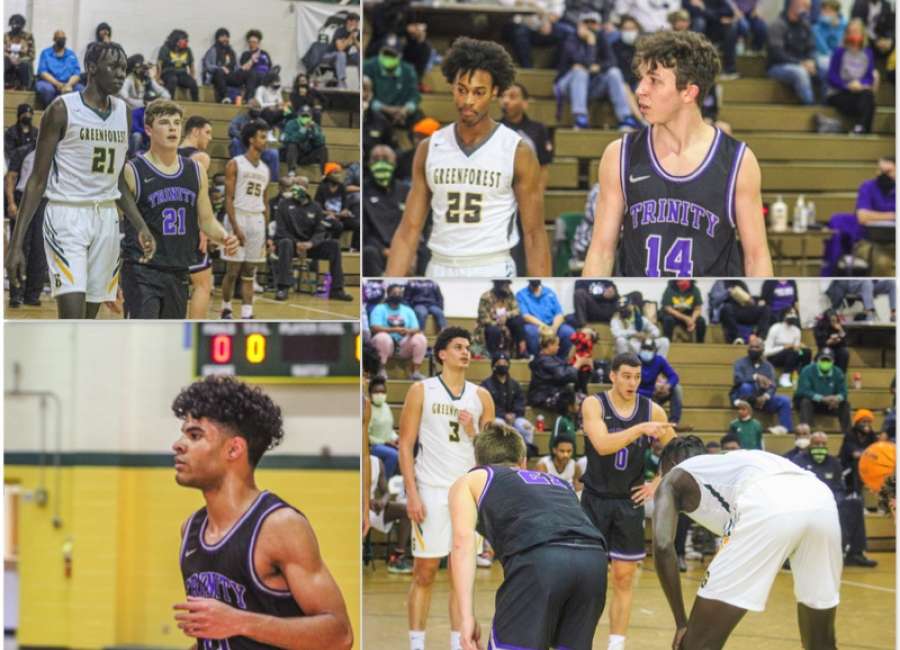 By Rob Grubbs

(Decatur, Ga) – The Trinity Christian Lions returned to the gym where they had one of their biggest triumphs of the season.

On January 23, the Lions clawed their way to a 70-67 overtime victory over the Greenforest Eagles. In their second-round playoff game on Saturday, the Lions comeback ran out of time this time and they fell 51-48.
The Eagles played in the state championship game last year, where they lost 76-55 to St. Francis. They presented Trinity Christian with several matchup challenges, most of which came from 7-footer Gai Atem and Dhiaukuel Manyiel. The Lions countered with inside players Joshua and David Dallas, both at 6-foot-2.
After a close first quarter, the Lions fell behind in the second quarter and went to the locker room at the half 31-20. Senior Jackson Barnes, who made several clutch three-pointers in the Lions first round win over Mt. de Sales, hit a three midway through the second quarter to bring the Lions close at 26-20, but the Eagles scored the final five points of the first half.
The Dallas twins provided the offense to start the third quarter as the Lions slowly pulled themselves back into the contest. Joshua made back-to-back baskets and David had a corner three. Barnes hit his second three of the game and the Lions had reduced the Eagles lead to under ten points.
Greenforest always had an answer, when the Lions would make a dramatic basket, the Eagles would find a way to score on their end. Suddenly, it was midway through the third quarter and the Lions were down by 14 at 46-32.
Trinity Christian would outscore the Eagles 16-5 the rest of the way, but their comeback just ran out of time.
Barnes led the Lions on a balanced scoring night with ten points. Brito and David Dallas each had nine, Joshua Dallas had eight, Pissis added seven and Michael Morge chipped in five.
The Lions closed out their season with a record of 17-9. Of those nine losses, seven were against teams that made it to the GHSA Sweet-16 in their respective classification.
Head Coach Will De La Cruz played the best, and it brought out the best in their team.