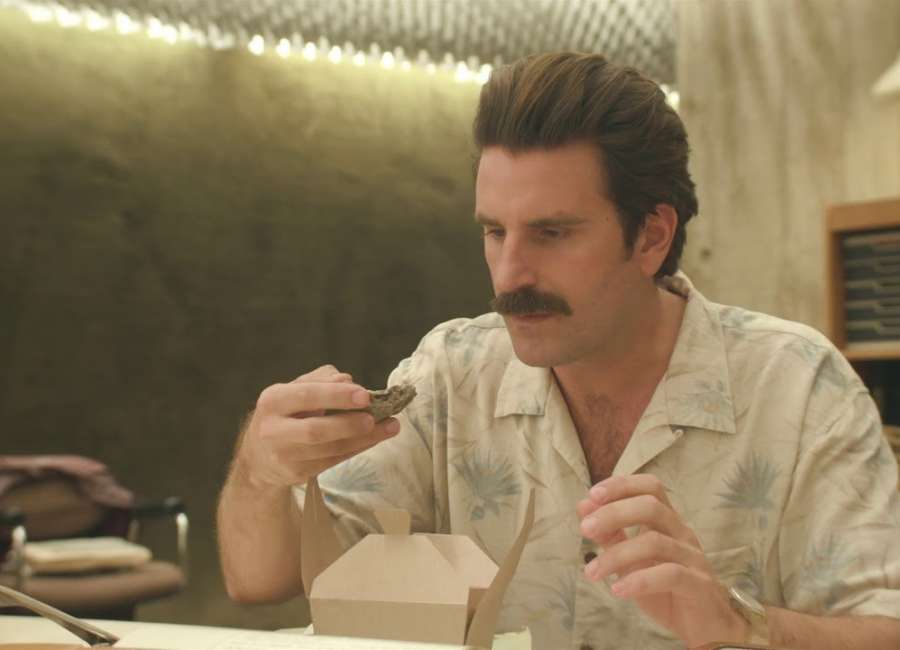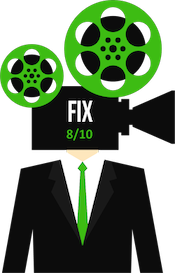 Review by Jonathan W. Hickman
I'd watch "Keep an Eye Out" again.
French director Quentin Dupieux's absurdist comedy is worth multiple viewings. Like an intricate stage play, one could focus on a different performance or plot aspect every time you watch it. "Keep an Eye Out" is a sharp, funny, and unusual film.
The story opens in a French police station. A detective named Buron (Benoît Poelvoorde) is interrogating a murder suspect named Louis (Grégoire Ludgig). But instead of getting on with the questioning, Buron is hopelessly distracted. Phone calls, visits from co-workers, and even a departure to talk with his son to eat a hotdog continually drag out the interrogation.
Louis is befuddled and frustrated. All he wants to do is make a statement and go home to his sleepwalking wife. But Buron refuses to let him leave. At one point, Louis tells the detective that he's hungry and might pass out. Buron reaches into his desk, retrieves a half-eaten candy bar, and tosses it to his suspect. Louis gives the candy a sniff and eats it without complaint.
This is a movie that takes banal moments and makes them bizarre. It's kind of wonderful.
Weird stories are not foreign to Dupieux. His 2010 film "Rubber" was about a homicidal car tire. That one was like a perversion of a Stephen King story told with matter-of-fact drollness. And "Keep an Eye Out" is more of the same.
As the evening wears on, Louis is increasingly made uneasy. Buron smokes a cigarette at one point, and the smoke appears to exit from a hole somewhere beneath his shirt. When Louis points this out, Buron waives it away as nothing. Later they discuss a time when Buron didn't have a "hole in his lung." It's strange but hilarious.
Buron's office partner, Phillipe (Marc Fraize), has only one eye; a skin flap covers the other. When Louis comments on it, the two have a rolling discussion about Phillipe's condition since birth and whether that causes people to think he's unintelligent. Of course, Phillipe is kind of dimwitted. The awkward conversation has Louis trying to avoid insulting the man.
This dialogue-driven feature is remarkably engaging as Louis bumbles through the evening without a clue as to what might happen next. And like Louis, we're along for the ride.
Dupieux sets his film in what appears to be the 1970s. The technology is of that era, and the clothing and hairstyling evoke that time. But in a way, it's a fantasy, reminiscent of Spike Jones's "Being John Malkovich" or Michel Gondry's "Eternal Sunshine of the Spotless Mind."
Buron types his report on an old typewriter, and in one scene, a character plays a handheld, vintage video game. The production design is deep and textured, and the layers beg to be studied for clues to unlock Dupieux's mystery.
A triple threat, Dupieux writes, directs, edits, and even shoots this movie. The film is bathed in beige tones and lit warmly. He used the Canon C700, a top-of-the-line digital cinema camera, to produce an impressive film-like image. While this story would be at home on the stage, Dupieux's choices with the camera make it a cinematic treat.
Difficult to define, "Keep an Eye Out" offers viewers a very different movie experience from anything currently in release.
A RottenTomatoes.com Tomatometer-approved critic, Jonathan W. Hickman is also an entertainment lawyer, college professor, novelist, and filmmaker. He's a member of the Atlanta Film Critics Circle, The Southeastern Film Critics Association, and the Georgia Film Critics Association. For more information about Jonathan visit: FilmProductionLaw.com or DailyFIlmFix.com