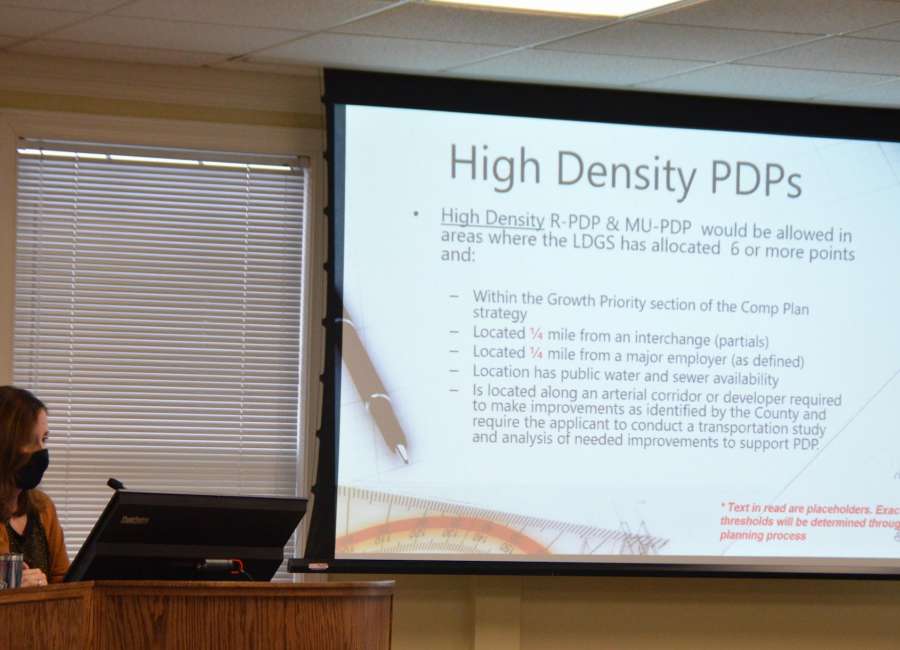 Higher density residential development in Coweta County could take the form of "Planned Development Projects."

The Coweta County Board of Commissioners heard about the proposed PDP process at its work session on Friday.
A PDP would go through a process similar to rezoning, with public notice, and a vote by the commissioners. Under the plan discussed at the work session, there wouldn't be any high-density development "by right," without approval from the commissioners.
The county's Community Development Department has been working on ways to implement higher density residential development as part of the county's "land development guidance system."
Under the LDGS, every piece of undeveloped property in Coweta was assigned a point value, based on proximity to services, infrastructure and denser development. The tracts were then arranged in tiers for low, medium and higher density development. Ordinances for the low and medium density developments were approved in early 2020, but the process slowed when it came to regulating the higher density areas.
The Community Development Department is currently working on the update to the county's comprehensive plan and comprehensive transportation plan, and work on the higher density strategy is being incorporated into that process.
The comprehensive plan is using a growth strategy that divides the county into three zones, which are roughly equivalent to the three LDGS tiers, though the high density area being used in the growth strategy is significantly larger and somewhat different, particularly on the southern end of the the city, than the one identified on the point maps.
Higher density – but only where it fits
PDPs would only be allowed in the growth priority areas; the areas where they are placed would also have to meet other criteria, such as close proximity to interstate interchanges or major employers. They could be mixed-use or residential.
The exact criteria and the exact densities have yet to be determined. That's where input from the commissioners will come in. Input from the public is also being sought as part of the comprehensive plan process.
PDPs would only be going in places where they would be suitable. In an area where there are thousands of cars passing daily, a few hundred extra daily cars wouldn't even be noticed. But those same cars could have a high impact if the development is on a small two-lane road, said County Planner Jenny Runions.
The county can set thresholds for traffic counts, and employer proximity. "We could set the traffic count and see what it can accommodate. … you can also look at the acceptable land uses," she said.
Under the proposal, "if it doesn't meet these thresholds, it doesn't qualify for a high-density PDP," Runions said.
In formulating guidelines, the county could set a maximum density, a minimum lot size or both.
The PDP program can allow for more flexibility in a site plan than would be possible under other ordinances, Runions said. "It can allow developers to think outside the box and use best practices."
Under the proposal, there would be a checklist with thresholds and requirements, and staff would evaluate how well a proposed project meets those guidelines. That information would be presented to the commissioners to help them make their decision.
Lot size and density
The commissioners discussed density and lot size thresholds.
Coweta's most dense development is Poplar Preserve, currently under construction on Poplar Road. That project is an outlier, as the property was zoned "new community" in the 1970s, and that zoning allows for significantly higher density than has ever existed in the county or in most of the city of Newnan. The zoning allows for up to five units an acre.
Poplar Preserve will have an overall density of 2.74 units per acre, but lots will be tiny – some as small as 4,000 square feet – approximately one-tenth of an acre. Much of the property is in flood plain and wetland and can't be built on. That land is set aside as green space, but goes into the overall density calculation.
Those lots are significantly smaller than in the county's next most dense developments. Twelve Parks near Sharpsburg, developed under the county's old RI-B zoning, which doesn't exist anymore, and Timberbrook, under the county's RRCC retirement community zoning, have lots as small as 8,500 square feet – approximately one-fifth of an acre. The RRCC allows up to 12 units per acre.
Slides showing photographs of single family homes in different densities, in other locations, were shown to give an idea of what different densities can look like. Slides of seven and 10 units per acre look quite urban.
The slides also show very flat areas. In Coweta, "we don't have that sort of topography," said Community Development Director Jon Amason. Creating that sort of layout will bring with it significant stormwater issues.
"I'm even afraid of what is going to happen at Timberbrook because of the stormwater," he said.
The difference between the overall density and lot sizes at Poplar Preserve illustrates that the two thresholds can be vastly different.
"I think the staff would like to go back to a minimum lot size," Amason said. It's easier to understand and discuss.
Commissioner John Reidelbach said when someone says 4,000-square-foot lots, "I'm thinking that's way too small." But 2.74 units per acre sounds completely different.
Commissioner Paul Poole said he didn't even want to look at something like seven lots per acre "or that kind of crazy stuff."
Reidelbach said he would like the county to set both a minimum lot size and density.
With PDP, there could be a range, depending on access to roadways, water and sewer, said County Administrator Michael Fouts. "It's kind of customizable," he said.
What "high density" means is broad – and it's different to everyone, Amason said. "I don't think we're even all on the same page," he said of staff. "I think we've got ranges we think are appropriate. We really want to open this up, and not just put something down on paper we feel is appropriate. I think this needs to be a joint effort from all of us."
A brake for annexation?
A big driver in the county looking at higher density development near cities is annexation. When cities annex property, they develop it at a higher density, but seldom reimburse the county for the impacts to county facilities such as roads.
If the developers develop under county rules instead of annexing, "then we have at least a little control – where we don't have any now," said Commissioner Tim Lassetter.
"At the end of the day, we've got to look at what we can live with and where it should be," Lassetter said.
When it comes to traffic impacts, it can't always be attributed to a single development.
There have been several subdivisions developed on Gordon Road over the past several years, said County Public Works Director Tod Handley. While each individual development might not have a significant impact, based on its size, "we're progressively boiling the frog, a little bit at a time," Handley said. "At some point or the other, those cumulative impacts will need to be addressed," he said.
"There needs to be a way to account for, and be able to pay for, those cumulative impacts."
The city of Newnan's zoning ordinance allows various densities, but the highest for traditional single family development is four units per acre. Reidelbach suggested the county also allow four units per acre for property that abuts the city, but 2 1/2 units per acre in other areas.
There has been some discussion of something that would function as an urban growth boundary, said Fouts.
With more people comes more traffic, and that's become the biggest impact of development.
Right now, the county doesn't have a funding source to pay for existing transportation needs.
When the city of Newnan annexed property on Parks Road, the county asked the developers to contribute $528,000 toward intersection improvements at Parks and Poplar Road and Parks and Lower Fayetteville Road. The county lowered that request to $352,000 and then to $300,000.
The developer eventually agreed to pay $60,000 for the improvements, and the city approved the annexation.
Fouts mentioned another large development that triggered a Development of Regional Impact study. The only requirement from the DRI was for the developer to add sidewalks, Fouts said, though the traffic impact will be significant.
Under the county's current ordinances, there is no way to require developers to make improvements as a condition of approval – because no approval is needed.
Fouts said there needs to be some mechanism, for developments over a certain threshold, that allows the county to require some things.
"Because otherwise the taxpayers are having to fund that," he said.
If the county requires developers to pony up funds for improvements, but the city doesn't, it could be a pretty easy decision for developers to annex into the city, anyway, said Handley.
Commissioner Tim Lassetter thanked the staff for their work in getting to this point.
"Some of this is very innovative. Some of it is things that are a little different than what has been done in the past," he said. "Now let's do our best to proceed."
Fouts said that the RRCC's 12 units per acre might be a place to start for a mixed-use project.
Reidelbach said he'd like to make a proposal for a maximum density of 3 1/2 units per acre, with a minimum lot size of 10,000 square feet (0.22 acres), and the property has to adjoin a municipality.
Cowetans are encouraged to fill out the current surveys for the update to the comprehensive plan and transportation plan, which can influence the development of the PDP regulations, as well.
On March 30, there will be a community workshop on land use and growth management, as part of the comprehensive plan update. "We will really be presenting this and trying to get some strong input on how people feel about this," Runions said of the PDP proposal. She said that by mid-April, she hopes to be able to give the commissioners a clear picture of public input.
"I do think we need to be listening to the public," said Reidelbach.
Conversation about the impact of development turned to impact fees. The county did away with impact fees several years ago. But some kind of impact fee or developer fee might be something the county needs to reconsider, Reidelbach said.
Poole said that for large developments, he'd rather have the developer provide specific improvements. The developers of Twelve Parks agreed to multiple things, and the county will never get that kind of contribution through impact fees.
For more information on the comprehensive plan and transportation plan update process, and to fill out the surveys, visit www.cowetaplans.com .