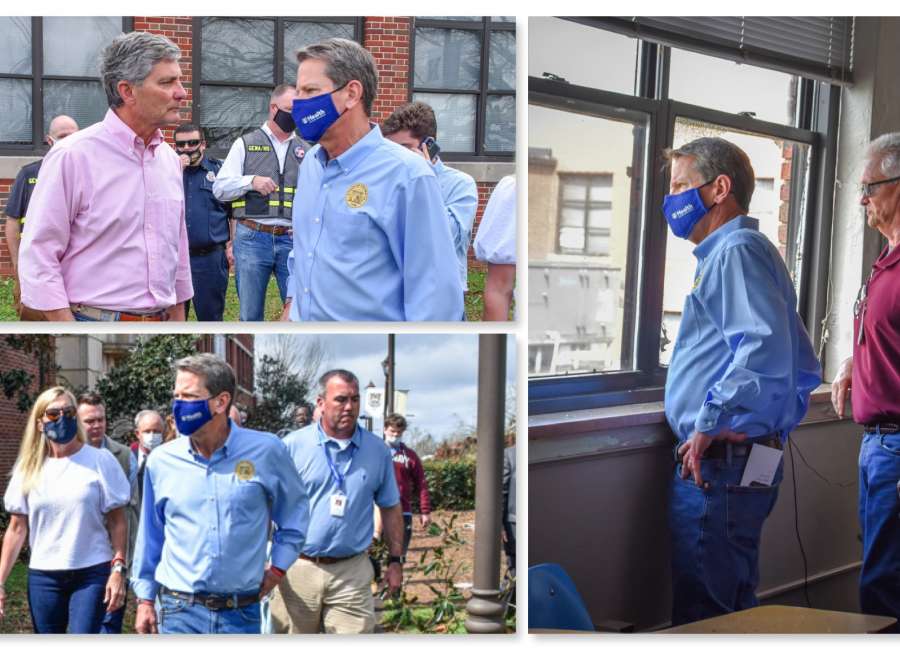 Twenty-four hours after a reported F4 tornado devastated areas of south Newnan, all hands were on deck to survey the damage and begin the long process of repairing.

Gov. Brian Kemp was given a tour of Newnan High School where he witnessed the results of the devastating tornado, which was only the 10th F4 tornado to hit Georgia since 1950 and the first in 10 years.
The path of the storm was reportedly 6 miles long and one-half mile wide.
Kemp, surrounded by local and state representatives, addressed the media Saturday morning at the corner of LaGrange Street and Armory Road.
"As someone who's responded to several storms in this state, this is different from anything I've ever seen," he said. "This is total destruction. … and our thoughts and prayers are with this community."
Kemp said he would do everything in his power to help the community rebuild.
"We've been resilient this last year through COVID and were looking forward to getting back to normal, in-person learning," Kemp said. "This has been upended once again, but I have great hope and optimism for the people here today."
The governor urged affected residents to be mindful of donating supplies and suggested organizations such as the Red Cross.
Gen. John F. King, Georgia Insurance Commissioner, echoed Kemp's sentiments, citing that "after every disaster, fraud follows.
"We have to be mindful of those coming in to do work and make sure no one gets revictimized," King said. "Make sure those doing work around your house are qualified. If you face any challenges, please call our office."
James C. Stallings, GEMA director, said residents should be proud of the response of local public safety members, who "left their own affected homes to help." Stallings thanked Kemp for signing a state of emergency which allowed his agency to bring in resources quickly.
"This will be an ongoing response; we're not just here for a few days," he said.
PHOTOS BY CLAY NEELY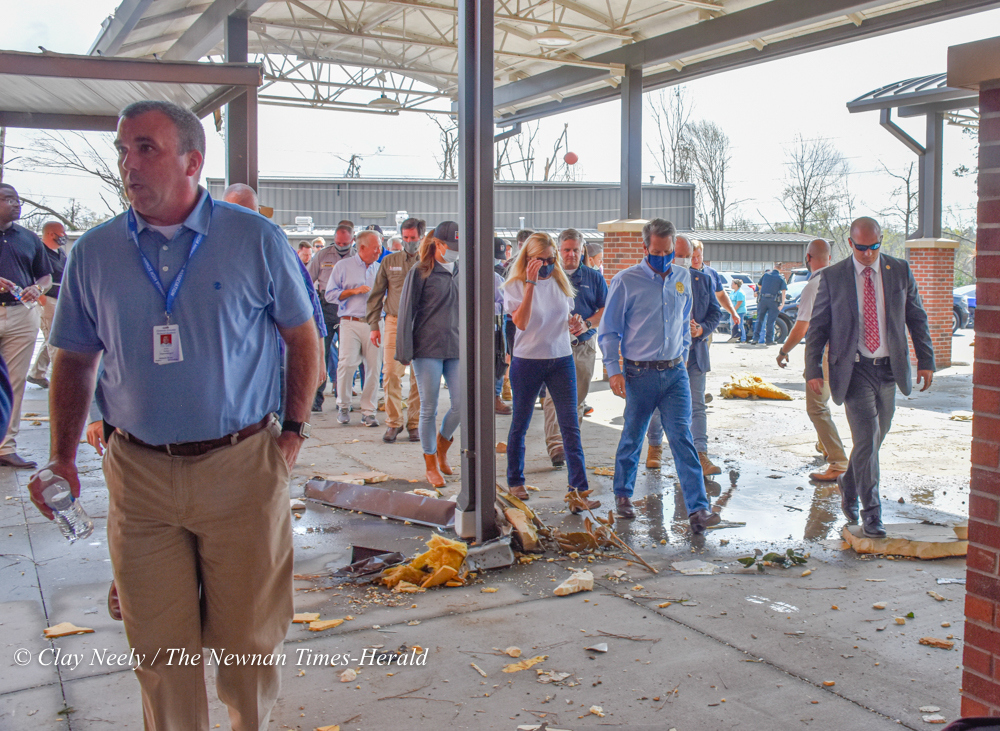 Superintendent Evan Horton leads the way as Gov. Brian Kemp begins a tour of Newnan High School.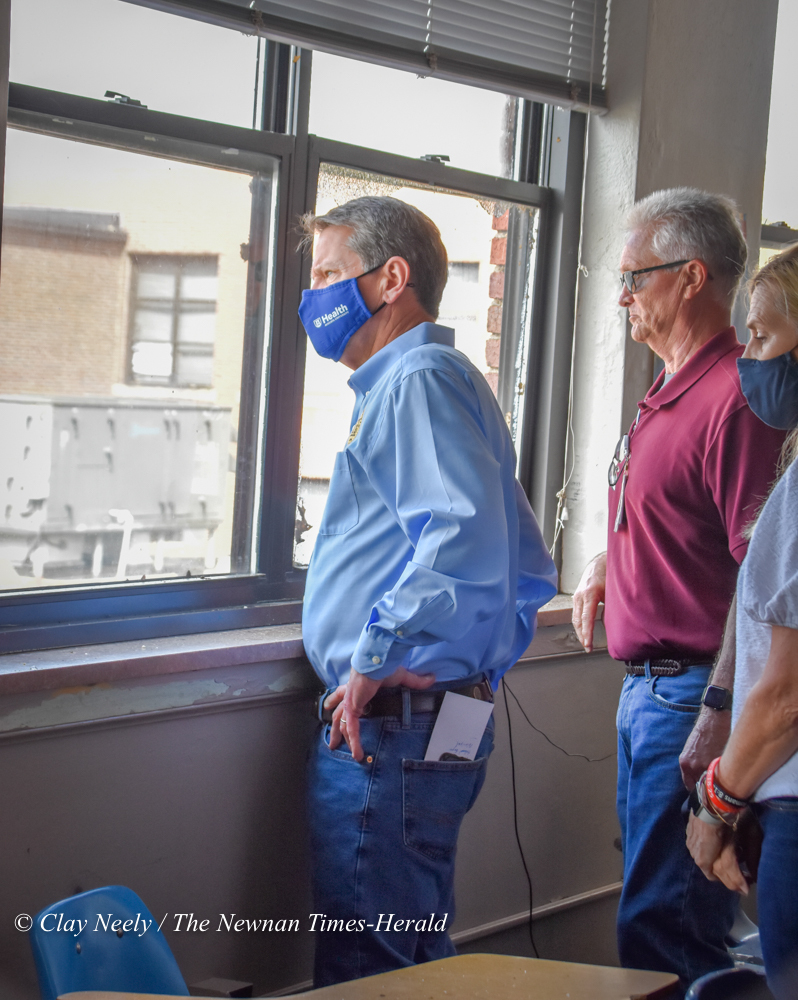 Gov. Kemp examines the Newnan High School campus from a classroom Saturday morning.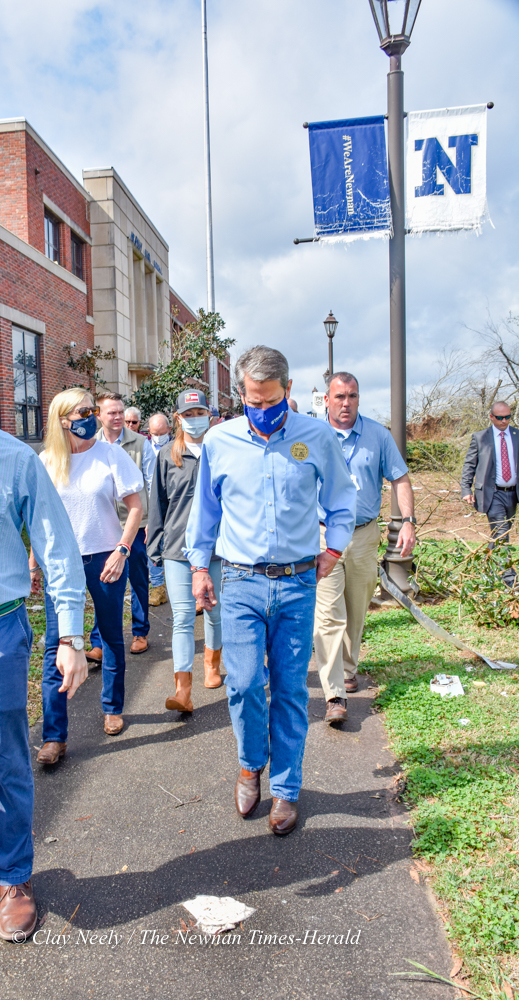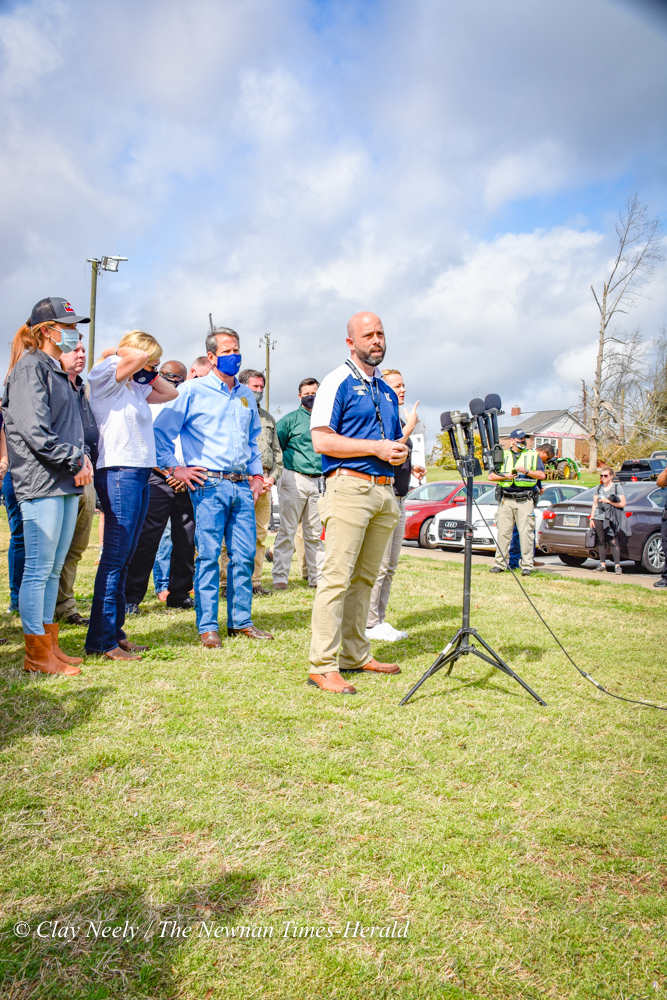 Newnan Principal Chase Puckett speaks to the media during Saturday's press conference.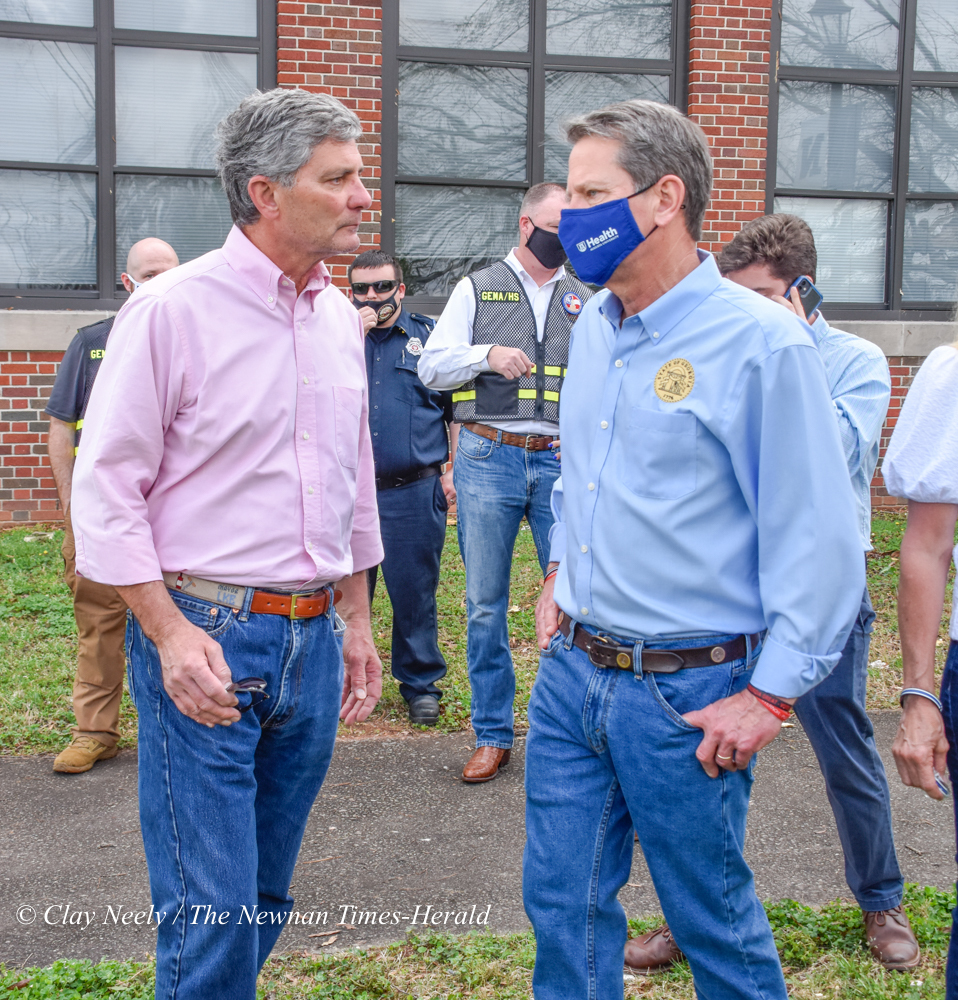 Newnan Mayor Keith Brady speaks to Gov. Brian Kemp.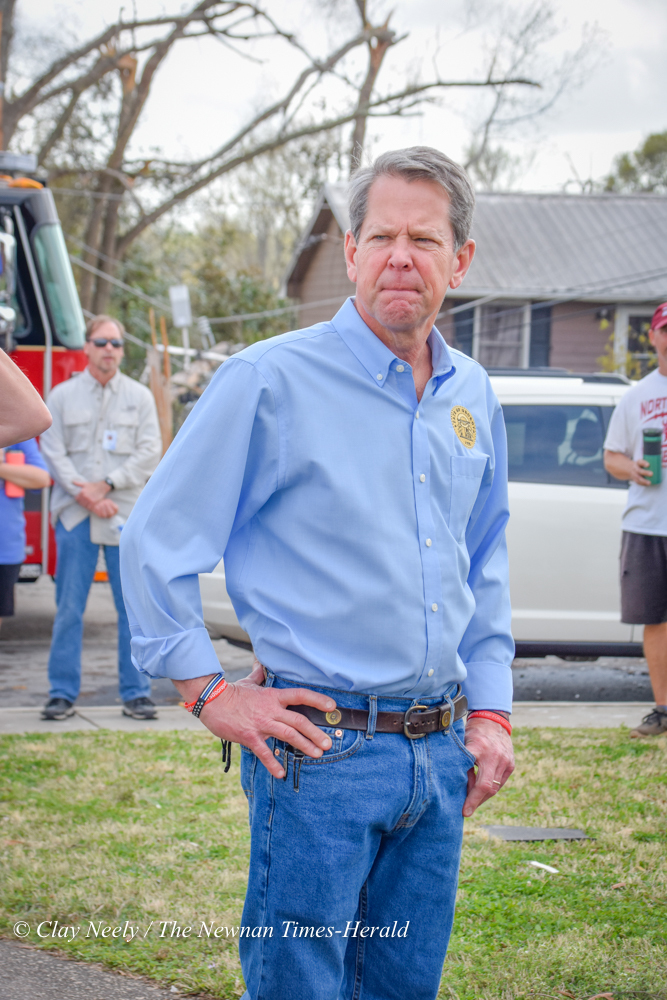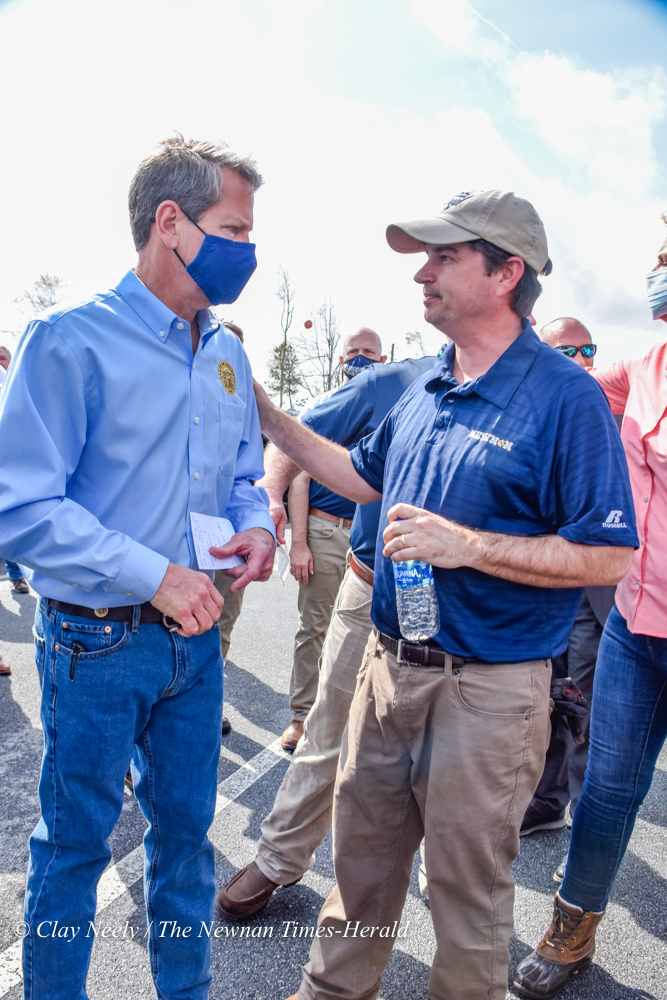 State Sen. Matt Brass, a former Newnan High School student, welcomes Gov. Kemp to Newnan on Saturday.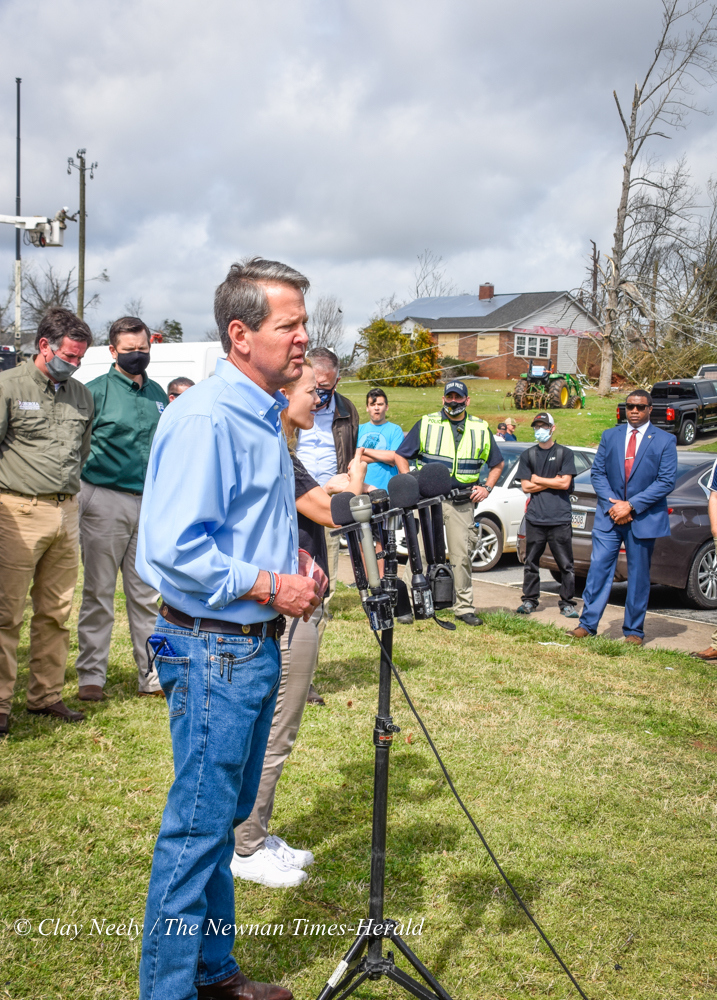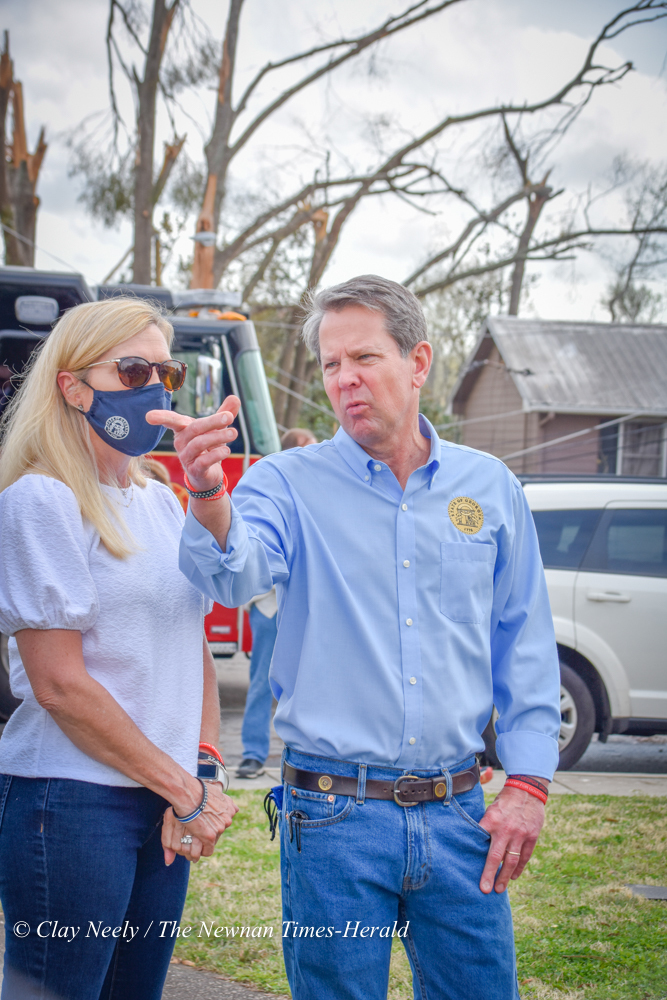 Gov. Brian Kemp and wife, Marty Kemp, during Saturday's press conference at Newnan High School.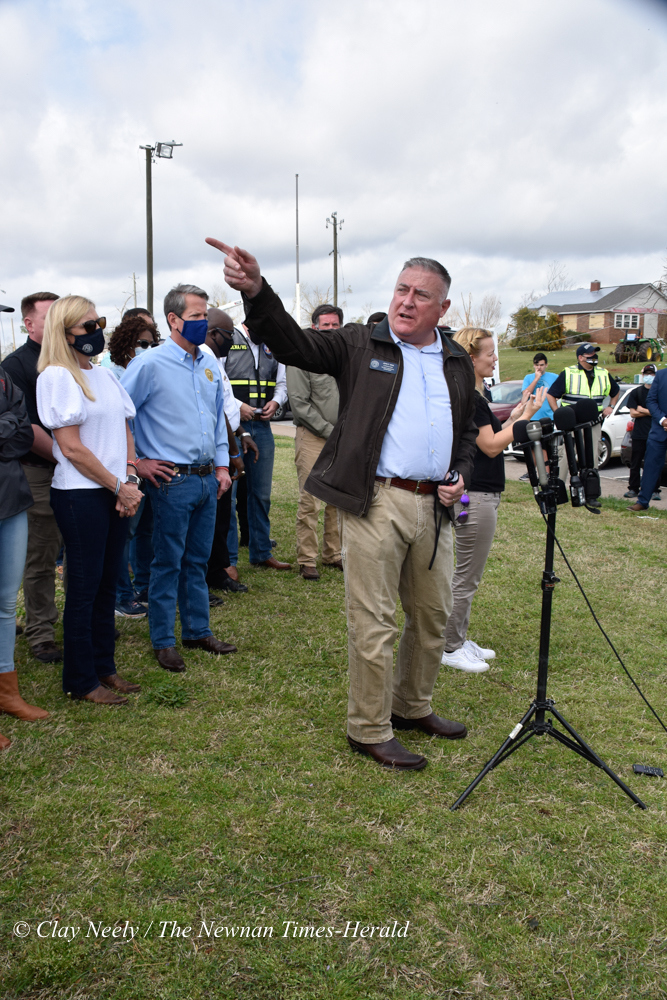 Gen. John F. King, Georgia Insurance Commissioner, points to the National Guard Armory during Saturday's press conference.