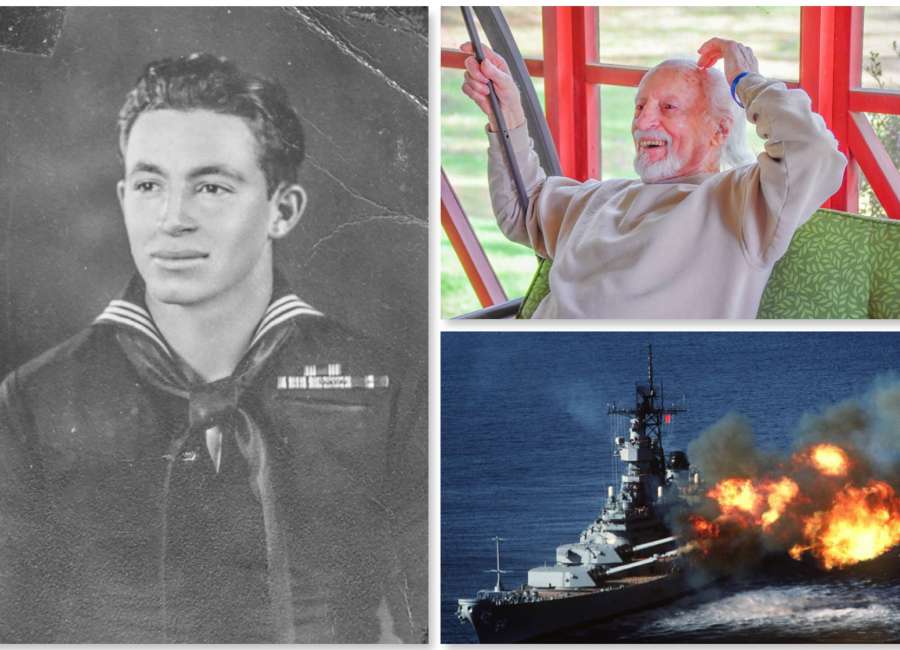 In June 1946, Jim Farlow walked off the USS Wisconsin in San Francisco.

After nearly two years of fighting in the pacific theatre in World War II, he was eager to return to his home in Tallapoosa, Georgia.
75 years later, Farlow returned to his ship for a day and was greeted with a hero's welcome.
The 95-year-old Palmetto resident recently reflected on his time in the war.
"A lot of men don't like to remember those times, but it doesn't bother me," Farlow said.
With both of his brothers fighting in Europe, 18-year-old Farlow signed up for the effort in 1944.
After completing boot camp at Fort Perry, he returned home for 10 days before heading to New York City where he boarded a cargo ship, bound for an unknown destination.
Soon, Farlow arrived at Pearl Harbor and saw the USS Wisconsin waiting for its crew to board it.
"It was sitting in the harbor, and all I could think was what a beautiful ship it was," he said. "I had no idea I was going on it."
Kamikazes and Geedunks
The next few years would provide a lifetime of stories as Farlow toured the South Pacific on the Wisconsin.
Like hundreds of other first class seamen, Farlow split his time between cleaning the battleship and protecting nearby aircraft carriers from Japanese forces.
On top of the turret was his battle station. Crew members were given earplugs and told to stand on the tops of their feet and open their mouths as wide as they could to brace for the concussion from the blast.
"That concussion could tear your shirt," Farlow recalled. "You could see that 2,700 pound shell go up into the sky and spot it on the way back down."
In December 1944, Typhoon Cobra would capsize and sink three other destroyers, but the Wisconsin reported only two injured sailors.
"I just remember how the battleship would ride the wave, and when it went over, the bow went into the holler between the next wave," Farlow said. "That's how it washed everything off the main deck."
When the Wisconsin began to approach the island of Japan, Farlow said the kamikazes responded in full force, primarily targeting allied aircraft carriers.
"Our job was to shoot them down," he recalled. "One tried to land on our ship, but he got hung after hitting the flight deck. We pushed him off into the water."
One afternoon, Farlow spotted a kamikaze coming directly for the battleship.
"The captain saw him too and ordered us to fire on him, but he peeled off between us and a nearby aircraft carrier," Farlow said. "He was so low between us and the water, it was impossible to fire on him. He was probably five feet off the water."
However, kamikazes reappeared while the crew was taking some R&R in Ulithi Harbor. A makeshift stage was constructed on the fantail of the ship for an impromptu play with several crew members starring as actors.
Suddenly, a kamikaze appeared and began an immediate descent into the elevator shaft of a nearby aircraft carrier.
"It hit the elevator that lifted planes, munitions and fuel," Farlow recalled. "I'd never seen an explosion like that."
When he wasn't taking care of the ship or fighting Japanese forces, Farlow enjoyed a treat from the Geedunk, a term sailors use for items from the snack bar on the ship.
"There was this old boy from Alabama who must have been the breadwinner for his family because all his money went home to them," he said. "I would get one for him and we'd sit in the shade on the fantail and eat a Geedunk."
When it came time to wash clothes, Farlow recalled his unique way to get things done fast.
"I'd tie my clothes on a rope and throw them off the back of the ship where the water churned 'em clean," he said. "After a few minutes, I'd bring them out and hang them out to dry."
When the peace treaty was signed on the USS Missouri, Farlow could see the action from his ship.
"The Japanese officers wore blue suits and American officers wore white," he recalled.
Upon Wisconsin's return to America, the crew was greeted with well wishers stretched across the Golden Gate Bridge, celebrating their return home.
Farlow was approached by the captain to inquire about a future in the Navy.
"I didn't want it; I just wanted to get my job done and get back to Tallapoosa," he said. "My people were railroad people, and I was ready to go home."
Upon his return home, Farlow finished high school while enjoying the opportunity to play football, where he was the "fastest man on the team."
"Just give me the ball; I know where to run," he recalled, laughing.
After graduating, he tried a number of vocations including railroad brakeman and ironworking until finding his home at the Atlanta Assembly, an automobile factory owned by Ford Motor Company in Hapeville, where he eventually retired after 27 years.
The Wisconsin retired much earlier, placed out of commission in March 1958, leaving the U.S. Navy without an active battleship for the first time since 1895.
Almost 30 years later, it was reactivated after receiving a number of upgrades, including the replacement of the original teakwood deck. It returned to duty for Desert Storm, but was decommissioned in September 1991.
Return to the ship
When Farlow learned the Wisconsin was in Norfolk, he jumped at the opportunity to revisit his old ship.
With help of his son, Joey, the two made a day trip on March 6, which also marked Farlow's first trip on an airplane. The occasion was noted by the pilot, who recognized him over the intercom, moved him to first class and gave him a set of gold wings.
"Never been on a plane before, as the military kept us on trains all the way home from California," he said.
Welcoming Farlow aboard was Battleship Operations Manager Keith A. Nitka, a third generation battleship sailor for the Wisconsin who served during the Gulf War.
Prior to his present role, Nitka remembered coming back to visit the Wisconsin and the treatment he received as a former sailor.
"They always made me feel like a rockstar: comfortable and treated with respect," Nitka said. "When I got this job, I wanted to do the same for others and roll out the red carpet for folks like Mr. Farlow."
After receiving the customary permission to board the ship, Farlow was treated like a king, including an all-access tour of the ship, an American flag flown from the mast of the ship, new dog tags and interviews for new video footage for the ship's museum.
"I was taken aback by his energy," Nitka said. "This 95-year-old man was literally running up the pier to get on the ship."
For the next five hours, Nitka said Farlow was all over the ship, answering questions for him and for active duty sailors serving as volunteers.
"It's such an honor for us to speak with former crew members like him," Nitka said. "It's amazing how much and how little has changed in the last 77 years."
Surveying the ship, Farlow said everything looked familiar except for the formerly teakwood deck.
"I used to holystone that deck with a brick and sand, which would make it look brand new," he said.
It was a whirlwind reunion for Farlow, who was ready to return home that evening to see his dog, Gator.
Nitka noted the ship has seen plenty of Korean War veterans visit the ship, but rarely any from World War II.
"Well, there ain't many of us left," Farlow laughed.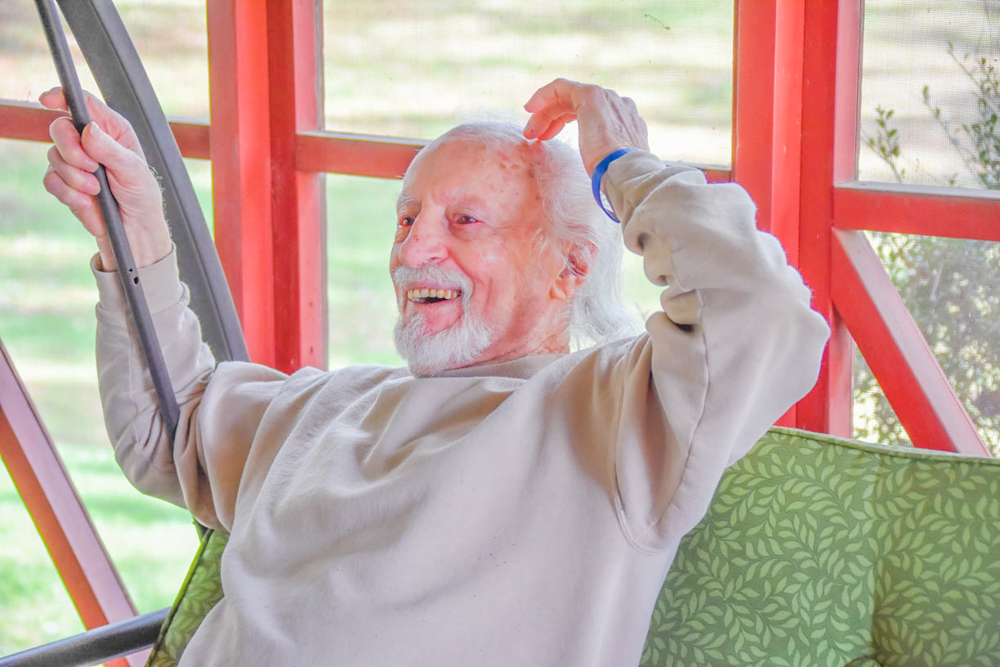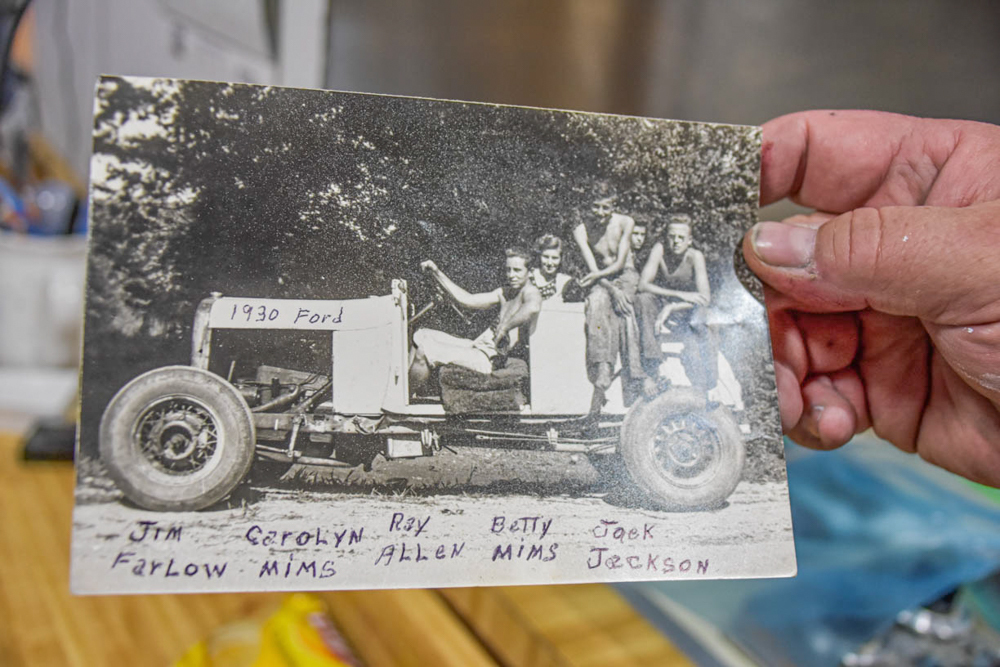 After the war, Farlow declined a career in the military, eager to return to his life in Tallapoosa.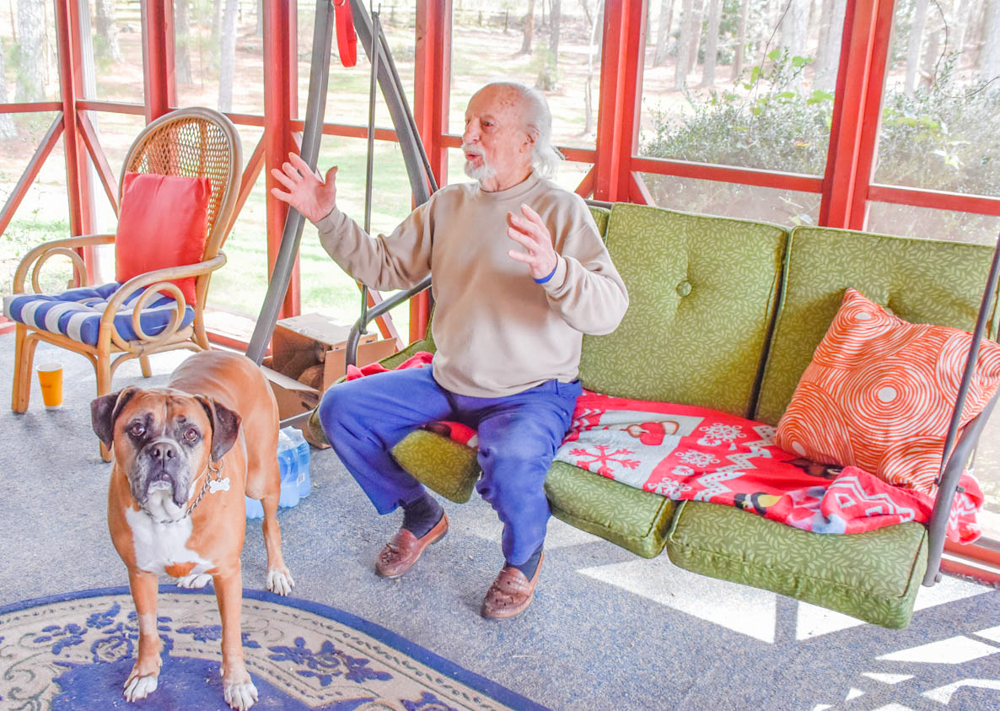 Jim Farlow, along with Gator, recalls a Kamikaze raid that interrupted some much needed R&R. "A lot of men don't like to remember those times, but it doesn't bother me," Farlow said.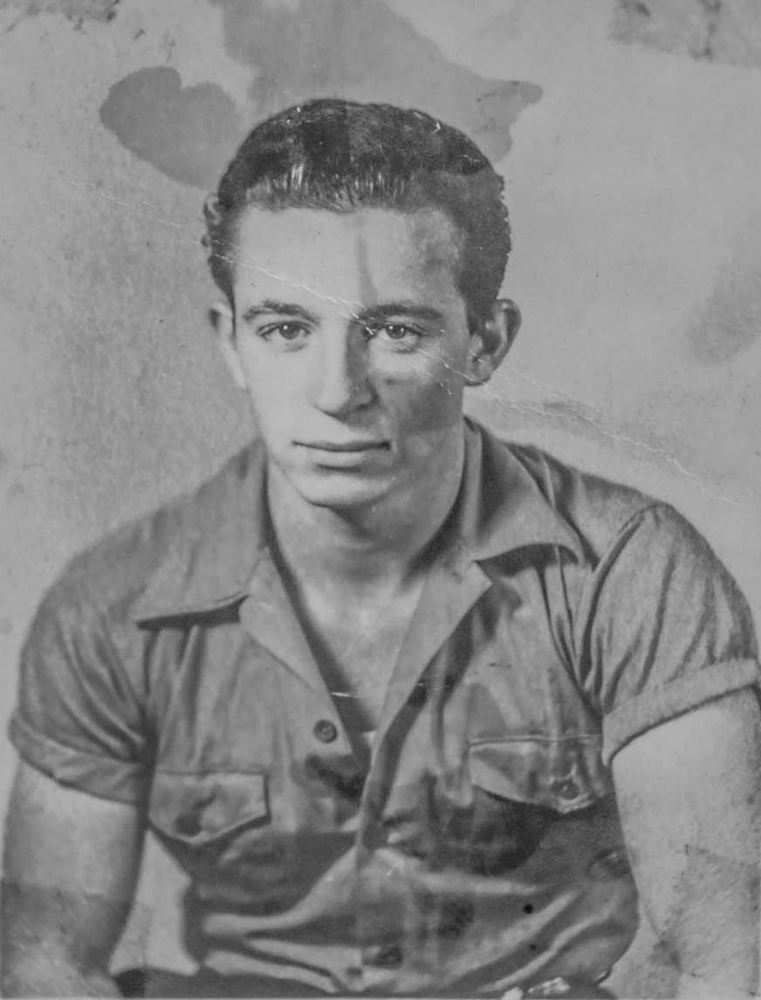 Seen after his discharge in 1946, Farlow was ready to return home to Tallapoosa and play high school football.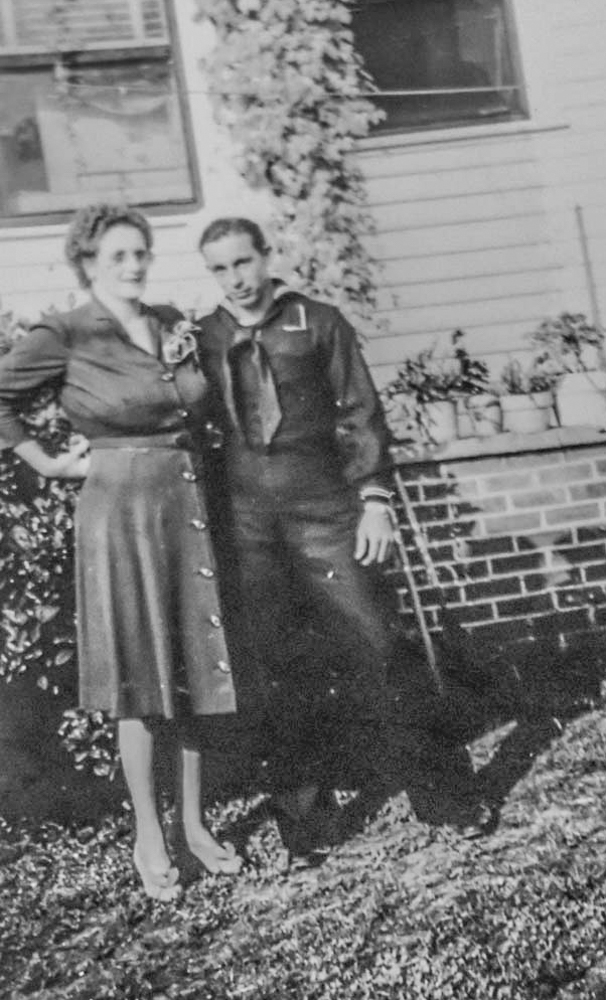 Farlow, fresh out of boot camp, poses with his mother before heading to New York City.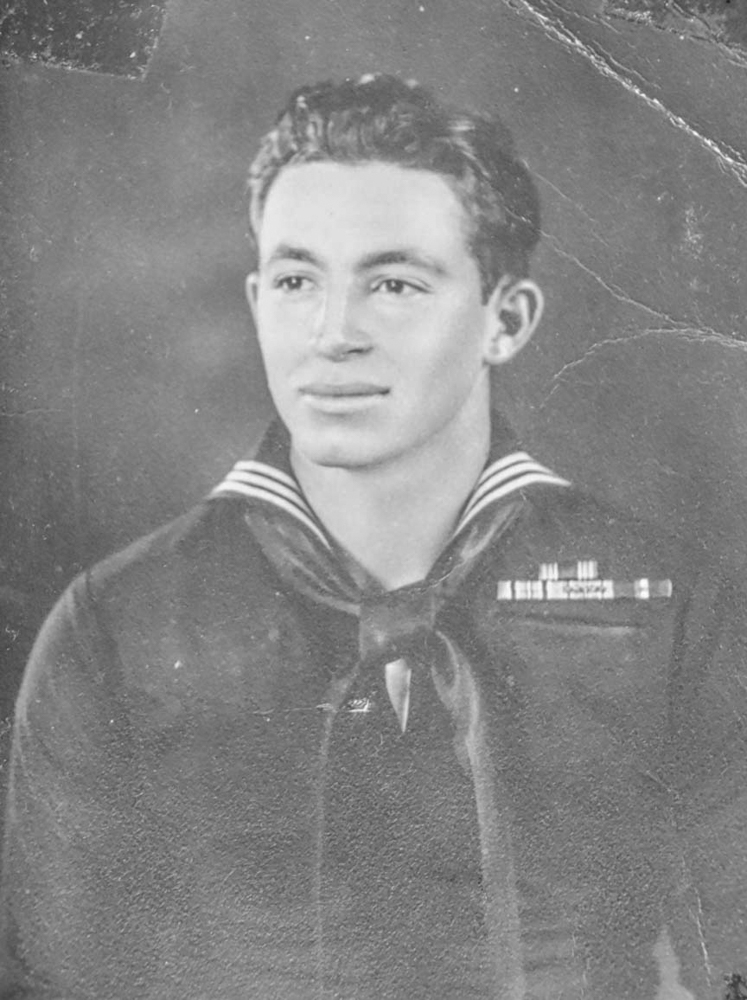 Farlow shows off his Navy blues in a photo taken shortly after his enlistment in 1944.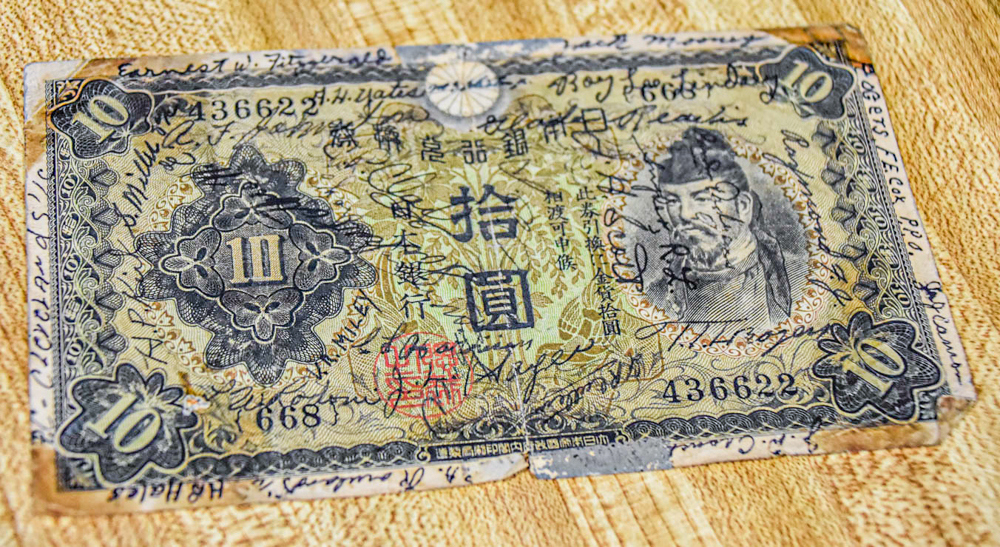 A piece of Japanese currency signed by the crew of the Wisconsin is one memento Farlow holds dear.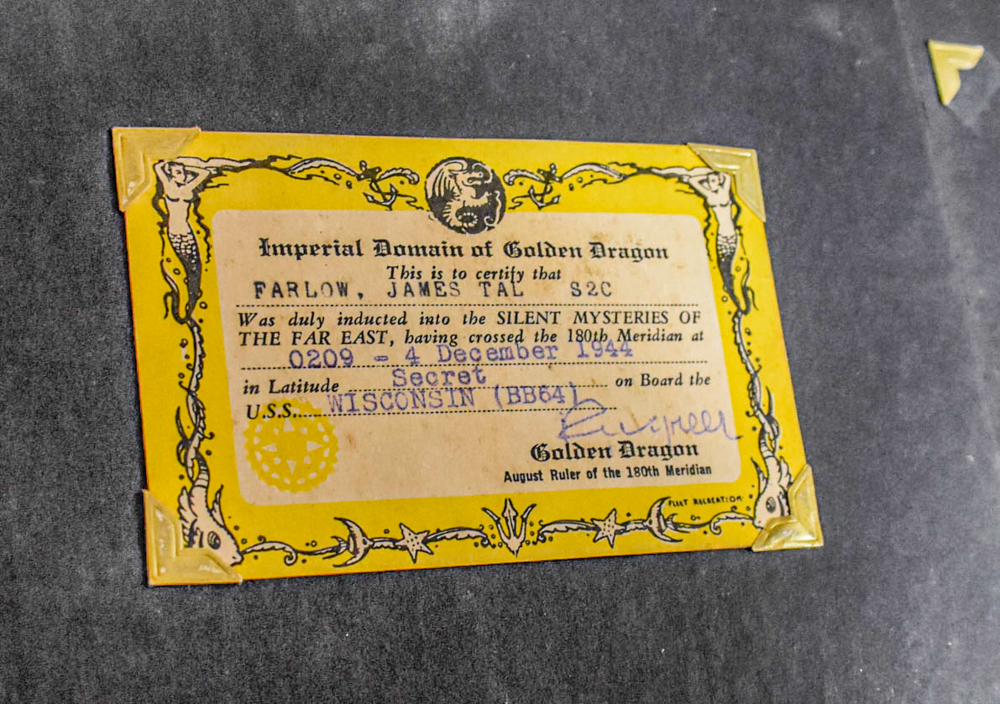 Inside an old photo album, a card certifies Farlow's crossing of the 180th Meridian in December 1944. Note the latitude is secret.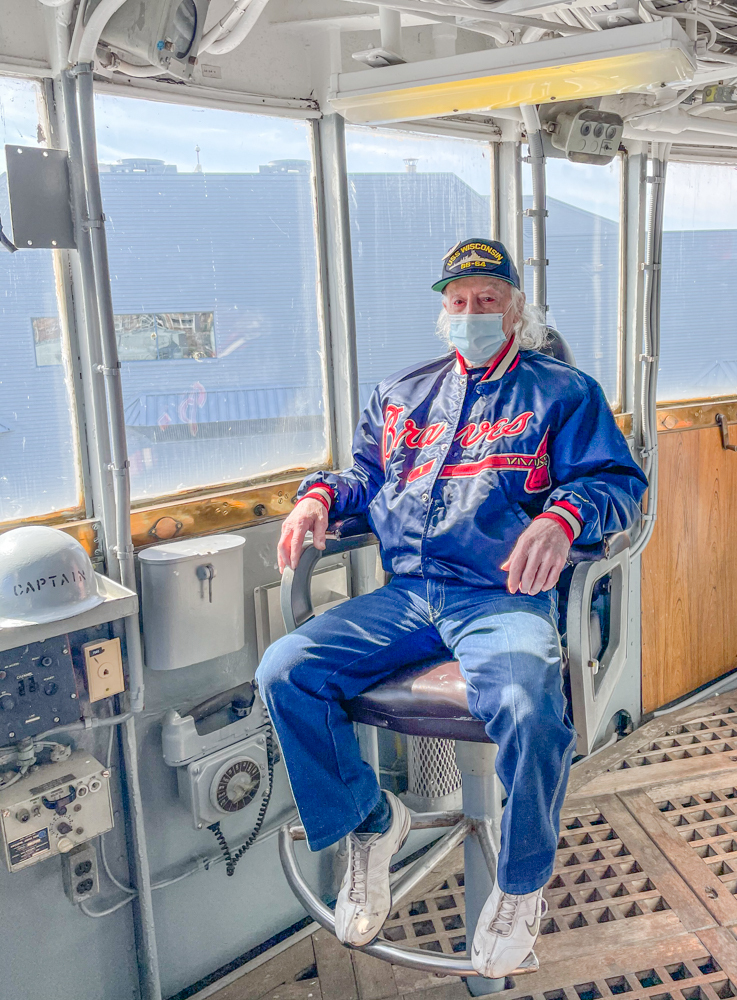 Jim Farlow enjoys the view from the captain's chair aboard the USS Wisconsin.