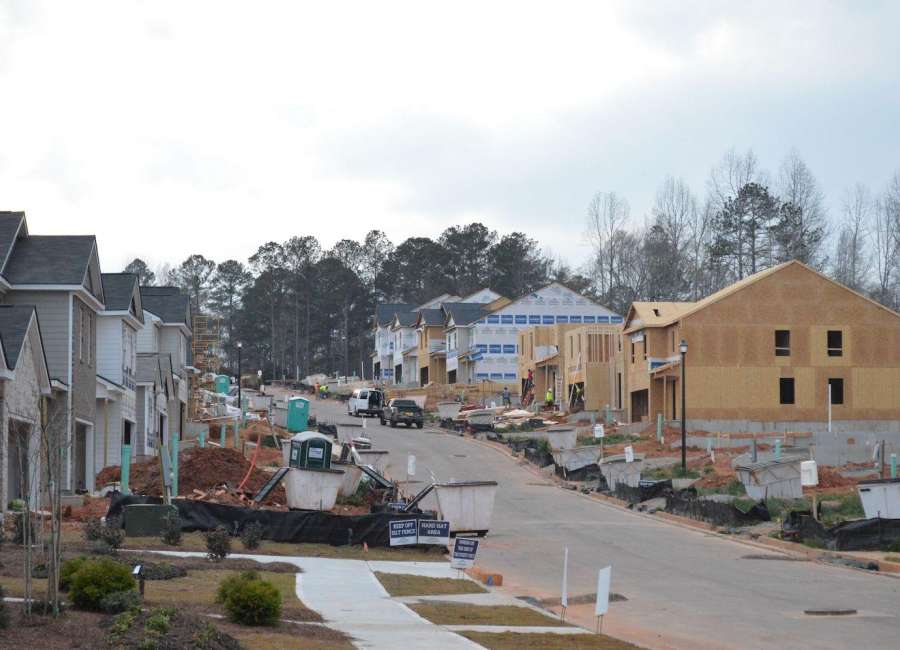 When it comes to residential real estate in Coweta, the trend is up.
Coweta housing prices continue to rise because of tight supply and high demand. The drastic rise in building material cost, partially lumber, over the past year has also made new construction more expensive.
As of right now, there is no end in sight.
From 2019 to 2020, the median sales price in Coweta grew 10 percent, from $S258,000 to $285,000, according to data from the Georgia Multiple Listing Service. Volume was up, with 3,573 units sold in 2020, compared to 2,942 in 2019.
That 10 percent average overall increase doesn't always tell the whole story. Some homes have appreciated far faster. Realtor Joy Banes said she spoke to one couple who had built a new house in Senoia. After just one year, they already had $70,000 in equity.
As more people want to live in Coweta, tight supply has led to bidding wars with multiple offers just a day or two after a home goes on the market, and buyers having to make split second decisions on whether or not to put a contract on a particular home.
Settling for what you can get in a tight market
And that can mean having to buy a house that doesn't really meet your needs – because you have to take what you can get.
Realtor Tim Stout of Compass Realty said he's starting to see more buyer's remorse.
"Some people have been looking for so long, and getting beat on multiple offers, that they are settling for a house," Stout said. "People are making moves and decisions fast. They're getting into the contract and then are like – I don't think this is for me."
Stout said he and his team advise buyers when they see buyers ready to jump on a house that doesn't have all the things they'd said they wanted.
"We advise them on what we believe is best for them. Our speech is – you are the boss, and you make the decisions," he said. But when a buyer tells them exactly what they wanted in a home, and then decides to put an offer on a home that doesn't have those things, they remind them of that.
"I have a feeling we'll get a couple of calls back in the next few years," Stout said. He tells people it's better to rent for a while to get what you really want, than to settle for something you don't really like. "You buy a house forever, even if you only plan to live there for two years," Stout said. "So we try to advise them to pick the perfect home … right now."
A trend toward more outdoor space
When it comes to changes in the things people want in a new home, there definitely seems to be a trend toward larger yards – though "larger" is relative, according to Stout and realtor J.C. Meghrian.
"A lot of people are looking for land," Meghrian said. By that, he means around an acre of land.
"A lot of people that are living in neighborhoods are looking for land," he said. Buyers who are on 1/3 or 1/4 acre lots in Newnan subdivisions are looking to move into older developments with larger lots. But for those who are coming from urban areas in California, New York or even the north metro, those smaller lots in newer subdivisions seem big.
"I think people are spending a lot more time outside because of COVID," Meghrian said, and they want more outdoor space. That doesn't mean homes in higher density developments aren't being snapped up.
"I think the people that are in high density are looking to get out of it," Meghrian said. "I think the people that are moving down here will take high density, because they want community."
Life in Coweta County has a lot to offer, and that's why people are moving here. But the influx is pinching the market right now.
"This county has a lot of things that most other counties don't have – it has land and it has infrastructure," said Meghrian. And it's close to Atlanta. "You can get to downtown Atlanta from here faster than you can from Alpharetta and Marietta," he said.
People are also seeking community, and Coweta has it. The county and its cities are also well run, with no major debt and low crime and there are great schools.
Space for home offices, and virtual school
When COVID-19 hit, many people started working from home; many of those people may continue working from home for years.
"If you work from home, you can live anywhere. If you're part of the younger crowd, you are looking for things you can walk to. You can walk to the square and have something to eat and something to do," Meghrian said. Families with children are looking for community and a good place to raise their children.
While high density doesn't seem to be something people necessarily want, "I think it is going to be a trend people have to accept, with the influx of people moving into this area," Stout said. "God quit making land a long time ago. We're going to have to do with what we can. … people will have to be OK with community space, with community parks, and community walkways and paths. That is going to be their own space from now on, if you want to be in the city limits or close."
Right now, it's hard to tell whether people who are buying homes on small lots really would want more space. "Because people are taking what they can get," he said.
In the least developed areas of Coweta County, new homes can only be built on lots of at least five acres. Meghrian said he's seen plenty of buyers who want five acres – until he drives them out to where those homes are being built. Then they decide it's a bit too far away. "I've had that conversation a number of times, with a number of different clients," he said.
When it comes to the inside of the house, people are definitely wanting an extra room or two, whether a bedroom or another room for a home office.
Stout said he is seeing a move away from the open floor plan to homes with more spaces that can be closed off for working from home or virtual schooling. Newer home styles did away with the formal living room and formal dining room, but those are rooms that can be used for offices or school rooms.
"A lot of the old homes that didn't have the open concept, that were hard to sell three years ago, are a little more desirable," Stout said.
He's also noticed that buyers aren't as interested in fixer uppers. "Historically, people were wanting fixer uppers because they want to build equity. A lot of people now are wanting move-in-ready," Stout said.
Meghrian is also seeing those requests for more rooms for home offices. As someone who primarily works from home himself, he understands the need. Many people have turned the guest room into an office, but then they no longer have a guest room.
He is also seeing a desire for multi-generational housing. "We have requests for a lot of that," he said. "People are looking for basement housing for their parents." He said in the past year, he's probably sold four or five homes with finished basements to families with multiple generations. Some of those homes already had kitchens in the basements, and other buyers were planning to put a kitchen in.
Wooden ceilings, big islands and no dining room
In housing design, the ship lap craze seems to be cooling down a bit, though it is still popular. Painted wooden ceilings, with tongue-and-groove boards or sometimes shiplap, are trending, according to Realtor Joy Barnes, who primarily works in new construction. People are also wanting more accent colors in the house, she said.
Kitchens are still a major point, with big kitchens and granite or quartz countertops, as well as custom ranges, if those are in their price point. As dining rooms have faded away, more people are having a large island in the kitchen, which doubles as the kitchen table. "Some of our plans no longer have dining rooms," Barnes said. Some people are fine with that – they never used the dining room anyway. But others may have heirloom dining room tables, and they need somewhere to put them.
Many buyers, particularly those who are downsizing, also want a real wow factor in the master bathroom, she said. People want large showers, as well as a soaker tub, though Barnes said some buyers say they don't want a tub. For other bathrooms, it's a tub shower combo – but it's a different type of tub shower combo. "In the higher end, you do a cast iron tub, with a tile surround," Barnes said.
For people who are building, or for builder pre-sales, buyers have to pick some things out pretty quickly, because of the significant lead time in production.
"As soon as somebody tells us they are going to build, they need to pick their windows," Barnes said. "What used to take six weeks is taking double that now."
Stout said some of the clients he is seeing coming from out of state are fleeing COVID-19 restrictions.
"We're having an influx of California buyers, several from New York. They are moving from everywhere because we are still convenient to the metro area, and rural enough for the regulations to not affect them as much," Stout said. In some states, there's still no inside dining at restaurants, but in Georgia, restaurants have been open since May.
"They like the freedoms and they like what we have to offer," Stout said.
For local buyers who have to sell their own homes first, there has been a rise in contingency contracts – the buyer will buy the house contingent upon their own home selling – or vice versa.
On Wednesday, there were 225 active homes on the market, Stout said. Two years ago, there would have been 600 to 700. There were also about 530 sales that are pending, which usually means they are under contract.
It's a seller's market, which means sellers won't have any trouble selling their home, and fast. But they also have to find a new place to live.
"If you've ever considered listing your house, you can get top dollar for your house right now," Barnes said. If someone has to then rent for several months, they'll have plenty of money to do that. With pre-sales, some people are selling, renting and waiting on their house to be built. Others will decide to stay in their home until their new house is almost ready – because they know their home will sell quickly.
But buyers moving in from other locations have already sold their homes and are ready to buy.
In a typical market, someone might put their house up for sale, and then start looking for a new home. But in this market, "There's not much to pick from, so they find what they want to buy first, then they sell their house," Meghrian said.