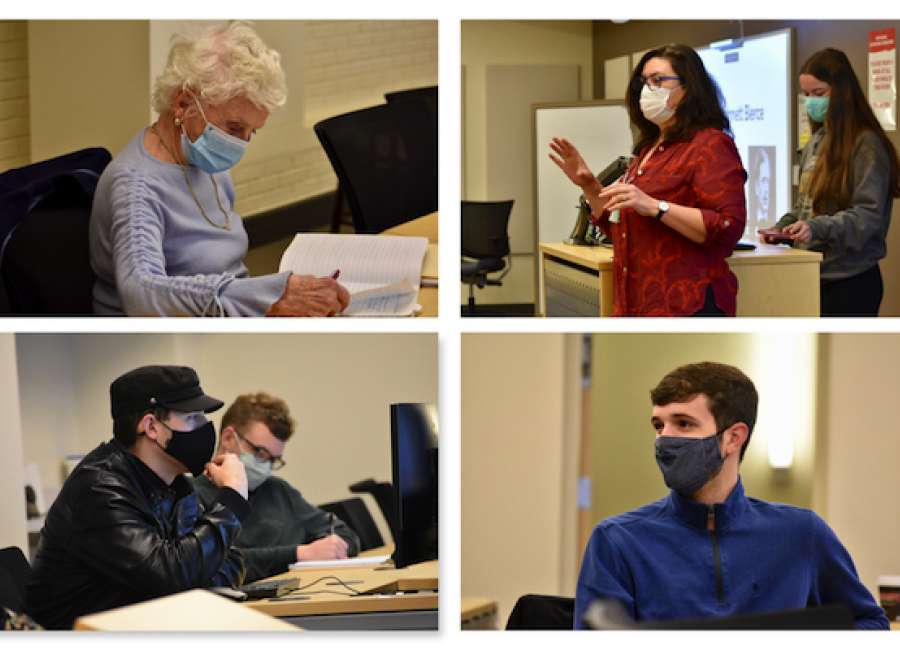 Edited 3/13/21, 9:45 a.m. to correct Chris Caldwell's name.
What do high schoolers, a military veteran and a senior adult with a Ph.D have in common?

They're all time-traveling through Melissa Jackson's American Literature class at the University of West Georgia-Newnan.
Jackson is using time travel to connect works of the writers her students are covering this semester. On one particular Thursday morning they're talking about the life and times of Civil War-era writer Ambrose Bierce, whose deliciously twisted "Occurrence at Owl Creek Bridge" was the previous week's assigned reading.
Ruby Pittman, a dual-enrollment student, shares some biographical information about Bierce via PowerPoint, and Jackson steps in to lead the subsequent discussion. As it turns out, Bierce was just about as twisted as his short story.
"Ambrose Bierce was not your friend," says Jackson, shaking her head.
Jackson starts her class discussions about assigned texts with her students' "theoretical questions" – questions that do not have factual answers. That exercise, she said, invites students into a dialogue.
"That makes them co-creators of the class," Jackson said. "I honor those questions. We all try to answer them as a group, tossing up ideas and information. I think that's why the class dynamic is so strong. We all have a piece of the conversation, and a little intellectual skin in the game."
It might seem an easy teaching gig with such a small class of students, all appropriately masked and seated according to pandemic-approved spacing protocol. Dig a little deeper into the demographics, though, and it gets a bit more complicated.
Only one of Jackson's six students could be considered a somewhat "traditional" college student. Half the class is still in high school. One drove tanks in Iraq and Kuwait for the U.S. Army, enrolling in college after four years of service.
And one, Mary Ben Christensen, is an 89-year-old retired educator who earned her doctorate decades ago. Christensen, a former counselor and school director, is auditing the class. She decided to take advantage of the state's Amendment 23 program, which allows Georgia residents ages 62 and older to enroll in undergraduate-level courses, tuition free.
"I just decided it should be something interesting for me to do," said Christensen, who also audits an organizational leadership class. "I do love to read, but the whole time I was working, I read practically nothing for pleasure. I couldn't get all the things I needed to read done, and I had a pretty full schedule just getting through days."
Christensen takes copious notes using a pen and composition book, eschewing the technology embraced by her younger classmates and Jackson. But when it comes to reading, she prefers audiobooks.
"I'm not a fast reader, and it gets on my nerves," she said. "I can cook or sew or do puzzles or whatever and listen."
Her exposure to Jackson's class has opened new doors.
"Here, there are people I've never heard of that we're learning about," she said. "They're not people that were included in my English classes going through school. This has introduced me to many earlier writers."
Christensen may prefer audiobooks, but she hasn't ruled out the printed word entirely – especially the 10-volume set of Southern literature she inherited 80 years ago. She said Jackson's class has inspired her to take a look.
"They've been on the shelf for all this time," she said. "But since I've been in this course, I thought the other day, 'I think I'll get this down and see.' It really has encouraged me to look at other dimensions."
Chris Caldwell enrolled in classes on the advice of a friend in law enforcement, who told him the structure of studying criminal justice in college would help his transition from the military to civilian life. Caldwell said he's always been interested in history, especially the history of warfare, and that approaching an author's work from historical, biographical and political aspects has helped him figure out what kind of statement the author is trying to make.
"It may be a change of perspective because I'm older now, but this has been much more engaging for me than classes I've had before," he said of Jackson's class. "But it's also the way she teaches it – lots of discussion and research."
Jackson's students are quick to praise her instructional methods and rave about her class, but she said her approach is simple – she is learning along with them.
"I let them know I'm not coming in as an expert on everything," she said. "I told them we would get to know the texts together through our discussions, research and analysis. I show them my own vulnerability, curiosity, uncertainty and enthusiasm about the authors and the texts we read."
After all, enthusiasm and curiosity can be contagious.
"If I'm curious and uncertain, it gives them permission to be, too," Jackson said.
Jacob Miller is a junior who is of traditional age and course for college, but his K-12 education consisted of homeschool, co-op and dual-enrollment classes. He plans on a STEM-related career, but he said the importance of a class like Jackson's can't be overstated.
"The purpose of humanities classes is to be able to think and speak clearly, and form effective arguments," he said. "This class is perfect for that. It's a combination of things – content, first of all, and then there is such diversity in this class that you have to be able to formulate your own thoughts and opinions."
Jackson said she does not consider that diversity of experience a hindrance, but a benefit.
"Having adult students in the room does raise the bar for the younger students, but it also validates the seriousness of the work we do in the room," she said. "When Chris brings his perspective as a veteran into the conversation about a story that involves war, we all listen. When Jacob reframes a theoretical discussion through his very rational perspective, we all pause and think again. Mary Ben listens respectfully to all of the students and honors their genius.
"I feel like I'm more of a facilitator than a teacher most of the time," Jackson added. "That's exciting for me."