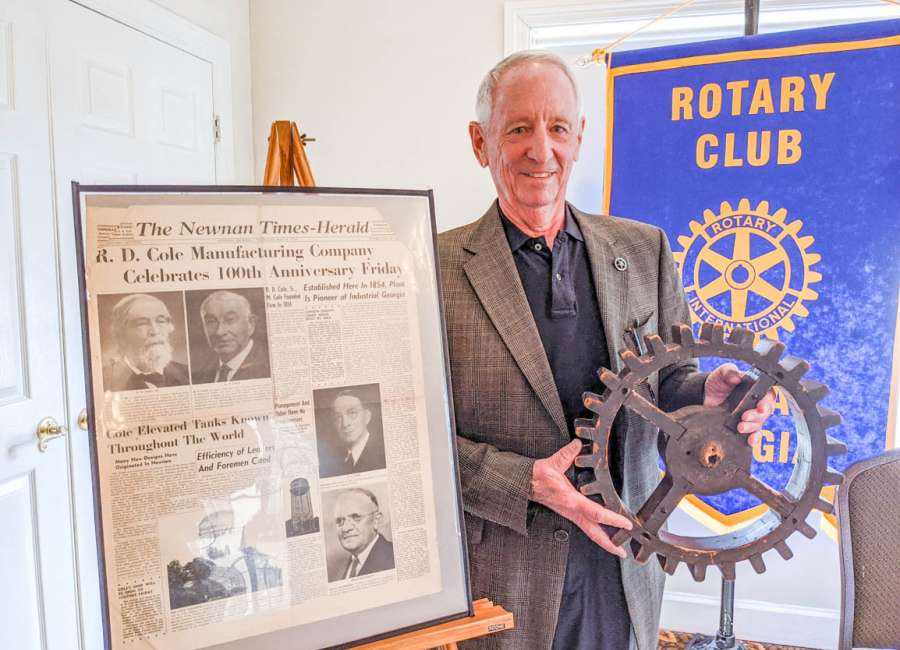 Duke Blackburn, a sixth-generation Newnan member of the Cole family, recounted family stories along with some of the history of the R.D. Cole Manufacturing Company during last week's meeting of the Newnan Rotary Club.

The Blackburn family has recently partnered with the Newnan-Coweta Historical Society to publish a pictorial history utilizing the numerous photos and documents saved over the years, which often provide a unique perspective about how the company was adjusting to national events.
"During the Great Depression, we found a memo instructing to dip into the reserve to avoid laying anyone off," he said. "The company's greatest asset was its employees; it was like a big family."
The city of Newnan recently purchased the property and Blackburn hopes the history of the family and company can be preserved.
The family arrived at Coweta in the 1850s in a broken wagon and with the family's faith. After a legal battle cost Robert Duke Cole his Covington property and farm, Cole's family loaded their few remaining personal items onto their wagons and headed for Alabama from South Carolina.
But their wagon broke down near where the depot now stands, Blackburn said, and as the family began working to repair their own wagon, local people began showing up to have theirs repaired as well. Cole officially set up shop with a sawmill in 1854, and a foundry followed.
The Coles were an industrious bunch from the beginning, counting among their early endeavors a coach shop and a blacksmith shop. They eventually bought a steam engine, started a foundry, made $4 parts and began manufacturing steam engines, selling hundreds to sawmills, Blackburn said.
R.D. Cole expanded into water tanks, the first of which was made of wood and built in Atlanta. Metal tanks – some of which still stand today – followed, manufactured in sections, hoisted into place with a series of winches and riveted together using sledgehammers in those pre-welding days.
By the 1890s, R.D. Cole Manufacturing Company was the second-largest water tower manufacturer in the United States.
In the early 1900s, Bryan Blackburn – Blackburn's grandfather – was hired at R.D. Cole and ended up marrying the company president's daughter, Blackburn's grandmother. After his grandmother's death, Blackburn found many valuable historical documents in her safe, including Cole's diary and R.D. Cole's pocket watch.
R.D. Cole Manufacturing Company – and the family, whose many descendants are still firmly ensconced in the culture and business of the area – not only had a major impact on the prosperity of Newnan but on its aesthetic as well. Some of the city's downtown buildings, including the 1904 Coweta County Courthouse and several churches, were built or facilitated by Coles.
For years, local landmarks could be used as a sort of timeline of the evolution of R.D. Cole Manufacturing. They included a Liberty cargo ship's mast and a standpipe, which no longer exist, and what is now the Caldwell Tanks property.
The company passed out of the family's hands in 1968, when it was bought by Garver Tank and Manufacturing Company, a subsidiary of Union Tank Car Company out of Chicago.
Newnan Times-Herald staff reporter Rebecca Leftwich contributed to this story.