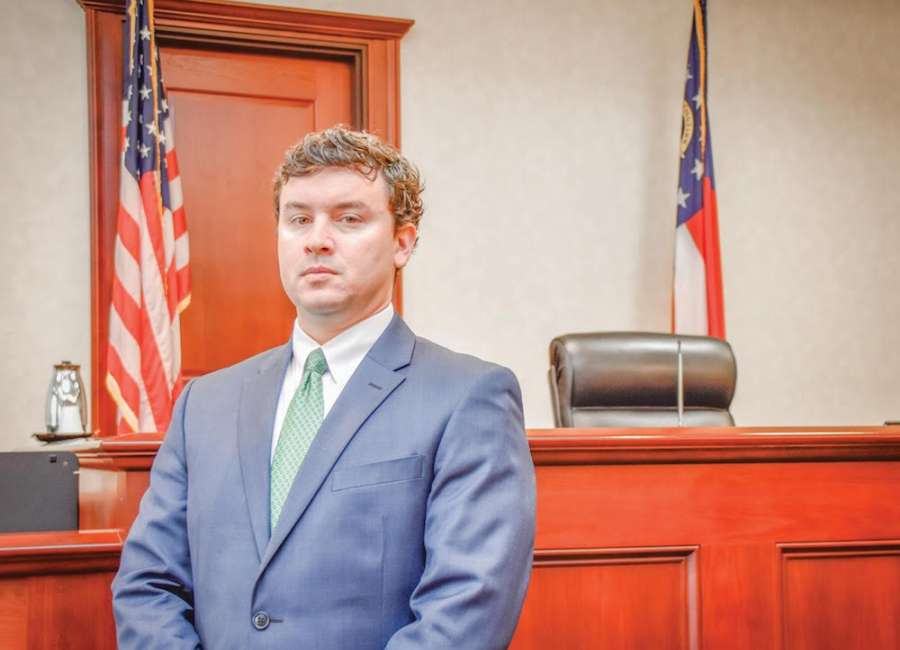 By Morgan Crumbly
The Coweta judicial circuit has been unable to hold jury trials since the onset of COVID-19 shutdowns in March of 2020.
The Coweta judicial circuit District Attorney's office operates with seven judges in a five county circuit including: Carroll, Coweta, Heard, Meriwether and Troup counties.
The last trial in the circuit was in early March of 2020 before they were prohibited by the supreme court of Georgia, according to District Attorney John "Herb" Cranford Jr.
"The supreme court issued an order, and those orders have been repeated roughly every 30 days, not allowing jury trials to be conducted," Cranford said.
Grand jury was resumed back in November. Some counties have been able to do more grand jury than others for various reasons, but nobody in the circuit has been able to do a jury trial since March of 2020.
"In Coweta County, we've basically caught up on presenting cases to the grand jury," Cranford said, "In other counties, we've still got a backlog of cases to present to the grand jury."
Cranford said his office has not seen a reduction in crimes being referred for prosecution in the past year, and without the ability to take defendants to trial, there has been a significant increase in backlog.
"The felony caseload in the Coweta judicial circuit has increased by roughly 68 percent compared to where we were at in December of 2019," Cranford said, "In terms of new cases, there's just a massive backlog."
Some counties, Cranford said, have been able to have probation violation hearings, which do not require a jury trial.
Handling the backlog
"At this point, we're formally charging people, we're providing the defendant with their copy of discovery, we're making a plea offer to try to resolve their case," Cranford said. "Other than that the only thing we can control is getting ready for trial whenever we're allowed to try cases again."
There hasn't been a significant influx of defendants in the county jails, he said.
"There are people who have been in jail longer, but I think our office, and everybody in the court system over the last year, has put in a lot of work to agree to bonds to get people out of the jail, given that we don't have jury trials to resolve cases," he said.
Before jury trials were halted, Cranford said his office opposed bond for defendants with a history of not showing up to court. But in order to reserve room in the county jails, this practice has been relaxed.
"We are reserving our opposition to bond only to those people who we believe are truly dangerous and would put the general public at risk if they were released."
"Without jury trials, there is no mechanism to resolve cases," Cranford said. "In my experience, most cases do not resolve until a defendant is faced with the prospect of being held accountable by a jury of their peers."
It's a stressful job, and Cranford said it's going to require a great deal of work to try to work through the backlog.
"Prior to COVID we still had a deficit of cases," he said. "We weren't resolving the number of cases we were getting," adding there needs to be more resources put into the judicial system to have a chance at minimizing backlog.
Ready to resume
Cranford said not being able to have jury trials has "delayed people receiving justice for crimes committed."
He said there are victims of violent crimes that occurred over the past year and "those victims aren't able to get justice."
"Imagine how traumatizing that is," he said.
Some defendants who would usually be sent to the state prison system if found guilty are also awaiting trial in county jails.
"These defendants and defendants' families are also waiting."
"The plan is to start having jury trials safely, so that everybody is protected from COVID, but the judicial system is still working," Cranford said.
He said it's possible the Georgia supreme court will resume jury trials by next month.
"The next question is — are the superior court judges of our circuit, when are they comfortable having jury trials," Cranford said.
Another consequence of the judicial circuit's current situation has been its effect on the Pre-Trial Diversion program.
"We've just started it. We haven't had people sign up for it yet," Cranford said, "It's the same thing: If the state doesn't have the ability to put you in front of a jury to prove you committed a crime, there's not much incentive to say, 'Yes, sign me up for Pre-Trial Diversion.'"
"We do expect to have plenty of people in Pre-Trial Diversion once we get back to some semblance of normal."