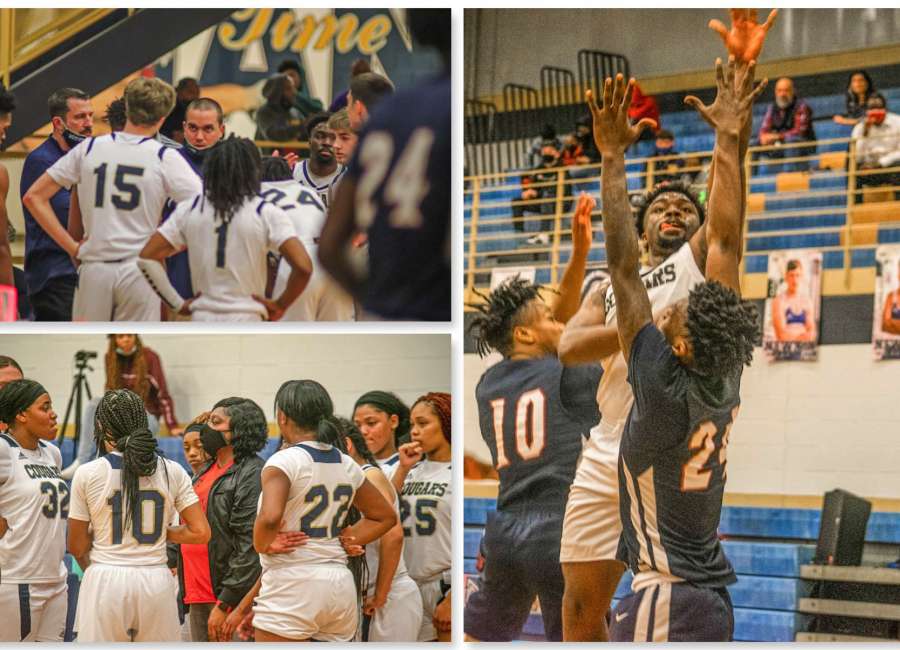 Tuesday, the Cougars welcomed in a region rival, the class 7A #4 ranked Pebblebrook Falcons into the Max Bass for their final game of their final regular season matchup.
The final four-projected Falcons proved their high rankings to be legitimate as they forced the home Cougars to turn the ball over on multiple occasions to take a commanding 20-6 lead at the end of the first quarter.
Heading back to the bench at the end of the quarter, Coach Gatzemeyer was able to compose and inspire the team, which led to a drastically different second quarter for the Cougars.
Led by sharpshooters Zion Brown and Wesley Drake, the 16-win Cougars mustered up 20 before halftime. Drake and Brown combined for 16 points in the second quarter, with both knocking down a pair of 3-pointers.
Coming out of the locker room after halftime down 13, 26-39, the Falcons continued to keep the Cougars out striking distance, jumping out to a quick 6-0 run; however forward Mekhi Mawdesley, who made over 90 3-pointers in his previous season, halted the Falcon's run knocking down a rhythm 3-pointer.
Juniors Eric Smarr and Mawdsley led the Cougars in the third quarter with six points apiece. Despite scoring 15 or more in the second and third quarters, the Cougars entered into the fourth quarter trailing by one more point than they were going into halftime.
Ultimately, the Falcons' length and their uncanny new-aged lineup that allows positions 1 through 5 to handle the ball and create their own offense off the dribble proved to be too much for the home Cougars as they fell to the visiting Pebblebrook Falcons, 72-60.
Next Tuesday, the Cougars will face the Campbell Trojans for a play-in game for a bid into the GHSA state play-offs at Max Bass Complex at 7:30 p.m.
Similar to boys, the Lady Cougars faced the same fate as they also fell to the Lady Falcons, 72-45. The Ladies of Pebblebrook, similar to their boys capped a 19-6 run in the first quarter. The lady Cougars struggled mightily in the first-half only scoring 14 points collectively. However, the third quarter was something magical for the Cougars as the ladies erupted for a 21 point third quarter, led by seniors, Tishana Key and Kayley "Kay Kay" Madrey that combined for 14 of the 20 points scored in the quarter.
After the promising third quarter the Cougars found themselves again struggling for baskets in the fourth as Madrey and Kaylen Jones were the only two Cougars to score in the quarter; therefore, the Lady Cougars fell to the Pebblebrook's girls, 72-45.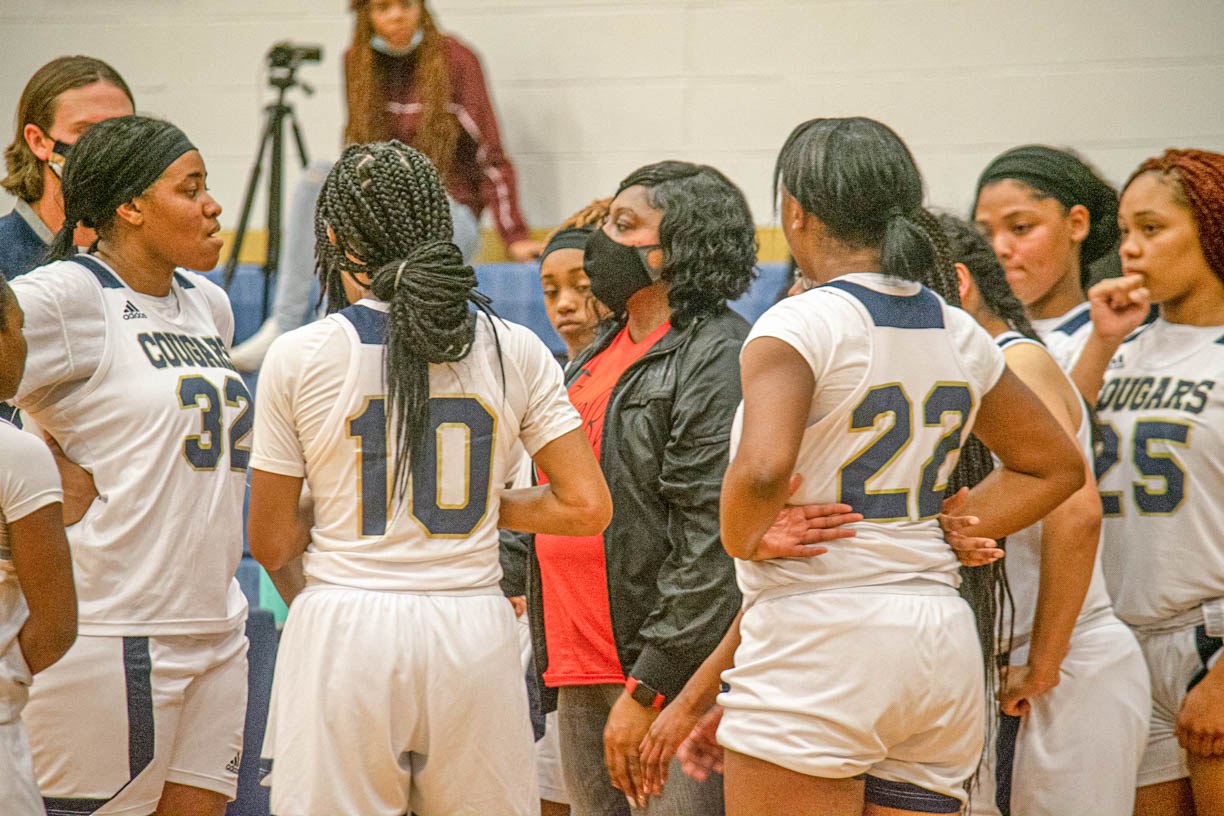 Coach Shani Jones galvanizing her team during a timeout. (Photo by Arvon Bacon)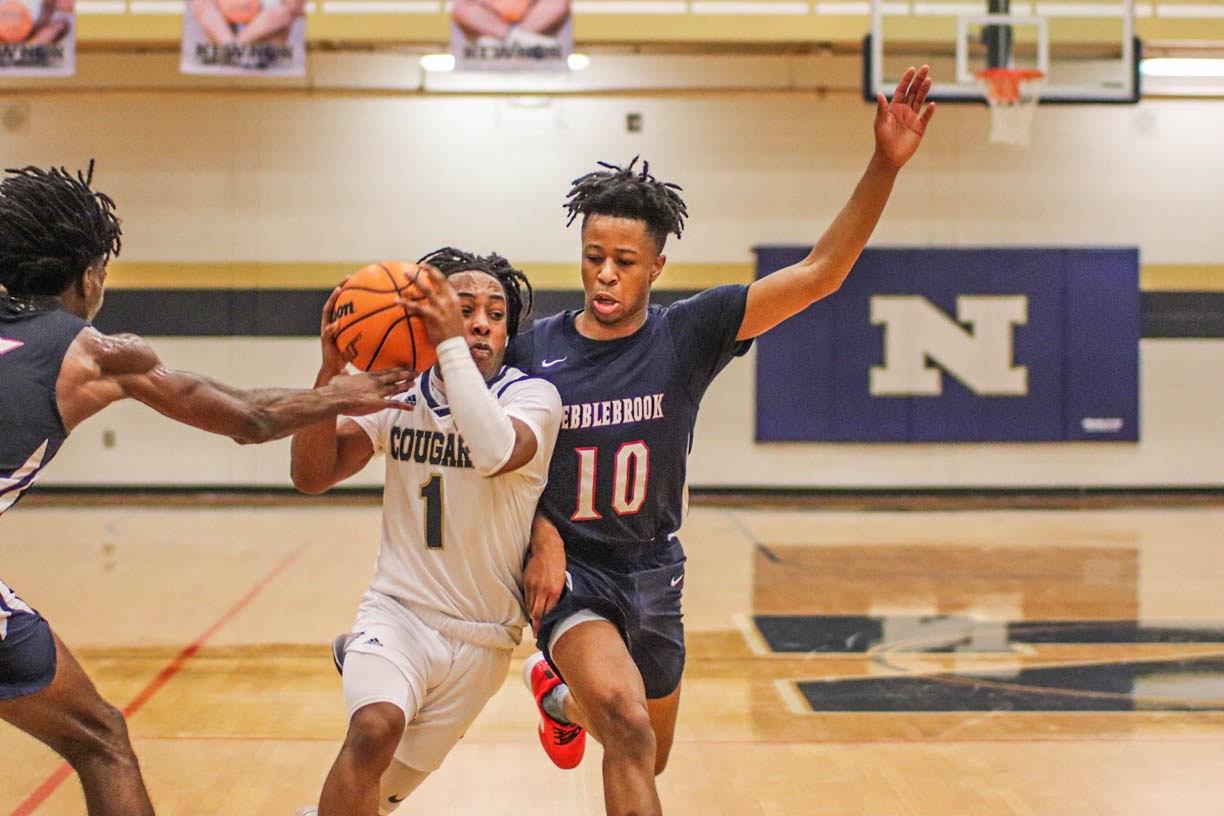 Jamar Stargell is fearless off the dribble. (Photo by Kara Mawdelsley)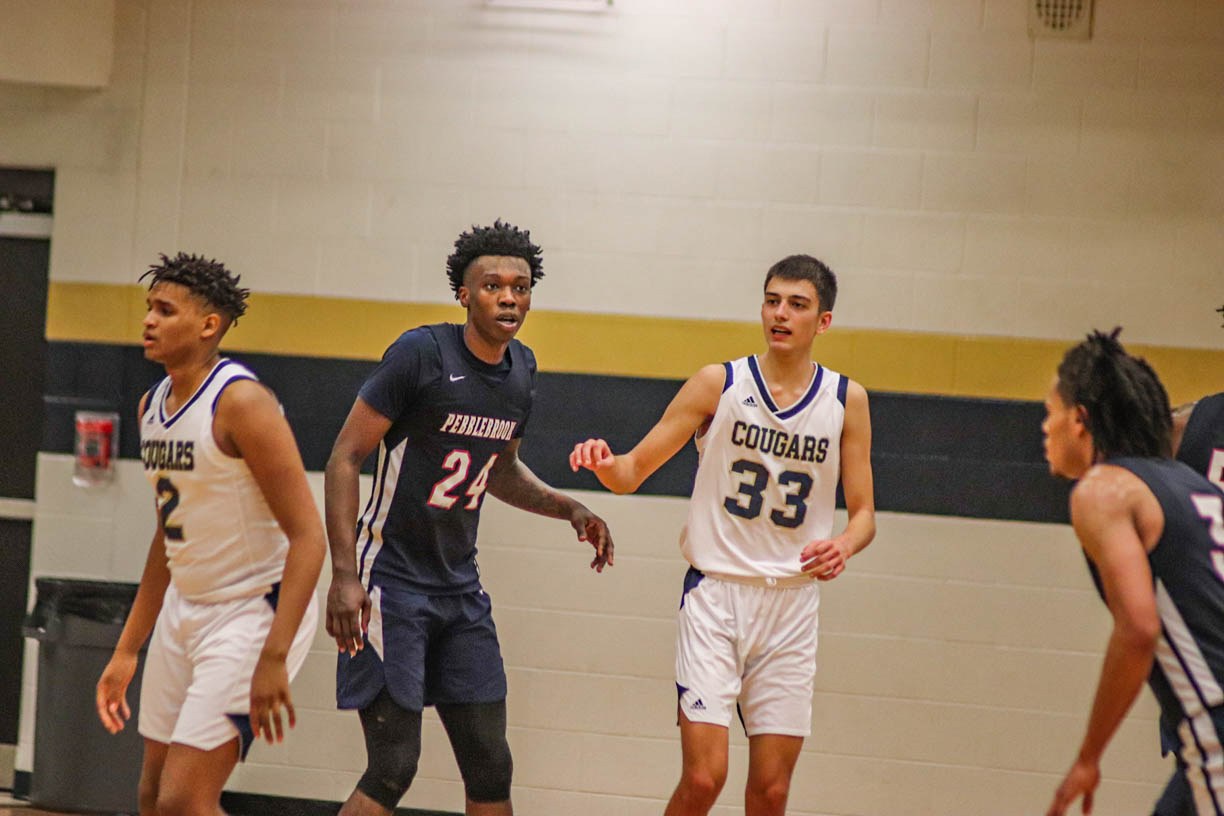 Mekhi Mawdesley (#33) and Zion Brown (#2) set up for an inbound play. (Photo by Kara Mawdelsley)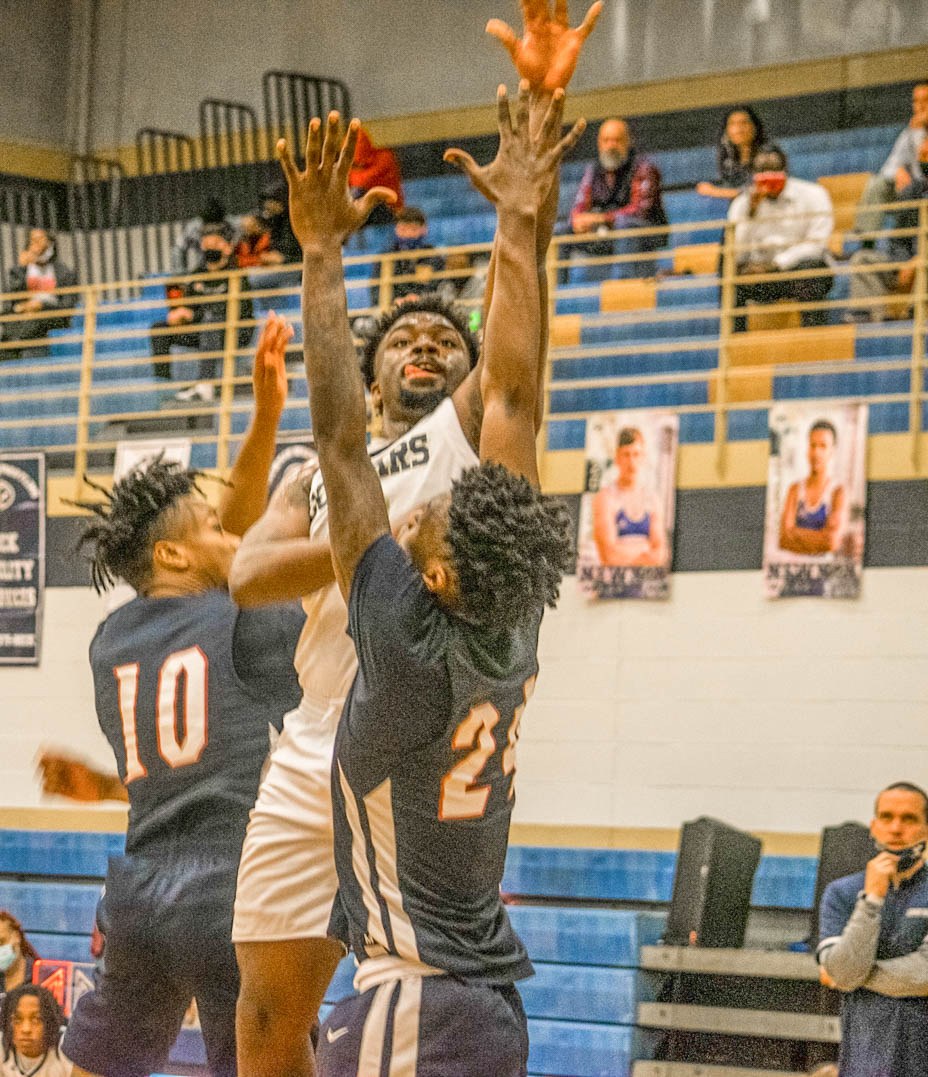 Newnan Cougar Eric Smarr converts a floater over the stretched-out defender. (Photo by Arvon Bacon)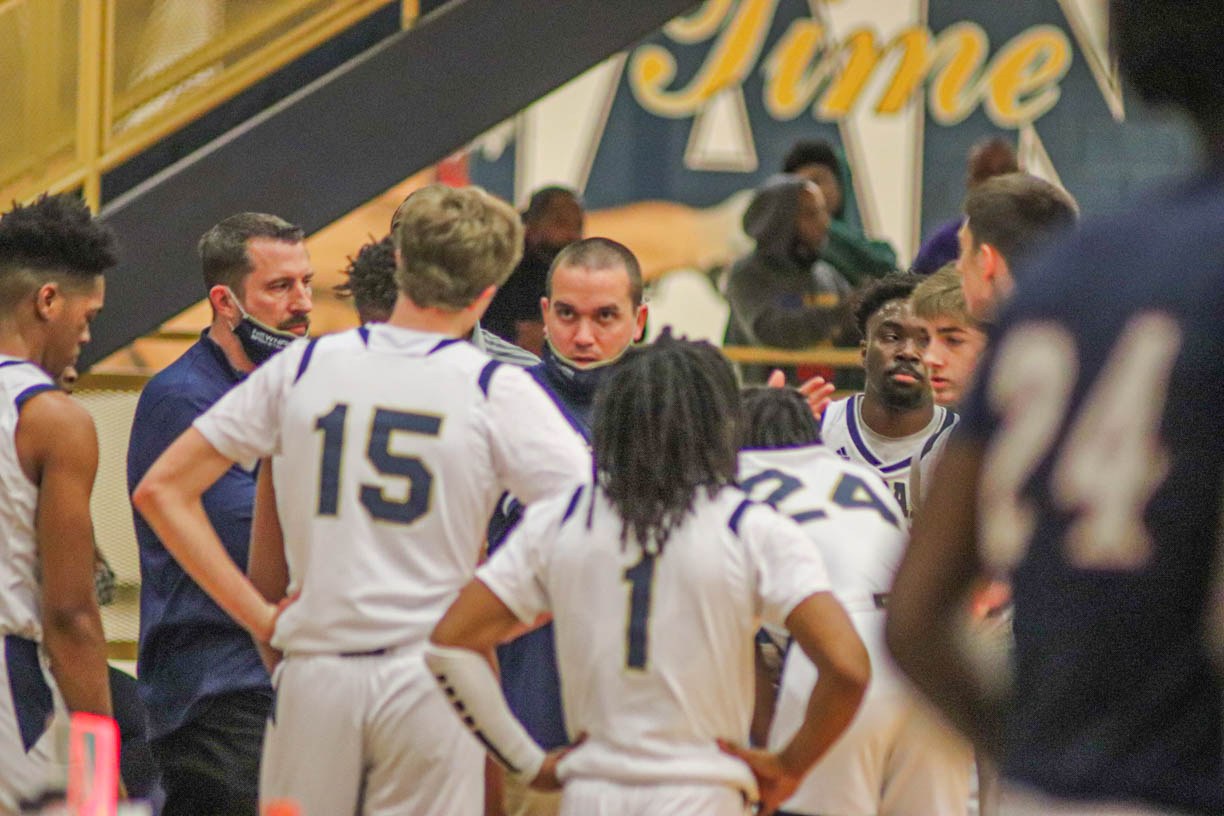 Head Coach Trent Gatzemeyer makes a point during a timeout. (Photo by Kara Mawdelsley)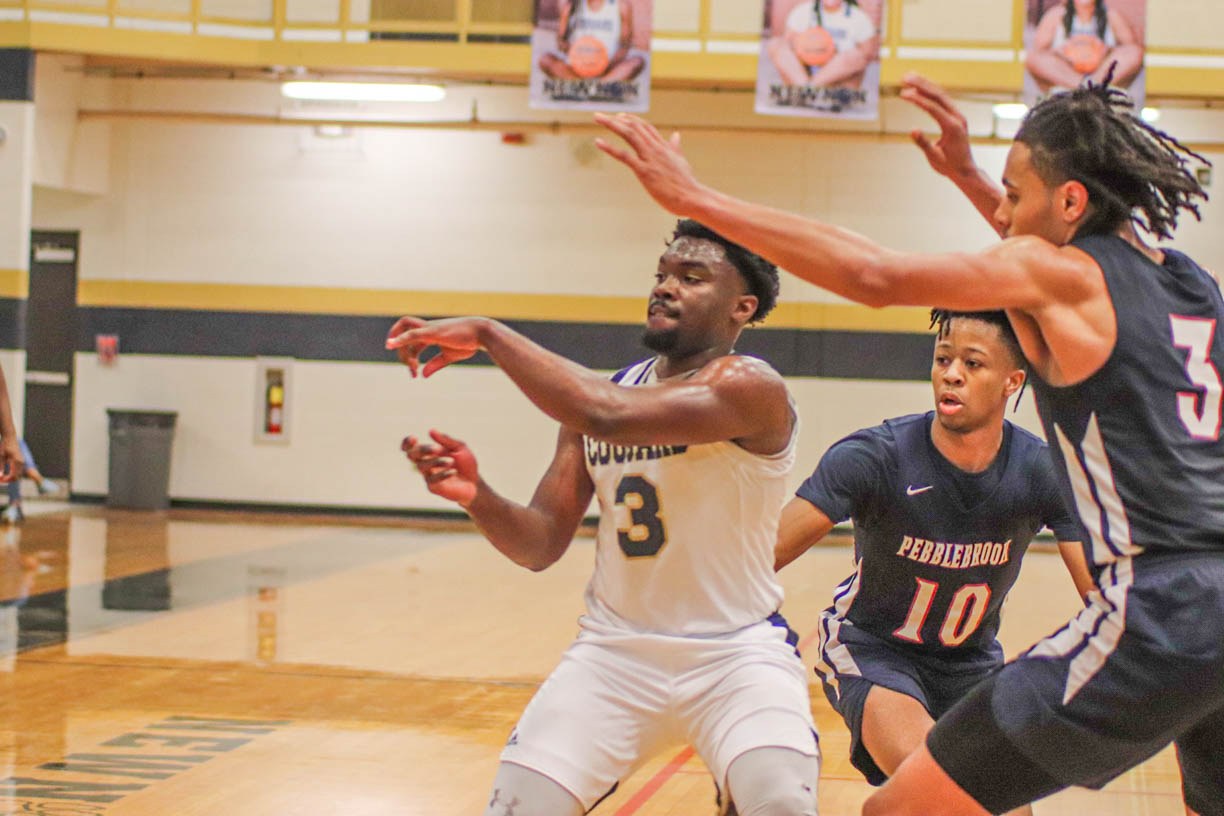 Eric Smarr draws a crowd as he drives the lane against Pebblebrook. (Photo by Kara Mawdelsley)