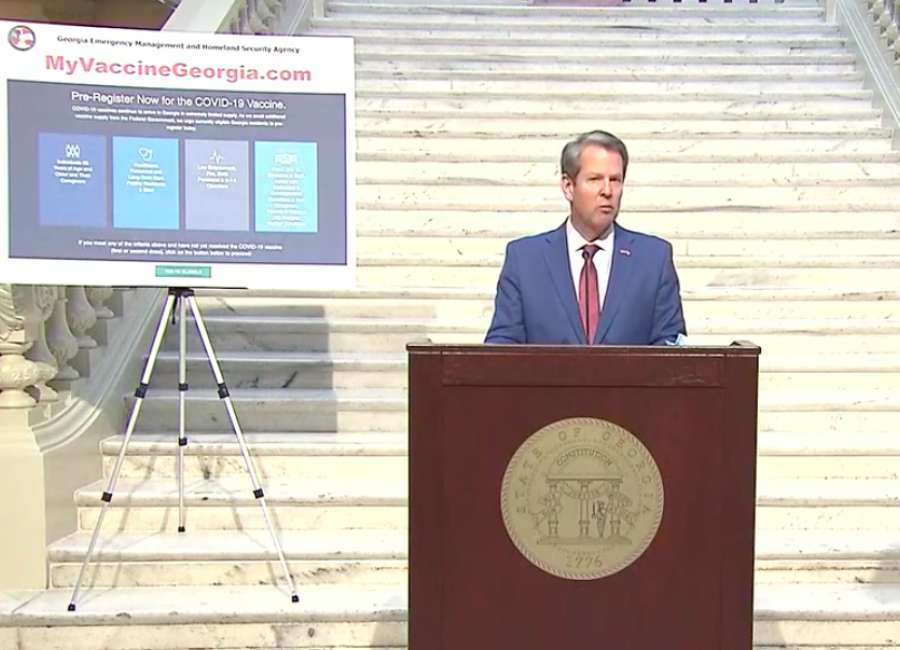 Starting March 8, Georgia teachers will be eligible for COVID-19 vaccines.

This includes public and private school K-12 teachers and staff, daycare staff, intellectually or developmentally disabled adults and their caregivers, and parents of children with complex medical conditions will be eligible for the vaccine.
Gov. Brian Kemp made the announcement on the expansion Thursday.
Kemp said that, assuming vaccine supply continues to increase, he plans to further expand vaccine eligibility criteria by the end of March to include more Georgians with severe underlying health conditions.
"We will be finalizing that timeline and the Georgians affected in the coming days," Kemp said.
Georgia's vaccine allocation from the federal government has increased 70 percent since mid-January. That increase "has allowed us to make significant headway" vaccinating those in the current Phase 1a plus population, Kemp said.
"I have been encouraged by recent vaccine allocation updates that the Biden administration has provided, and our team feels confident that we will continue to see a steady increase in our allotment over the next several weeks," he said.
Current vaccine providers Pfizer and Moderna are continuing to ramp up production, and a single-shot vaccine from Johnson and Johnson could be approved for emergency use in the coming days.
But demand will continue to outpace supply, Kemp said.
"Appointments may continue to be hard to find and schedule," he said. But the state and vaccine providers have learned lessons over the past few weeks and adapted, he said. The state is launching new vaccine scheduling tools, and Georgians who will be eligible under the new criteria can go ahead and pre-register at MyVaccineGeorgia.com.
There are approximately 2 million Georgians who are eligible under the current Phase 1a plus criteria of health care workers, long-term care residents and staff, first responders and those 65 and older and their caregivers. Roughly 1.2 million Georgians have already gotten at least one dose of the two-shot vaccine. That includes nearly 800,000 Georgians over 65, which is approximately 57 percent of the estimated 65 and older population in the state.
In speaking about the expansion, Kemp said he has heard from many parents and caregivers of Georgian children with complex medical conditions and adults with disabilities.
"Many have had to stay sheltered in place for months on end for fear of infecting their loved one or spreading the virus themselves," he said. "I have heard those stories. I cannot imagine what they have had to go through."
He also talked about the importance of getting students back in school.
"I believe it is vitally important for more Georgians to return to normal. For too many parents, this is simply impossible to do while your children are home learning through a screen," Kemp said. "Virtual schooling is leaving too many children behind, and parents are literally at wit's end."
Students must return to being in the classroom five days a week, Kemp said.
"Moving forward, we cannot delay full in-person learning any longer. Our children cannot wait until fall. The costs are too high. Georgians deserve to return to normal as soon as possible. That will not happen without school doors open."
Over the next 10 days, teachers and school staff should work with their administration to ensure their districts have been in contact with the Georgia Department of Health and Department of Education to coordinate vaccination, the governor said.
As the eligibility criteria continue to change, Kemp said the state will stop using the current phase language.
"We will not be using Phase 1a plus or 1b," he said. Instead, the state will simply list who is eligible as criteria expand.
For more information or to pre-register, visit MyVaccineGeorgia.com.