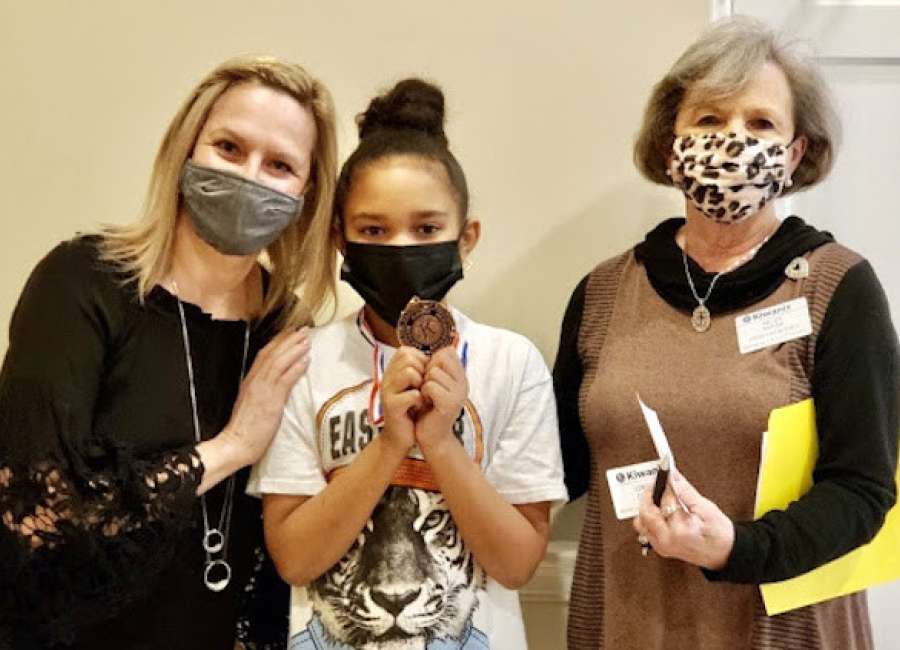 Ruth Hill Elementary School student Izzy McMillan was recently awarded the Mel Hayden Student Leadership Medallion.

McMillan received the award at the Feb. 25 Kiwanis Club of Coweta County meeting.
The Mel Hayden Student Leadership Medallion Award is a once-in-a-lifetime award for a student member in either K-Kids, Builders, Key and Circle K Club sponsored by Kiwanis.
The award is in memory of Dr. Mel Hayden who was a Georgia Kiwanis leader for 20 years and actively promoted the spirit of service leadership among Kiwanis youth.
To be nominated, the student must demonstrate outstanding service leadership through the organization in which they are a member. Service leadership criteria are demonstrated by:
"Heart to Serve" – shows compassion for others, recognizes needs in the school and community.
"Call to Lead" – shows willingness to volunteer, takes leadership positions and helps solve problems.
"Courage to Engage" – shows eagerness to engage with others and build interpersonal relationship skills, communicates with others by being a good listener, and helps other members to develop workable solutions to problems or with projects.
Ruth Hill Elementary K-Kids Sponsor, Mary Thompson, nominated McMillan for the award.
"Izzy is a true innovator and igniter of light whose heart of giving and inspiration sets her apart," Thompson said in a press release. "At the age of eight, she has inspired and impacted many hearts by using her gifts and talents for the greater good of others."
In the nomination letter Thompson sent to the Kiwanis Club of Coweta County, she said McMillan has impacted the community in numerous ways this year.
This year, as a third grader, she was elected by her peers to be President of K-Kids for Ruth Hill Elementary School. Thompson said so far, she has already made an immense impact on the school and community.
McMillan headed up a bus driver appreciation where all of the bus drivers at Ruth Hill were celebrated and honored with a poster, personalized mask and a bag of lifesavers. She's also helped the community by volunteering for this year's Can-A-Thon sponsored by the local Newnan Junior Service League.
This year, over 1,000 cans and over $1,000 was raised by Ruth Hill Elementary School to benefit the local food shelter, Thompson said.
McMillan also visited three local fire departments, extending Thanksgiving cheer in delivering cards and paintings created by her fellow K-Kids members.
During her visit to Coweta County Fire Station 1, Fire Chief Deron "Pat" Wilson presented McMillan with a special Coweta County Fire Rescue Coin. He also has plans for her to meet with his friend and colleague, the executive director for the Atlanta Fire Foundation.
"However, of all of the inspiration and ignition of the ray of light that Izzy has spread so far this year, her work towards raising money for her classmates to attend a virtual camp, Camp Invention, sponsored by the National Inventors Hall of Fame, is among the most prominent," Thompson said in the release.
Thompson said McMillan's efforts helped give the gift of learning to over 20 students, raising over $3,000 in scholarships.
At the end of September, McMillan heard about the camp sponsored virtually by Ruth Hill Elementary School which was scheduled to run during the Winter Break. McMillan asked about the students who can't afford it.
Thompson said she wanted to help raise the money for her classmates to attend. In doing so, she developed a "pitch," which she presented while going door-to-door to many local businesses to help her friends.
McMillan's fundraising efforts also got the attention of Camp Invention – National Inventors Hall of Fame. They conducted an interview to share on their social media sites about McMillan raising money to give the gift of camp.
During the interview, she was named an honorary member of the National Inventors Hall of Fame Fundraising Team.
McMillan was also named the elementary winner of The Corporate Volunteer Council of 2020 Carol D. Reiser Youth Service Award which recognizes and celebrates extraordinary youth volunteerism and community engagement. The Corporate Volunteer Council awarded her with $1,500 which went towards more scholarships for students to attend Camp Invention.