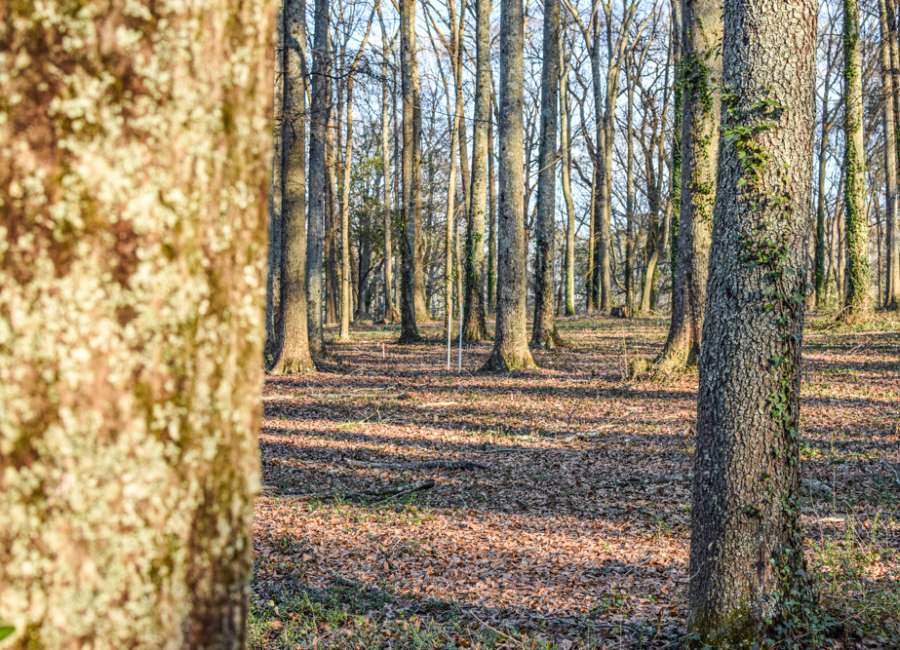 Story by Morgan Crumbly
The Newnan Chapel UMC and Mount Vernon Baptist churches are the oldest known Black congregations in Coweta County. These churches are a centerpiece of Newnan's Black history.
They stand in the historic Chalk Level community, which housed freedman post-Civil War, and affluent Black residents.
In recent years, Chalk Level, and the historically Black churches located there, have been linked to Farmer Street Cemetery.
Farmer Street Cemetery, formerly known as "Newnan's colored cemetery," is situated adjacent to the Chalk Level community between Farmer Street and Cole Street.
Freedman and prominent African Americans in Chalk Level were interred into Farmer Street Cemetery for over 60 years. The burials of Newnan's enslaved persons remain there as well.
A Newnan newspaper printed in 1884 described the "colored cemetery" as being overcrowded. For this reason, a city ordinance printed in 1893 banned any more burials in the colored cemetery, which was subsequently closed.
Following the Farmer Street Cemetery's closure, land lying just beyond Chalk Level was purchased from "a Miss Mary Bolton" to be used for a new Black cemetery. The newer cemetery, known as Eastview, is still in use today.
For a while, Newnan's first colored cemetery was forgotten by the community. Prior to 1999, the 4.4-acre area was thought to be abandoned.
Black burials in the era of slavery were left unmarked. Because of this, according to National Geographic , developments are frequently constructed over historically Black cemeteries, shutting many off from their heritage forever.
This was almost the fate of the Farmer Street Cemetery, until local residents Bobby Olmstead and Cynthia Rosers prevented the development of a walking path through the area. In February of 2000, a city-appointed commission was formed to research the cemetery's history.
Archeological studies were conducted by Georgia State University. The cemetery's history has been further researched by the African American Alliance, which was formed by Olmstead and Rosers, and the Newnan Historical Society.
Since that time, an estimated 249 burials have been found, only one of them marked. More recent research has connected some of the burials to Newnan's local Black churches.
From the late 19th until the early to mid 20th century, Newnan had no community center for Black people. Mount Vernon and Newnan Chapel served not only as religious centers, but as cultural and recreational centers for the Black community in Chalk Level. There is evidence that the churches also served as schools for freedmen in the late 1800s.
Neither churches have graveyards at their locations, but printed documentation found that the churches paid the same Black sexton to bury their dead at the "colored cemetery."
In 1880 the sexton, Sandford Huckaby, publicly thanked the M.E. Church (Newnan Chapel) for a sum of $13.76 and Mount Vernon for a sum of $3.76.
One of the few headstones at Farmer Street Cemetery, discovered in 2019, belonged to the son of Abner B. Burch.
Burch was a deacon of Mount Vernon Baptist Church and former slave. His son died at just three months old. The grave inscription reads, "Charlie Burch, Nov. 20, 1869, son of A.B. and Eliza Burch."
The Rev. W.H. Groves, an early pastor of Newnan Chapel UMC, is also known to be buried at Farmer Street. A Newnan paper printed that Groves passed in 1891 after a four week illness of typhoid fever. It said Groves was one of the most popular and successful pastors the M.E. Church ever had who was "greatly beloved by his flock."
One of the more famous burials at Farmer Street is that of Nelson Thurman, a colored Confederate Veteran who carried his master's sons home after they died. He worked as the Porter for Newnan's Virginia House Hotel until his death in 1887.
Many of the enslaved people buried at Farmer Street built the homes and railroads that remain in Newnan today.
They are laid to rest next to members of the Chalk Level community who became doctors, pastors, lawyers, teachers and leaders – some of whom may be descended from the enslaved persons in that same cemetery.
Farmer Street Cemetery now sits next to the Coweta County African American Museum and Research Center, and is owned by the City of Newnan.