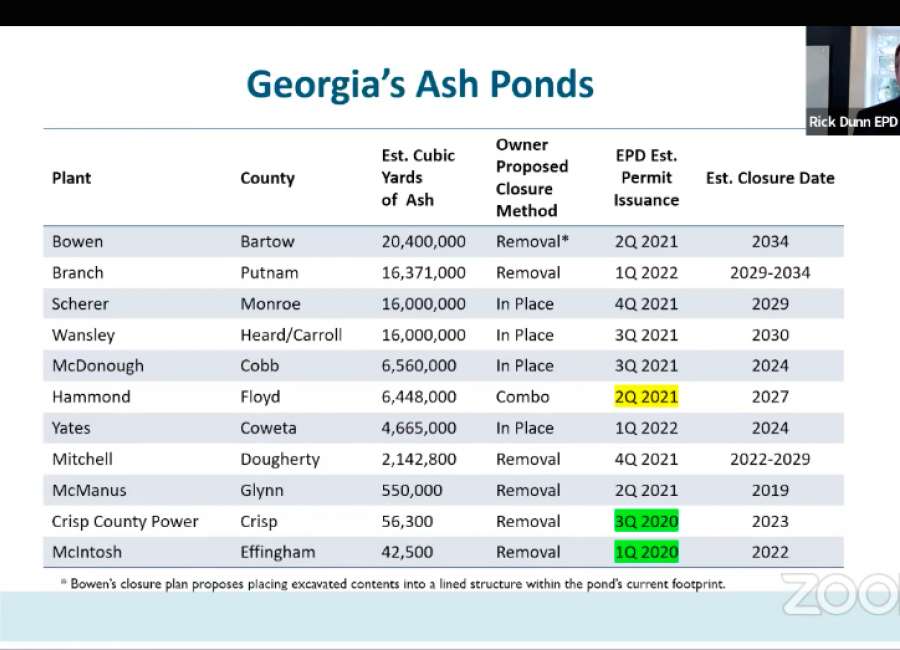 A draft permit for the ash pond closures at Georgia Power Plant Yates isn't expected until the first quarter of 2022, according to information presented Thursday at the meeting of the Georgia House Natural Resources and Environment Committee.

Thursday's meeting was the annual update given by the Georgia Environmental Protection Division and Georgia Power on coal ash remediation.
Representatives from EPD and Georgia Power attended by Zoom, and there was only time for a few questions from committee members.
Georgia Power submitted permit applications for all of its coal ash facilities in November of 2018 – a total of 29 applications. So far, the state has finalized five permits – three at Georgia Power Plant Hammond, one at Georgia Power Plant McIntosh and one for the Crisp County Power Commission. There are permit applications for pond closures at 11 plants.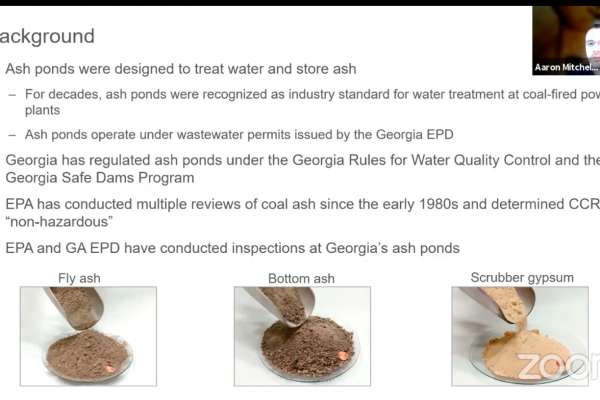 Either closure option allowed
Federal coal ash rules, as well as Georgia's rules, allow for coal ash ponds to be closed by two methods – by removal or in place. In removal, the coal ash is excavated from the pond and stored, dry, elsewhere. Alternately, ponds can be closed in place after all the water is removed from the pond.
When coal ash is removed and stored at another site, typically a lined landfill, there are no "post closure" requirements.
But when ponds are closed in place, there must be groundwater monitoring for at least 30 years, to ensure the ash is not contaminating groundwater off site.
"During this period, any release from the site detected through groundwater monitoring must be addressed," Dunn said.
All the permits issued so far are for closure by removal, he said.
"Both federal and state rules do not require an operator to choose one option of closure over another. It is their choice," Dunn said. "The EPD's responsibility is to make sure they meet the performance standards established by the rule for the type of closure they want to proceed with. If they meet the performance requirements for the type of closure they are pursuing, a permit can be issued."
The U.S. EPA has determined that both closure by removal and closure in place "can be equally protective of human health and the environment," he said. "EPA believes one option is not necessarily better than the other."
For Plant Yates, plans are a combination of removal and closure in place. Ash is being completely removed from some ash ponds, and all the ash on site is being consolidated into an "ash management area" on top of older ash ponds that have already been dewatered.
However, at the bottom of the ash management area, ash is sitting in contact with groundwater, according to information provided by Georgia Power.
Dewatering of Ash Pond 2, the largest pond on the Plant Yates site, is currently underway.
Federal coal ash regulations only apply to certain ash ponds; Georgia's rules apply to all ash ponds. The federal system doesn't require permits, and the only enforcement is by lawsuits. Georgia requires permits and review, and the EPD has enforcement power.
Only two states – Georgia and Oklahoma – have permitting processes that have been approved by the federal government, according to Dunn.
Coal ash is commonly referred to as "coal combustion residuals," or CCR, by regulators.
Federal coal ash rules were first announced in 2015. Georgia's rules were adopted in October 2016.
"Shortly after the EPA CCR rules were issued, Georgia EPD made the determination that more oversight was warranted. Reliance upon citizen suits to enforce the rule provision would not be sufficient," Dunn said.
When EPD is ready to release a draft permit, there will be public notice and a public comment period. The rules require a 30-day public comment period, but if there is a high degree of public interest, the comment period will be at least 60 days, Dunn said.
If there is a high degree of public interest, there will also be at least one public hearing.
"We will certainly be open to more public hearings if needed," Dunn said. "We are seeking information – scientific, legal, environmental and other information – that could be relevant to the permit and help improve our draft permit."
The EPD must prepare a response to all comments received during the public comment period.
When a final permit is issued, it is subject to appeal through the Georgia Administrative Procedures Act and judicial review, Dunn said. Additionally, the federal process is still in effect, and the citizen suit provision is still applicable.
Liners can be required if contaminants spread
Committee Chairman Rep. Lynn Smith, R-Newnan, said she's heard multiple questions about whether EPD has the authority to require that coal ash be placed in a lined landfill, instead of closed in place without a liner, if scientific data indicated the need.
"We feel we have the responsibility to look after the needs of the citizens of Georgia, and this is a question that keeps coming up," Smith said.
Dunn said if the proposed closure in place does not meet the performance standards that are articulated in the rule, the EPD can require closure by removal.
"If, over the 30 years of post-closure monitoring, there is environmental contamination that cannot be adequately dealt with on the site, closure by removal can later be required," Dunn said.
Also speaking at the hearing was Aaron Mitchell, director of environmental affairs for Georgia Power.
When environmental regulations were put in place in the 1970s, ash ponds were identified as the best way to treat water used in power generation and handle CCR's, according to Mitchell.
Ash ponds have been regulated under wastewater permits for years, he said, and some are also regulated under the Georgia Safe Dams Act.
CCRs have been studied since the 1980s and it's been determined several times, including as recently as 2015, that ash and CCR isn't hazardous waste, Mitchell said. Instead, it is handled as solid waste.
The federal CCR rule regulated about 60 percent of ash ponds in Georgia. Georgia's rules regulated all 29 of them.
Georgia Power established its CCR plans under those rules, "and we will continue to modify our plans as necessary to comply with the rules, as both EPA and EPD see fit," Mitchell said.
When it comes to the 30-year post closure period, under the permit, if conditions change or EPD sees fit, it can require Georgia Power to address any issues. The permit requires Georgia Power to respond to EPD and provide its plans for remediation to EPD before taking action.
Each pond is different – even those located at the same power plant, he said. The decision on how to close them is site specific and pond specific.
Georgia Power uses third-party engineers and geologists to assess ponds and design closure plans, he said.
Ten ponds are being closed in place, using proven engineering methods that are protective of groundwater, Mitchell said. Those methods may include closing ponds with barriers, slurry walls and covers that extend farther than the design requires.
The 19 ponds that are closest to lakes and rivers are being closed by removal, he said.
During the dewatering process, any rainwater that falls into the ponds is also treated. There are some ponds on sites that have already been dewatered, but rainwater still has to be dealt with.
Groundwater monitoring
Water treatment and water discharge data, along with monitoring well data, is all posted on Georgia Power's website.
Georgia Power made a commitment in 2015 to close all ash ponds and convert to dry handling systems, Mitchell said, and no ash has been sent to ponds since early 2019.
Groundwater monitoring began 18 months before it was required, Mitchell said. There are nearly 600 monitoring wells around Georgia Power properties. He said the wells have detected nothing leaving Georgia Power property that is above primary drinking water standards.
Rep. Mary Frances Williams, D-Marietta, asked Mitchell about a notice that contaminants from coal ash have been found in wells outside Plant McDonough-Atkinson in Cobb County.
"I am concerned about these contaminants that have migrated beyond your property," Williams said. "I am not clear how you can prevent that from happening without liners. Because I know you are in the midst of doing cap in place at McDonough."
Williams said she feels that the spread of groundwater contamination outside Plant McDonough's borders "demonstrates that you cannot keep these constituents of coal ash within your boundaries with cap in place only."
The CCR rule requires notification of adjacent property owners when contaminants are detected above a significant level, Mitchell said.
Georgia Power requested permission from Cobb to install monitoring wells on their property – in this case, road right-of-way. Those wells didn't find any contaminants about the regulatory standards, according to Mitchell.
"We have continued to monitor those wells to ensure that that remains to be the case," Mitchell said.
The two ash ponds closest to that area have been consolidated, and the closure is nearly complete.He said the ash is expected to be dry once the closure activity is complete.
"We feel confident that following our proposed closure plans and the required monitoring in the rules will result in compliance with the rules and the groundwater qualify standards following completion of that closure," Mitchell said.
Rep. Joe Campbell, R-Camilla, asked Mitchell for more clarity on his statement that Georgia Power was excavating the ponds closest to lakes and rivers.
He asked if there is a certain distance that would be too close to waterways, or how close the CCRs could be to groundwater recharge areas.
"We let our engineers determine that," Mitchell said. There's no specific distance; the determination is made on what the rules require and what would be required, from an engineering perspective, to comply with the rules.
Rep. Angelika Kausche, D-Johns Creek, said she was living in North Carolina when there was a coal ash spill at Dan River. She's concerned that Georgia's rules might be more reactive than proactive.
She asked how many coal ash ponds would be closed within a liner.
Nine of the 10 ponds that are being closed in place won't be lined, Mitchell said. The only one with a liner will be at Plant Bowen in Bartow County.
Smith said that there wasn't time for further questions because another committee was scheduled to use the meeting room, but that both Dunn and Mitchell would make themselves available to committee members for questions.
For more information on the CCR regulations, and test results, visit https://epd.georgia.gov/public-announcements-0/coal-ash-information or https://www.georgiapower.com/company/environmental-compliance.html .